Chances are, your business probably makes use of either the Google G Suite or Microsoft Office 365 in one way or another; with free online versions for easy editing, collaborating, and sharing, they're great solutions for businesses who need applications to cover a wide range of document creation.
If your business uses the Microsoft Office 365 tools as a regular part of your business workflows, then you're in luck, because today we'll be examining the best cloud-based options of CRM for Outlook, so that you can dramatically speed up your sales workflow. serchen
We recently checked out the best Gmail CRM, so check that out if that's a better fit for your business.
But if you're looking for the best Outlook CRM, then read on for everything you need to know about finding the CRM tool that integrates with your current tools and suits your business processes the best.
Does Microsoft Outlook 365 have a CRM?
The Microsoft 365 package provides your business with tools designed to give you a huge array of flexibility, which makes them great for everyday tasks and creating documents, but it doesn't include CRM software.
However, their flexibility is what limits them. When using software to manage aspects of your business, such as CRM, accounting, or project management, it's far better to use dedicated software, because the software is built for that one purpose, and will have a wide range of features with the one purpose of making that specific aspect of your business far more effective.
It's possible to cobble together a CRM solution out of the Microsoft 365 package, but we don't recommend it; with a range of powerful and cost-effective (sometimes free!) software on the market, you'll save a lot of time and energy, while increasing your revenue, by adopting a dedicated CRM solution.
Is there a CRM for Microsoft Outlook?
Being one of the two major email apps in usage today, Outlook's popularity makes it a popular integration for many customer relationship management software providers.
In fact, it's not uncommon for CRM software to provide two-way sync Outlook integration, so that you can read and respond to emails from either system, with both being kept up-to-date.
However, we're interested in bringing you the best integrations that go beyond a two-way sync, so that you can get the most out of your CRM from within your inbox itself.
Is CRM for Outlook Free?
There is a range of prices for CRM solutions with Outlook integration, but the good news for businesses looking to spend as little as possible is that there are free solutions on the market.
Plus, with most providers offering at least free 14-day trials of their products, you won't have to invest money into a system until you're sure you've found the right solution.
Why Choose a CRM for Microsoft Outlook Integration?
If you're looking for the best CRM software with Outlook integration, then chances are you want to spend most of your time within your inbox, with the option to access your CRM features from within the software.
A large amount of your CRM process is contact management and reaching out to leads to progress them down your sales pipeline.
It makes sense to consolidate as much of your CRM software into Outlook as possible, as your team won't have issues being onboarded to the new solution, and you can still easily perform tasks such as responding and reaching out to prospects with personalized sales emails, organizing demos and meetings, and finalizing sales.
Improved Workflow
If you don't have software tools that integrate with each other, then you'll spend a lot of time switching between tools when looking for information and inputting that data into other software.
By having your CRM software integrated with your Outlook email platform, you eliminate most of the need to switch between the two tools, as you'll have the features you need at your fingertips while still in your inbox.
Centralized communications and contact management
By bringing your CRM software into your email tool, you can have easy access to all your CRM information, meaning you no longer run the risk of siloing your important data. Plus, through integration, you can quickly add prospects to your pipeline and update client information through your email system, as well as record your email communications, without having to go back and forth between programs.
Therefore, no matter how many different users you have working out of Outlook, they'll all be drawing from and adding to the same centralized database, creating a single source of truth for your business.
Email Management
Probably the most obvious benefit of integrating your CRM functions into your inbox is the ease with which you can manage your emails and contacts.
If you're comfortable with the Outlook interface and features, then you probably don't want to rely on your CRM's email systems instead.
With your inbox as the focus of your efforts, you won't have to use your CRM for emails at all, and instead, you can use Outlook as your email and communication hub, where you're most comfortable.
Reduced chance of human error
One of the easiest ways for human error to start creeping into your process is through repeated manual copying of information from one system to another.
Sooner or later data will be input incorrectly, and you face a potentially embarrassing situation when you realize an important email has a lead's name spelled wrong, or someone forgot to update all the fields in an email template.
By integrating two systems, you let the software handle the inputting of information from one app to another, meaning there's no risk of human error and no risk of embarrassing mistakes!
Automation
Beyond just integrating your CRM, you can also set up some useful automations between the two systems, meaning that the software will produce a result when a set input is given to it, or a trigger is met.
Automation is a fantastic way to reduce the annoying admin work that slows down your sales team and gets in the way of them doing the important sales tasks that require their selling expertise.
By setting up automations between your CRM and Outlook, you can streamline the repetitive tasks you need to perform regularly, saving your reps time and increasing data hygiene at the same time.
The Best CRM Tools for Microsoft Outlook Integration
Now we've gone over the core benefits of integrating your email platform with your CRM, let's take a look at the best CRM for Outlook options on the market today, as rated and reviewed by our community of real-world Serchen users.
Interested in more CRM options? Then check out all our CRM software reviews
Dedicated Outlook CRM Software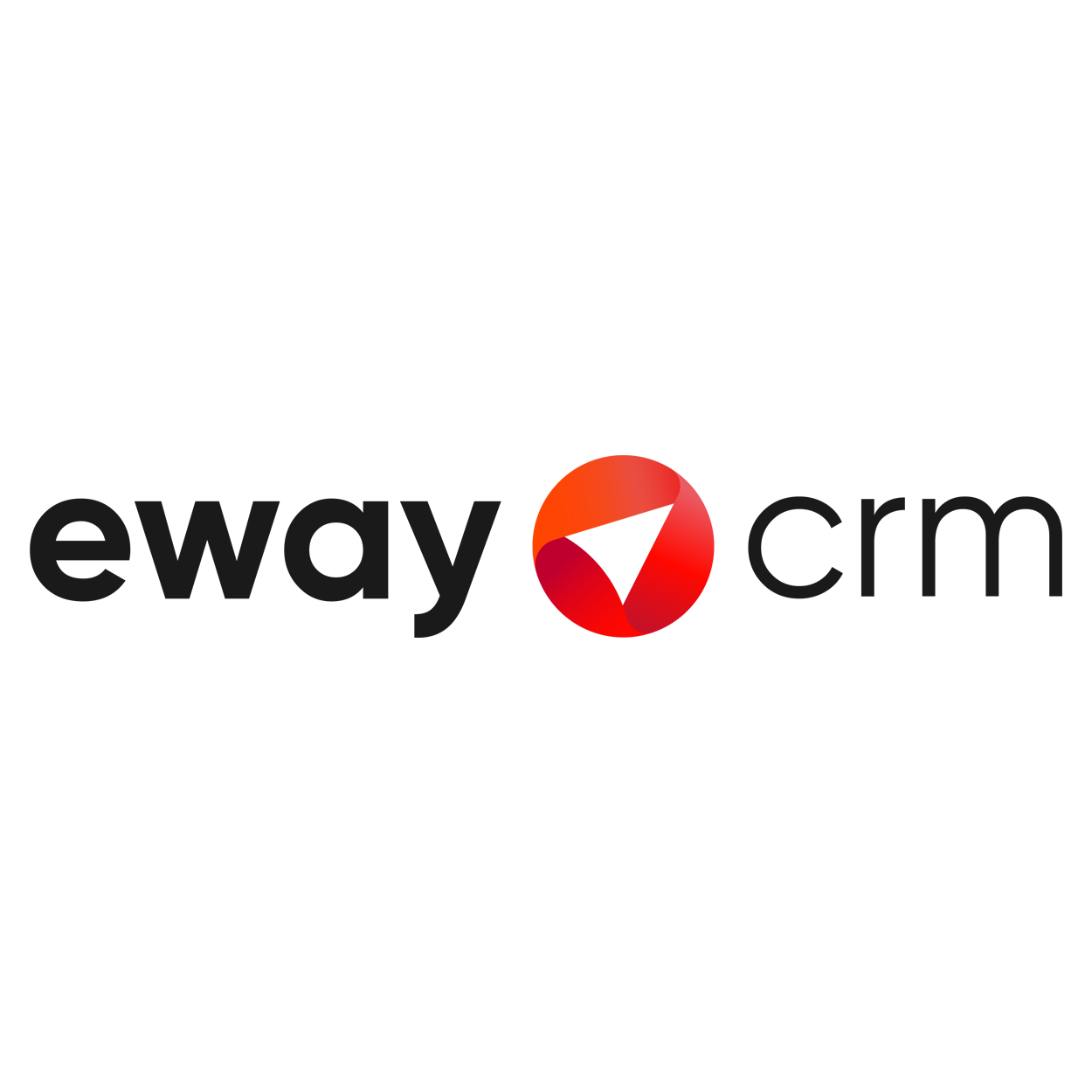 Free Plan, unlimited users
Basic Plan @ $18 per user per month, billed annually
Profession Plan @ $24 per user per month, billed annually
Enterprise Plan @ $36 per user per month, billed annually
Serchen's most highly-rated dedicated CRM for Outlook is eWay-CRM, a fully-featured platform that has all the tools and features businesses need to increase their revenue and sales from within their inbox, with a free plan for businesses that can't afford a premium product just yet.
With two-way sync and easy contact importing between your inbox and the eWay database, you can be sure that you'll always have a hygienic database with a single source of truth for all of your team to use.
Plus, eWay-CRM ensures you always have a complete record of your Outlook communications accessible from your inbox, so no matter which team member is talking to a lead, they'll know the full history of interactions you've had with your prospect.
eWay-CRM lets users create their own pipelines to reflect their business's unique process, and with workflow automations such as reminders and email notifications, users can save time with eWay handling the mundane tasks for them.
You can also use a range of eWay's great marketing features within Outlook to turn it into a complete email marketing platform. Send bulk emails to leads organized into lists by filters and categories to reach out to the right people at the right time, and by using your sales data, you can quickly see how effective your sales and marketing outreach efforts are.
Plus, with tracked lead behavior, you can see how each lead responds to your outreach efforts and organize them into lists for further follow-ups based on the actions they've taken. There are even project management features built in for when you need them.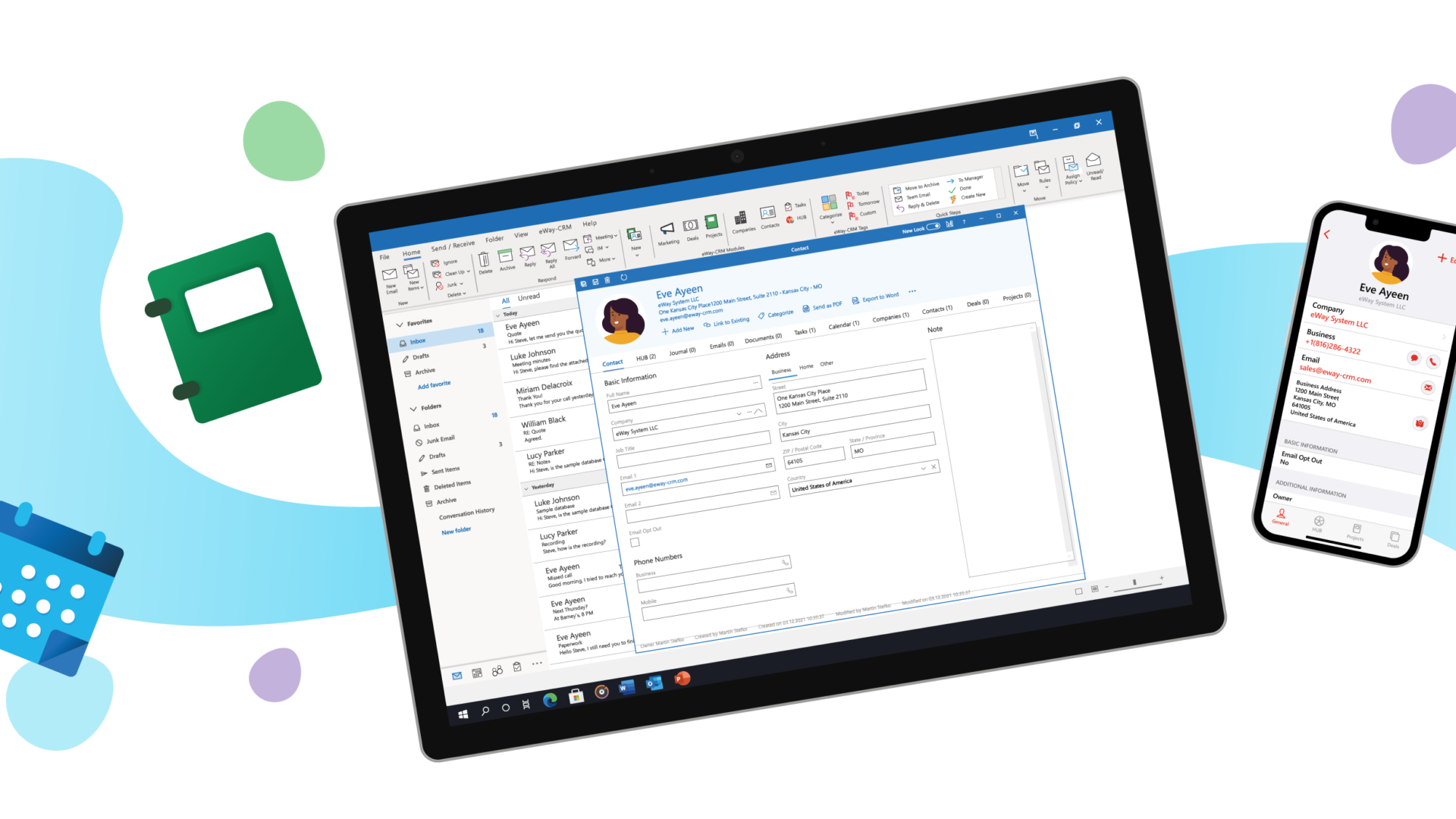 Key Features:
Fully integrated CRM
Access your entire CRM software from within your Outlook inbox, making staff engagement and onboarding a breeze thanks to the familiar interface.
Single source of truth
With two-way sync between Outlook and eWay-CRM, as well as apps for iOS and Android and browsers, and easy contact and company information importing, you can bring all your CRM information under one roof and ensure all your data is updated in real-time.
Email Marketing Platform
Bring all of eWay-CRM's marketing features into your Outlook system to create an email marketing platform. Use bulk emailing to target your different lead lists, data and reporting to understand the effectiveness of your communications, build email campaigns with the drag-and-drop email builder and campaign builder, and understand your leads' reactions for further follow-up opportunities.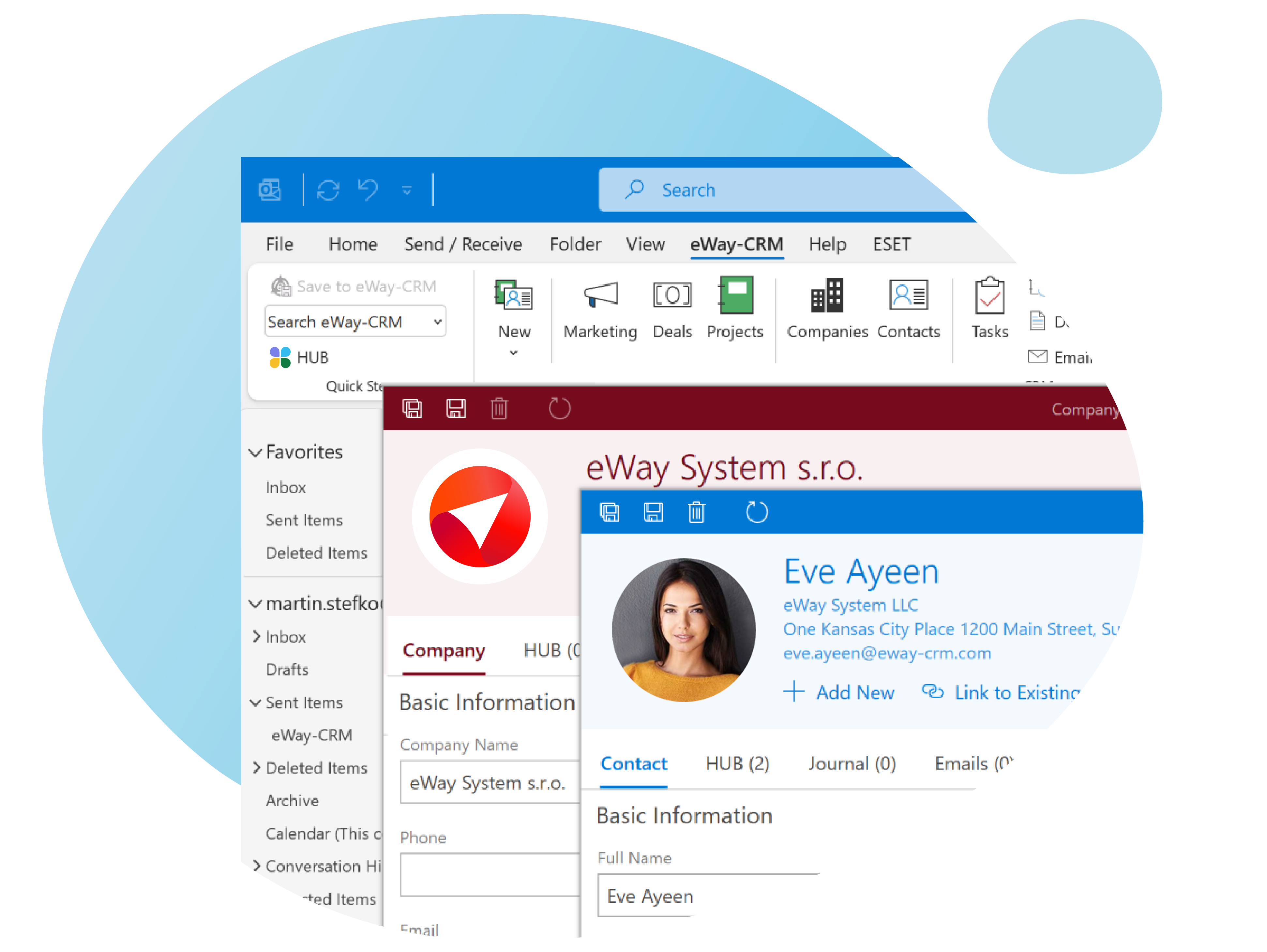 Prophet CRM, by Avidian
Sales CRM plan, $55 per user per month, billed annually
Enterprise plan, $75 per user per month, billed annually
Free demo available
For businesses looking for a dedicated CRM to use completely within Outlook, then one of the best options is Prophet CRM by Avidian.
Prophet CRM was created as a CRM solution to embed entirely within Microsoft Outlook, making it the perfect solution for businesses wanting to work out of Outlook exclusively when handling their CRM processes.
And, as users can access all aspects of their CRM from within a tab in Outlook, onboarding Prophet CRM software is a painless task as users are still working within the software they're used to.
Prophet CRM lets users bring new contacts into the CRM database and pipeline, and then track them as they move through the pipeline. With a pipeline view that can be filtered and sorted for an easy lookup of opportunities, and a database for your leads with company records, people, tasks, and deals, you'll have all the information you need on your sales from within Outlook.
Plus, with automatic communications tracking, Prophet CRM takes all your Outlook interactions and records them in the CRM database, so you can easily recall your conversations with your leads to stay up to date with where they are in the buying journey.
Prophet CRM also has some useful automations for Outlook users to enjoy. By giving users the opportunities to create automatically executing workflows at designated sales stages, mundane tasks can be performed in an instant, and sales reps can be reminded of when to follow up with their sales opportunities.
And with bulk email options through customizable templates to target designated lists of leads, you can personalize your email campaigns and avoid spam filters thanks to the individually sent messages.
And with powerful reporting features that can provide analysis of the sales pipeline, your users' sales activities, and product tracking, you can gain the insights your business needs in order to make the best strategic decisions to boost growth and revenue.
Key Features:
Full Outlook CRM system
Prophet provides users with a completely integrated CRM solution for Outlook users, so they can get all of their customer relationship management tasks completed without ever having to leave Outlook.
Lead management
Track your leads from when they enter your pipeline to when the deal is closed through the Prophet interface and arrange your pipeline and contacts using your own filters and searches to create custom dashboards for your team.
Workflow automation
Speed up the completion of mundane, repetitive tasks by having software complete them for you when the correct trigger is met, and automate your follow-up reminders so reps never miss an opportunity to progress a lead through the pipeline.
Reporting
Gain valuable insights into your sales pipeline, your sales activities, and your product performance so you can create sales forecasts and use the analytics to make important decisions about how to improve your CRM process.
CRMs with Outlook Integration
Now let's look at the best Outlook CRM options designed to integrate and offer some features of the CRM within Outlook.
These CRM options will require users to switch between apps to take advantage of all the features of both the CRM and Outlook, however, thanks to their integrations, most of your users' time can still be spent in Outlook.
We'll be focusing here on the features these CRM integrations provide, rather than a full review of each tool, so check out our complete guide to the best CRM for small business or our full list of CRM software reviews for more information on each tool.

Starter plan @ $15 per user per month, billed annually
Professional Plan @ $22 per user per month, billed annually
Enterprise plan @ $41 per user per month, billed annually
Custom build options and 30-day free trial available
Our highest-rated CRM on Serchen, Simply CRM offers users a fantastic CRM package to cover all of their customer relationship management needs.
And for users of Microsoft Office 365, the Simply CRM integration offers a wealth of great features, allowing you to stay within Outlook for most of your CRM tasks.
By offering the most important CRM features from within Outlook, reps can save time and avoid distraction by avoiding having to switch back and forth between Outlook and their CRM, while updating contacts and accessing insights from within Outlook.
The Simply CRM integration also lets sales teams centralize their email communications and calendar events, so that no matter where your arrangements are made, your CRM and Outlook calendars remain synced.
And with easy synchronization between your Office 365 products and Simply CRM, you can keep both systems up-to-date at all times in a single source of truth, and import all your Outlook contacts into your CRM with just a few clicks.

Plus plan @ $29 per user per month, billed annually
Professional plan @ $49 per user per month, billed annually
Enterprise plan @ $99 per user per month, billed annually
Free Trial Available
Another highly-rated CRM on Serchen, Insightly CRM offers sales teams a great base CRM product, with a very handy sidebar for Outlook integration.
In fact, Insightly makes a great option for users who want to spend as much time in Outlook as possible. By offering complete oversight of your entire CRM and contact management from Outlook, sales teams will rarely have to dip out of their email software for their CRM tasks.
The Insightly integration also allows users to save their emails (with or without attachments and links) to their CRM, so you have a complete record of communications from within your CRM itself, helping to contribute to your single source of truth.
Plus, the Inslightly integration offers some excellent email features to Outlook, including allowing teams to use Insightly's email templates from within Outlook, use scheduling for emails to reach your leads at the right time, and even use an Outlook email tracker so you can measure the performance of your sales and marketing email campaigns!


Free plan (up to two seats)
Basic plan @ $8 per user per month, billed annually, min 3 seats
Standard plan @ $10 per user per month, billed annually, min 3 seats
Professional plan @ $16 per user per month, billed annually, min 3 seats
14-day free trial available
Monday.com's Monday Sales CRM offers Outlook users a very interesting integration proposal, including a free plan, heavily focused on workflow automation.
Unlike other integrations where the CRM integrates into the Outlook interface, Monday Sales CRM instead uses Outlook as a trigger or an action for customtizable workflow automations.
When you integrate Outlook with Monday Sales CRM, you'll be presented with a range of options for how you want Outlook to trigger responses, such as when a new item is created, send an email to X, or when a column changes, send an email to X.
This means that when your trigger is met, either in Outlook or Monday Sales CRM, you'll have an action that automatically gets performed from Outlook, thereby automating one of your CRM tasks!
How you configure your triggers and responses is highly customizable, meaning that your business's unique workflow is fully catered for, allowing you to always reach your leads at the right time with the right message without you having to lift a finger.


CRM Pro Plan @ $44 per user per month, billed annually
CRM Enterprise Plan @ $74 per user per month, billed annually
Method CRM markets itself as the best QuickBooks CRM integration, but Outlook users will be pleased to hear that it also has excellent Outlook integration features too.
Method CRM works as a sidebar in your Outlook inbox, meaning you can access a range of useful CRM information without having to swap apps.
Whenever you open an email from a lead or a customer, the sidebar will show you key contact management information, such as the lead's contact info, their transactions with your business, any sales activities and opportunities linked to them, as well as any documents relevant to them.
You can also add contacts, activities, follow-ups, and sales opportunities to the CRM database right from your Outlook inbox with automated data entry features, cutting down on time spent and human error.
You'll also be able to quickly copy all your email communications from Outlook into your CRM database, so along with the other data you can quickly sync with Method CRM, you'll have a single source of truth for all your sales team to work from.
Plus, users can also use the Method CRM customizable email templates from within Outlook to make sure sales and marketing reps don't miss out on sales opportunities.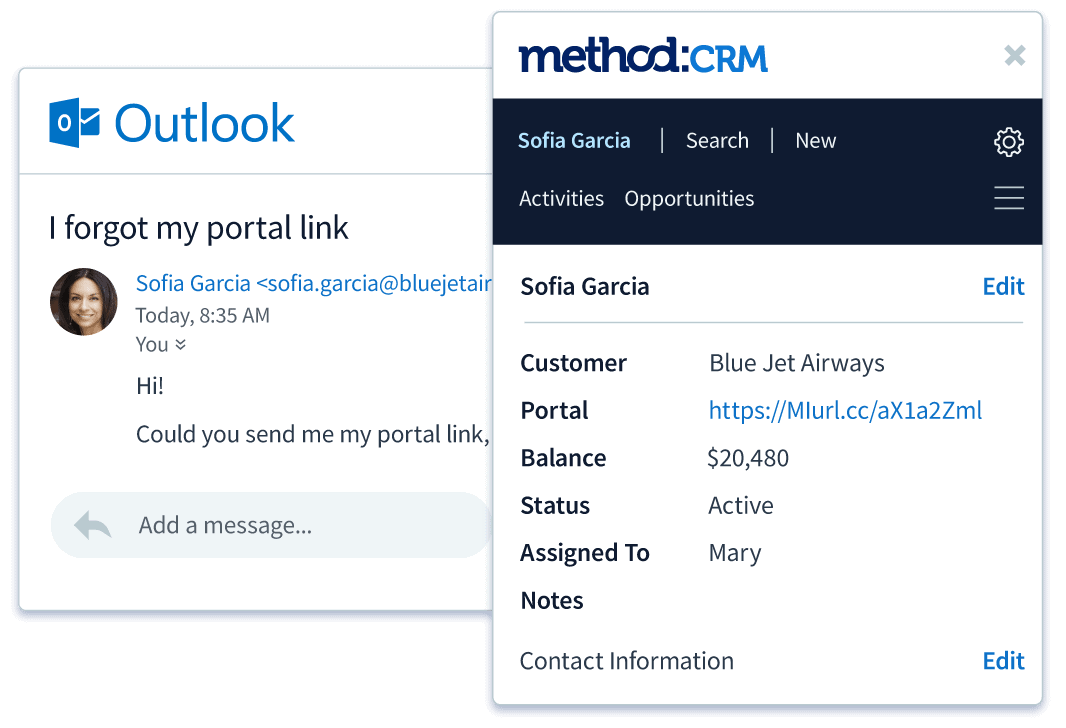 Other options of CRM for Outlook email integration include Zoho CRM, Microsoft Dynamics 365, Hubspot CRM, and Salesforce Essentials are worth considering if none of the above CRM choices meet your business's needs.