For enterprise-level businesses, having a way of managing all your customer interactions and where they are along their deal journey is crucial. It's impossible to keep track of all your prospects and the information surrounding them over several pipelines them without a great CRM.
CRM software tends to be tailored toward the size of a business and the scope of its sales operation, generally split into about four different tiers: free (very small businesses), entry-level (small businesses), mid-sized businesses, and enterprise.
As you might expect, ascending the tiers brings extra features and the removal of feature-capping that become more attractive as your company scales. Smaller companies won't see a good return on splashing out on the top-tier products as they'll never make use of what's on offer, but for the largest companies having access to these features is a must.
In this guide, we'll be looking at the best CRMs available today for enterprise-level users, as rated by our Serchen community.
What Separates Enterprise CRM From the Rest?
Two things that separate enterprise-level CRM from lower-tier options: the features, and the price.
Firstly, expect to pay significantly more for an enterprise-level product. They're designed to offer reps and managers the ultimate flexibility and power when it comes to customer relations and sales opportunities.
However, for an enterprise-level company, the higher pricing won't be an issue because of the vast revenue they'll be making, where the CRM will easily pay for itself.
Secondly, the features included in the top-tier products are vital for large businesses to maximize their revenue, and to keep their sensitive information safe. Large businesses often need to make use of bespoke services from their CRM provider, which enterprise-level CRM often provides. And of course, the removal of feature caps is essential when handling the number of contacts and leads passing through the business's pipeline.
The 4 Best CRMs for Enterprise Business
Let's take a look at what our Serchen community has rated the best for enterprise-level CRM, with a close look at what makes these products perfect for large businesses.

Enterprise Pricing: $120 (Free Trial Available)
You can't mention CRM without thinking of Salesforce. As one of the market leaders in the space, it's got a great reputation for being one of the most feature-rich CRMs out there.
While it can take a while to train reps and managers to use the platform, once they've learned to make use of all Salesforce has to offer, they'll be glad they took the time.
Salesforce brings your marketing, sales, commerce, service and IT departments all together in one place to prevent siloing and provide the maximum amount of information to whoever needs it.
Highlight Features:
CRM automation — automate your repetitive admin and data entry tasks with powerful automation workflows built into Salesforce CRM
Full marketing solution — built into the Salesforce CRM platform is a fully featured marketing platform for engaging your prospects and customers with targeted and personalized communication campaigns with automated workflows based on lead behavior and segmentation
Commerce — bring your B2B and B2C buyer journeys together with the Salesforce commerce solution. Utilize the AI to personalize your buyers' shopping experiences and break down silos with the rest of your departments by connecting them with your commerce team
Customer service — bring your phone, email, social and chat support together into one dashboard, letting your agents quickly reach out to customers whenever they have a question and getting the problem solved
App support —use your CRM, forecasting and customer communications features on the go by using the Salesforce apps
Advanced reporting — use powerful insights and analytics to ensure reps are meeting targets and to see where the bottlenecks in your sales process are
Internal communication — keep the information flowing by using internal messaging and file sharing, making sure your teams always have the resources they need to succeed
Integrations — check out the huge range of third-party software offering solutions to all your business's unique requirements on the Salesforce app exchange, or use the Salesforce API to build your own integrations
What our community says about Salesforce:
Sebastian — "I've been running my business through Salesforce for the past 7 years, and I don't know what I would do without it. We only contact our clients through our Salesforce account, and now we have a clear record of every exchange with every client since the beginning of our relationship with them."
Jay — "This product has helped me substantially. A vital component to running a successful business with consistent customer satisfaction. I would recommend this product to any business owner out there."

Enterprise Pricing: $999 for up to 15 users per month (Free trial available)
A CRM built for companies selling digital solutions to local businesses, Vendasta brings together a great selection of features to facilitate maximizing your revenue and growth without losing the human touch.
Fully integrating your CRM, sales, marketing, project management and commerce, as well as the option to purchase wholesale solutions to offer to local businesses, Vendasta emphasizes selling and automating your functions to make the most out of your opportunities as they arise.
Plus, with the option to outsource your marketing to their white-label team, you can ensure great quality marketing that follows your direction without you having to worry about the nitty-gritty of it yourself.
Highlight Features:
CRM automation — create custom workflows to help reps deal with the mundane busywork that's better taken care of by software, letting them get on with selling
Automated marketing — make use of the fantastic automation tools Vendasta provides to create customized marketing based on automated in-depth reporting and contact information, and with customized automated marketing workflows you can reach out to your prospects 24/7 without lifting a finger. And with the enterprise tier product, you get access to Vendasta's team of agents who can do your marketing for you!
Billing and invoicing — get your sales done quickly through the Vendasta platform to provide your buyers with a fluid buying experience
Project management — keep your buyers in the loop with communication tools and transparent tracking while keeping on top of your projects so you know what's on track and what needs attention. Workflow automation helps eliminate repetitive work with auto-populating tasks and reports, so you can get on with your important jobs
Snapshot tool — use Vendasta's automated needs assessment tool to understand exactly what it is your prospect wants and how they compare to their direct competitors

Enterprise Pricing: $90 per user per month (Free Trial Available)
Kapture focuses its efforts on two products: their Kapture One Suite, focusing on customer interaction and relationships, and Katpure Sales, which focuses on selling.
Kapture One brings everything you need to manage your customer relations and interactions into one platform. Centralize all your communication channels, utilize built-in chatbot and live chat and build up robust onboarding resources to make sure your agents are ready to go and help your customers get what they need.
And with Kapture Sales, bring all your valuable sales data together to help guide buyers through their sales journey. With automated reporting, lead quantification tools, a mobile app and workflow automation, you can keep leads running through your pipeline on the way to a closed deal.
Highlight Features:
Omni-channel communication — sync all your communication channels together into your CRM so reps can instantly see when a customer needs attention and quickly respond, with customer ticketing making sure customers get the expert answers they need
Built-in live chat — chat with your users and add the images, videos and files you need to solve their problems all in Kapture One Suite. With detailed reporting about your chat activities, you can see how well agents are doing at keeping your customers happy and engaged
Built-in chatbot and self-service portal — use automation to answer your customers' most common queries, from quick solutions based on customer keywords to AI chatbot to provide customers with the information they need
Mobile app —access either CRM on the go with Kapture's apps, meaning reps on the go can always respond to customers and make the most of sales opportunities
Integrated quotations and invoicing — use Kapture's invoicing management to create custom invoices and send them out according to your billing cycle, and create quick quotes with automated billing
What our community says about Kapture:
Aarav — "We chose Kapture for our company's entire sales process. What was previously unorganized, with Kapture we could get an overview of how sales were performing on a regular basis."
Sofia — "The team provides Annual Maintenance Routine which is very helpful for streamlining business process."
Karthik — "Kapture CRM is very flexible and is the best enterprise CRM amidst expensive leading CRM names. The interface is what makes it tick. It's so simple and effortless to use."
Enterprise Pricing: $90 per user per month (Free Trial available)
Pipeliner takes a holistic approach to building a CRM, looking at its users' business needs to constantly enhance their platform to provide the best solution they can.
Emphasizing mutual success and the human element, Pipeliner seeks to make your sales practice more effective, transparent and easier to implement, with extra training features to make sure you're getting the most out of your product.
If you're looking to bring your sales team together and help them work together to get the best results, then Pipeliner could be the CRM for you.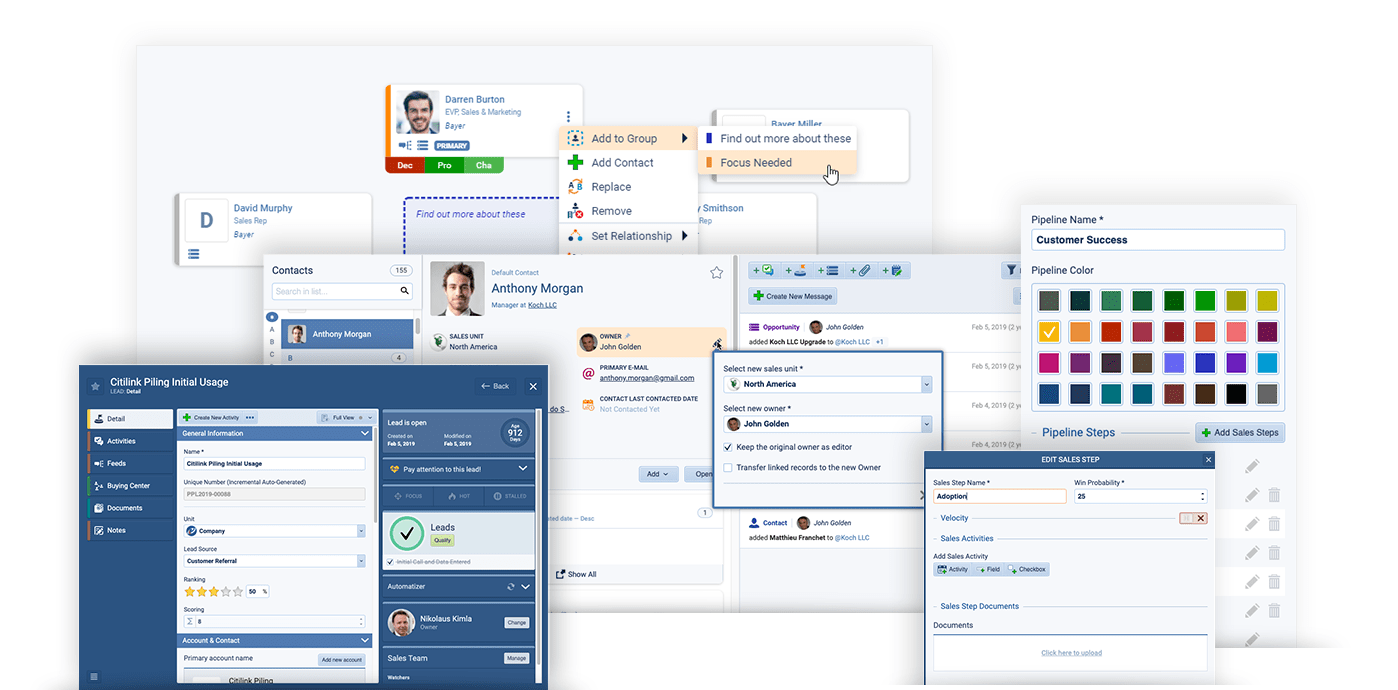 Highlight Features:
Voyager sales AI — Pipeliner's built-in AI looks through all your customer data and makes intelligent suggestions about what your next actions should be, so you always have a finger on the pulse of what's going on in your pipeline
Mobile app — a fully-featured CRM app for reps on the go, the Pipeliner mobile app lets your team collaborate, add leads, check on contact information and past communications, keep track of your sales opportunities, record your sales activities, check your sales metrics and more!
Integrations — integrate Pipeliner with the other software in your stack using their integration features and their host of over 200 third-party tools for your specific needs
Automation — create customizable workflows to reduce the time your reps need to spend filling out contact information and completing mundane tasks. Let Pipeliner take care of the admin and let your reps get on with the selling
Reporting — get customizable real-time reports and forecasts from your CRM data to keep track of the progress of your reps and your sales metrics to see where you're on target and where your bottlenecks are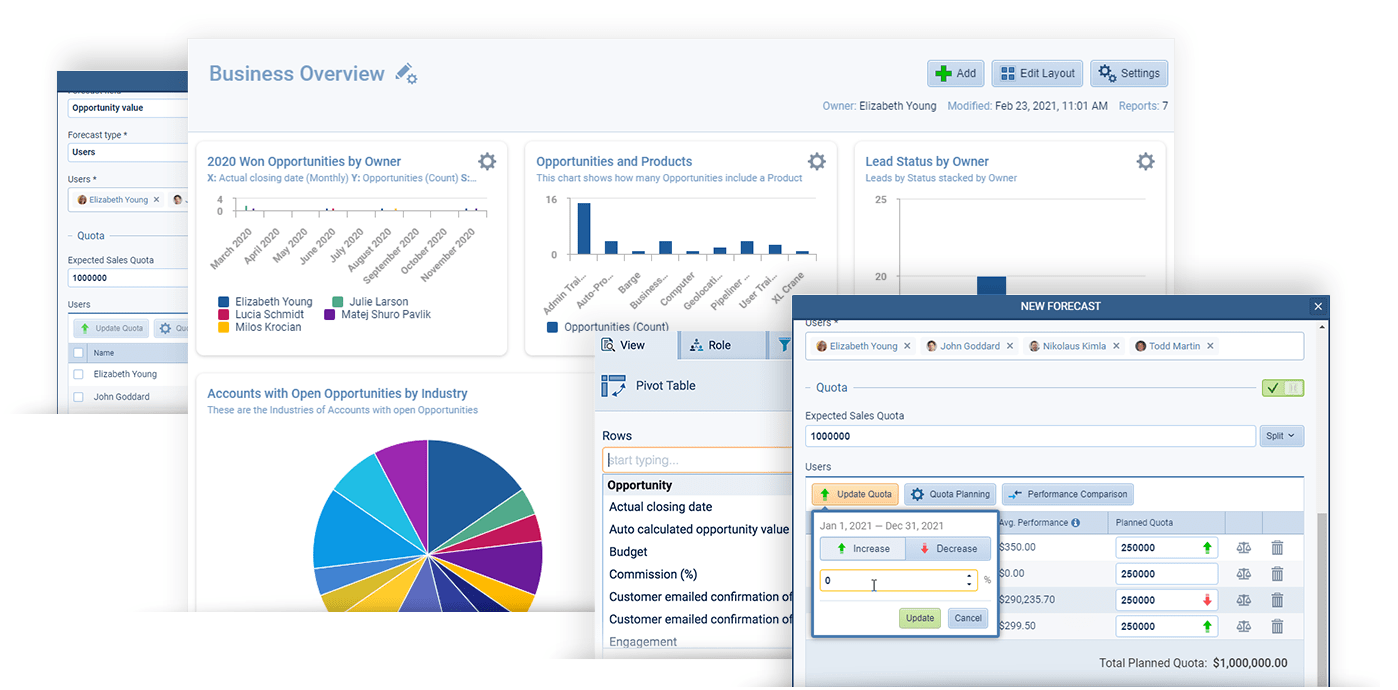 What our community says about Pipeliner:
Jon — "Time is currently my most precious commodity, and Pipeliner is actually helping me to save it by allowing me to track, move and interact with my customers quickly and easily. It's a rare thing indeed: a very powerful piece of software that's easy to use. Recommended."
Kelvin — "We tried quite a few CRM apps before selecting Pipeliner including Salesforce. The bottom line is that Pipeliner is the best combination of functionality, usability and value available in the market."
Loni — "Intuitive, keeps me on track of all my accounts like never before. Awesome Visuals that allow me to see the entire story of all my work. Absolutely amazing, exceeded my expectations."

Should You Use Enterprise-Level CRM?
Enterprise-level CRM only makes sense if you're going to use all the features included in the software. For small businesses, the expense outweighs the benefits of enterprise-tier packages, but for large businesses, it should be a no-brainer.
Large sales teams should be using every tool at their disposal to manage their customer journeys through to purchase, and with these comprehensive CRM packages and their included feature sets, enterprise teams will have everything they need to operate at the highest level (while still not overpaying for their tools!)
Large businesses looking to level up their CRM software and sales process should make note of the excellent features offered by the solutions on this list, as they make selling at scale a breeze.