Providing your customers with an excellent product and marketing it effectively are vitally important to running a successful business, but if you can't keep your customers happy before and after the sale, then you run the risk of losing sales or hurting your brand's reputation.
One of the best ways to keep your customer relations sky-high is to implement help desk software into your software stack.
By providing your customer support team with dedicated help desk software, they'll have all the tools they need to bring your customers the help they need when querying about a product or for any issues they have following their purchase.
By letting help desk software enable your reps to quickly and effectively solve your customers' issues, you can keep their engagement with your product and your brand high, increasing their chance of buying and improving your reputation as a business that cares about its customers.
In this post we'll be looking at the best help desk software solutions as rated by our community of users at Serchen, with their real-world experience backing the effectiveness of each solution.
Want more help desk options? Then check out our full list of help desk software reviews!
The 4 Best Help Desk Software Tools for 2022
Let's look in-depth at the help desk software the users in our Serchen community have rated best.

Price From: Free! (free trial available for paid products)
ThinkOwl is a help desk software solution that's backed by AI learning, meaning the more you use it, the better it gets at understanding your process and automating the appropriate responses.
But don't think AI is the only reason to choose ThinkOwl; it's a fully-featured help desk software tool that has everything your reps need to solve customer issues quickly and effectively.
Featuring multichannel communication over email, social media, messenger app and more, letting your customer reach out to you is easier than ever. Plus, with clever automation services that can create tickets from messages and automatically trigger tasks and actions from your cases, your reps can save time on admin and spend more time helping your customers.
And with powerful reporting, you can see the effects of your team's efforts and where you can improve to boost your customer satisfaction.
And with its AI engine working with all these great features, ThinkOwl automates even more aspects of your workflow. By understanding your customer's issues from their messages, it can automatically assign the right rep based on past successes, extract useful data, and even trigger actions based on your customers' messages.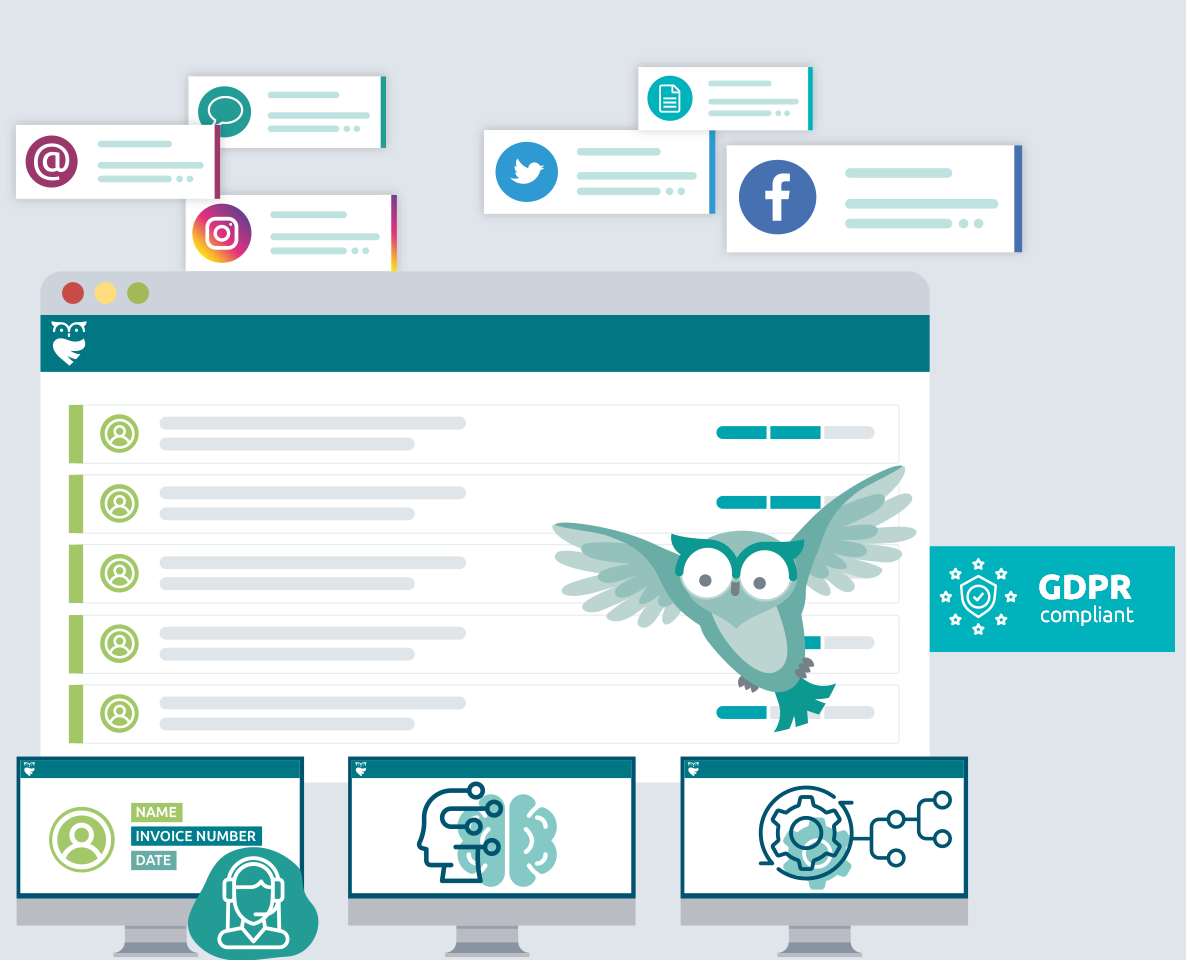 Highlight Features:
Multichannel communication — let your customers reach you through a variety of channels, including email, AI chatbot, customer portal, customer app, social media, messenger apps and phone calls, and answer them all in one place in the ThinkOwl hub
Automation — use ThinkOwl's automation functions to save your reps time by having repetitive admin processes automatically performed. Let ThinkOwl automatically create cases from your customers' messages and route their issues to the most appropriate employee. Plus, let you AI chatbot learn from your users' conversations, and let ThinkOwl automatically trigger actions and tasks from key information in your customer cases.
Security — keep your data secure with Single sign-on authentication and a data cloud with comprehensive audits and security features such as 256-bit Advanced Encryption Standard
Reporting — get important insights about your customer service performance from the detailed reporting dashboards, including KPIs, priority bar charts, keyword timelines and helpdesk productivity
AI support — use ThinkOwl's powerful AI engine to automate and speed up your workflow. Let the AI learn which issues are best solved by which employees and provide suggestions and relevant information about cases on the fly, while also extracting key customer information and triggering tasks and actions based on message content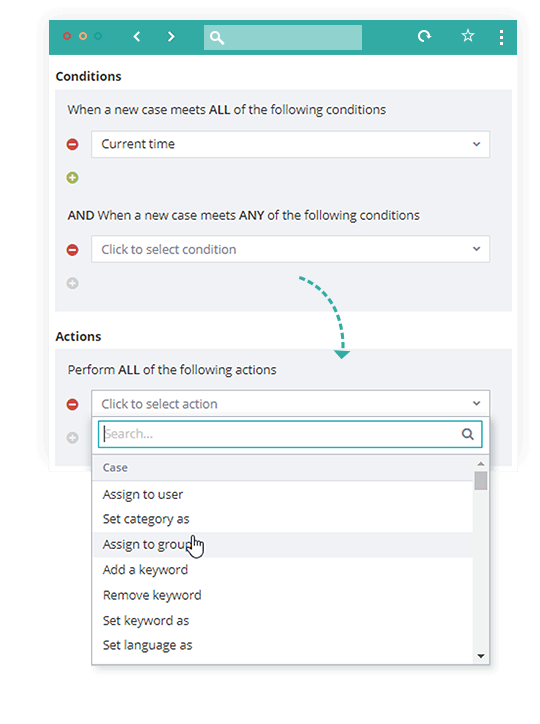 What our community says about ThinkOwl:
Tom — "It collects and analyze customer interactions through different platforms. You can easily design workflows to manage cases."

Price From: £25 per user per month (free trial available)
Freshdesk brings affordable and powerful help desk software packages to businesses of all sizes and budget restrictions.
With a plethora of great features and even some AI capabilities of its own, Freshdesk has everything your customer support team needs to bring your customers fantastic service and save time with busywork automations.
With omnichannel communication via Freshchat, you can integrate all your communication channels into one hub so your staff can react immediately when your customers contact you through their preferred channel.
And with the Freshdesk contact center, your reps are empowered to meet your customers' expectations from the moment they contact you. You can route them to the right support staff and guide your team's responses with a 360-degree customer view and guided resolutions
Make sure none of your customers' issues fall through the gaps with a team inbox and the ability to create tickets from any conversation — tag each ticket with keywords to streamline staff engagement, or work together collaboratively to solve your user issues.
Plus, with AI-powered ticketing with Freshdesk's Freddy AI, you can save valuable time by letting Freddy take on repetitive mundane tasks, such as prioritizing and routing your tickets, suggesting resolutions for your customers and more.
Highlight Features:
Omnichannel communication — let your customers contact your support team through the channel of their choice, with all channels arriving in the Freshdesk communications center so your team never misses a ticket
Collaboration features — use the team inbox to prioritize team activity and prevent collisions when helping your customers, and allow staff to work together on the same ticket
AI automation — ease your workflow with helpful Freddy AI automation, including chatbot functionality, ticket categorization, incoming ticket routing, customer solution suggestion, and conversation guided resolutions for your staff
Reporting — learn where you strengths and weakness lie with detailed reporting and how your customers feel about your service with customer satisfaction ratings, plus monitor your help desk in real-time with a data dashboard
Security — Freshdesk comes with state-of-the-art data security, which brings custom SSL certificates, single sign on scripts and restricted IP address access
What our community says about Freshdesk:
Rick — "Powerful support product and easy to integrate. Provides a seamless experience and total integration with social media which is an absolute must if your business is serious about connecting with it's user base. These guys are professional and they know the game, trust them with your help desk needs."
Elizabeth — "For our growing startup, Freshdesk was perfect for our customer support needs. It's user friendly, easy to get started, and solved our customer support issues. Freshdesk makes it easy to get customer requests to the right members of our team."
Price From: Free! (free trials for paid products available)
If you're struggling to keep up with customer communications and convert sales, then LiveAgent might be the right help desk software tool for you. Designed to replace various other software tools with just one, LiveAgent saves you money and brings everything together for easy usage.
LiveAgent takes all your customer communications, no matter the channel, and brings them into one easily accessible hub for your team to answer so you never miss any tickets again. Plus, with Live chat features, you can speak to your customers as soon as they have an issue, or even reach out to them!
And if your business works around a call center, then you can easily set one up in LiveAgent that meets all your requirements, with awesome features like call recording and CRM integration.
And if you're keen to let your customers help themselves, then use LiveAgent to set up knowledge repositories and FAQs as part of your customer portal to create forums, customer feedback boxes, ticket history, and more!
With a ton of integrations, LiveAgent is designed to work with your current software stack, from your communications apps through to CRM, eCommerce and even your collaboration software, so you can easily automate data transfers between your software.
Highlight Features:
Omnichannel communication —bring all your communication channels under one roof so you never miss another customer ticket again. Plus, with Live Chat, you can even reach out to users currently exploring your website
Fully featured call center — use LiveAgent's Voice over internet protocol call center system to create your very own call center in as little as five minutes, and use advanced features like call routing, call transfers, call recording and more
Customer portal — build up your respository of useful information for your customers to access so they can help themselves. Set up functions like forums, customer feedback and suggestions, completed ticket histories
Integrations — not only designed to replace various pieces of software as you communication hub, LiveAgent is also designed to work with your existing software stack to automate the passing of key information between apps to prevent siloing
What our community thinks of LiveAgent:
Stefan — "We were evaluating a lot of helpdesk softwares, but only LiveAgent fulfilled all of our needs perfectly. It´s a thin line between "Easy to setup" and "Adjust everything", but that´s what makes it good. Even though it is a lot to adjust in order to adapt the offline helpdesk to your company needs, it is really simple and their support is very helpful and nice if it comes to any questions.Altogether, I would recommend LiveAgent to anyone who is looking for a good and easy-to-use helpdesk software. Keep up the good work!"
Anthony — "The system is easy to start with, customize and get used to it. It helps us to save time by combining all of the different communication channels into single tool. Highly recommended!"
Jefferson — "LiveAgent was literally the missing link to our customer service team. We've moved on from a disorganized email-based helpdesk to a fine-tuned system of traceable tickets and employee metrics. It has consolidated the majority of our communication channels into one system and given us the benefits of live chat which has saved so much time and confusion. Highly recommended!"

Price From: $4 per user per month
Cayzu is designed to bring users an effective and affordable help desk package with an easy-to-use interface, so you can focus on helping your clients rather than wrestling with your software.
Based around one dashboard, you'll have all your communication channels in one place (including email, social media, voice and chat), so you'll never have to worry about juggling apps and missing tickets.
With mobile apps, global support and the ability to build and customize your own customer portal and knowledge base, you'll be able to offer your customers all they need to answer any questions they have, no matter where they are in the world.
Plus, with helpful integrations, you'll be able link up your help desk software with the rest of your software stack for seamless information flow. Cayzu also provides great reporting and real-time analytics features, so you can understand how your customer support strategies are working and where they need work.
Highlight Features:
Multichannel support — communicate with your leads and customers over their favorite channel all in one place, with a centralized communication hub that brings together all your channels
Customer portal — give your customers and leads the information they need to solve their issues for themselves by building knowledge bases with custom content that answers their FAQs
Mobile app — give your reps the power to help your customers anywhere by using the Cayzu app for Android and iOS
Integration — integrate Cayzu with all your communication, CRM and project management tools, and more, to boost efficiency of your workflows and break down information silos
What our community says about Cayzu:
Chantelle — "I use to do all my support via email and found I was giving the same answers to multiple customers or would get them mixed up and give the wrong answer. A friend suggested I try Cayzu, and within 2 days of signing up I could not believe how powerful it was and easy to use. I have since moved away from trying to support my customer via email to Cayzu Helpdesk. I highly recommend it."
Marc — "While we are relatively new to using the service, in the short time we have had it deployed it has worked perfectly and a poll of our Clients who used it was very positive. It provides the means to easily follow up on our tech tickets to assure a Client gets what they need quickly and efficiently…Overall, we rate Cayzu a 9 out of 10 for function, support and access."
Choosing the Best Help Desk Software For Your Business
Like with any software choice, making sure your help desk software solution meets your business's needs is key to finding the right software for you.
But with reviews from our real-world users, you can be sure that the solutions in this post are exceptional tools and great value for the money.
Moreover, several of them even give you the ability to consolidate the functionality of several different software tools into one, which can save you money and time spent switching between programmes.
In today's customer support environment, it's vital that you can respond quickly and accurately to your users or you risk losing their custom and interest. Keeping engagement high is key not only to boosting your sales, but also to creating a trust brand identity that keeps customers coming back and lets new leads know they're in safe hands.