When looking to integrate help desk software into your business's software stack, you need to make sure the solution you choose is designed to work with the tools you're already using.
And for smaller businesses, this can be even more important, as there isn't often the flexibility of budget to purchase large, catch-all solutions, or even hire new customer support reps to deal with the increase in customer communications.
In this post, we'll be taking a look at a selection of help desk software solutions designed for businesses already using certain ecosystems who want to expand their capabilities and even a help desk software solution for businesses looking to outsource their customer support completely.
As always, our cloud software recommendations come directly from our community of Serchen users who rate and review software based on their real-world experience, so you can see exactly how our top-rated help desk software tools can work for your business too.
Want more help desk options? Then check out our full list of help desk software reviews!
3 Great Specialized Help Desk Software Tools To Boost Customer Engagement For SMBs
Let's take an in-depth look at the specialized help desk software solutions our Serchen community has rated the best.

Price From: Free!
If you've built up your web presence around a WordPress site and you're looking to expand your capacities to include help desk software, then you should definitely be considering Awesome Support, a dedicated customer support plugin for WordPress.
Awesome Support has everything you need to meet your customer expectations, and with a free version and affordable bundles, it's a very cost-effective solution too. Awesome Support allows you to add the functions you need so you only pay for what you actually use, plus its bundles increase your savings with built-in discounts, meaning that for many businesses Awesome Support is a much more affordable option than traditional stand-alone help desk software.
Plus, being a WordPress plugin, Awesome Support is incredibly easy to set up, taking as little as five minutes. Simply install and activate the plugin on your WordPress site and add a Ticket page, and you're good to go!
With the free version of Awesome Support coming with unlimited users, agents, tickets and more, many small businesses won't even need to spend a penny to start implementing great help desk software. And when it comes time to upgrade, businesses can easily just select the features they need and avoid paying for features they don't.
Highlight Features:
Unlimited access — don't worry about artificial capping with Awesome Support, and enjoy unlimited users and agents, tickets, products and departments, custom tags, priorities and channels!
Attachments — allow your leads and customers to upload multiple files to their ticket to help sort out their issues, with control over the file extensions and maximum file size your customers can upload, plus store all your files in your chosen cloud service integrated with Awesome Support
eCommerce integration — link with WooCommerce and Easy Digital Downloads to synchronize your product lists and allow your customers to open tickets directly from your eCommerce store
Comprehensive ticketing — build your tickets with custom fields and even logic flows to gather the data you need to solve your customer issues, have the tickets automatically assigned to your least busy agent, have all actions taken on a ticket logged and record the time spent on solving the issue all from inside Awesome Support
Email automation — create automatic and completely customizable emails from six different trigger points in the ticketing process
Expandable functionality — expand when you want and only pay for the features you need with the 28 premium add-ons and 4 bundles available
What our community says about Awesome Support:
Jawad — "Awesome support is easy to use and a very user-friendly plugin with a number of useful features. I'd recommend it for all kinds of businesses."
Price From: $15 per user per month (free demo available)
If your business uses the Google suite of business software, including Gmail, then the next two help desk software tools are designed to work perfectly with your current software stack.
First let's look at Hiver, a plugin for your Gmail accounts that aims to simplify help desk software into just the core features you actually need to answer your customer issues.
Designed for smaller organizations that are currently using a dedicated shared customer support Gmail account, or overwhelmed by costly bespoke solutions, Hiver builds in all the help desk software features you need to simplify your customer support process while still ensuring none of your emails slip through the cracks.
By adding tabs dedicated to your customer support to your Gmail inbox, Hiver allows users to quickly get an overview of all their email conversations with customers, as well as the status of each email and whom each email has been assigned to. Routing new emails to team members is simple, with notifications and commenting enabled for easier collaboration.
A recent addition to the Hiver feature list is Live Chat, also integrated directly into your Gmail window, so your customers can receive immediate answers if they need quick resolutions to their issues, and you can keep them engaged with your brand.
Plus, with the automation of repetitive tasks, your team can spend more time focusing on your customers, and with a detailed reporting dashboard, you can quickly and easily understand the quality and effectiveness of your customer support process.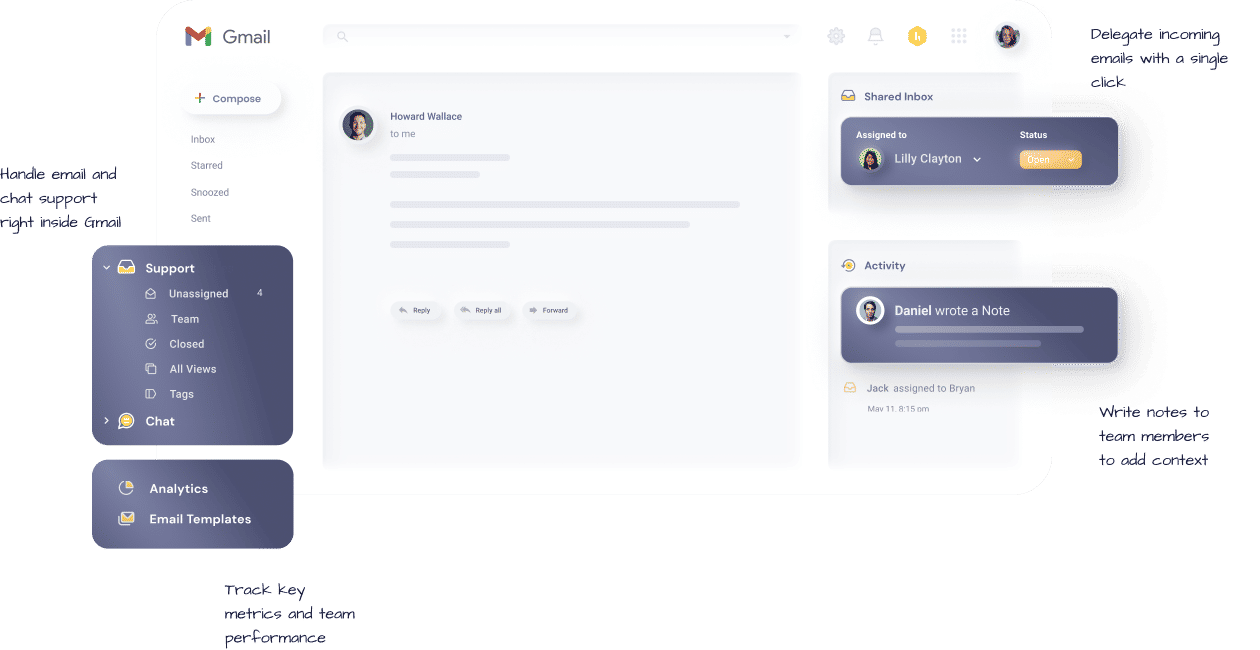 Highlight Features:
Simple interface — built into your current Gmail setup with the addition of a few extra tabs, Hiver is simple to onboard and get to grips with, providing a core help desk software solution with none of the bloat
Shared inbox management — keep on top of which agent is dealing with each ticket with easy assigning features, email process status, notifications and collaboration chat tools
Live chat — provide your customers with an even more immediate answer to their issues with Live Chat functionality built directly into your Gmail account
Automation — speed up your workflow by automating mundane tasks, such as automatic closing of junk and auto-generated emails, automated email assignments to the most suitable agent, round-robin assignment and automatic email tag assignment and organization
Reporting — get insights into your customer support process with data reporting about your workload distribution, SLA violations, productivity and more
What our community says about Hiver:
Michael — "No more in-house forwarding emails. We now have complete visibility on staff email responses. It's almost impossible for a customer email to slip through the cracks. If your customer service department depends on someone forwarding each incoming email to the appropriate employee to handle then Hiver is the perfect solution. You can now have complete oversight and accountability for everyone on your team. It's certainly a win for your customer service department and a definite win for your customers."
Allison — "If you have a team of folks who manage different areas of the business but want one central place for all incoming emails/inquiries, Hiver could be a great business solution for you. Our organization had been looking for a good email management system but the others we considered all required having a different system open *along with* our current email. Hiver is our one-stop-shop for customer service."
John — "Excellent, [Hiver] is user-friendly and makes things so much more productive. All I have to do is add a label and without any effort assign tasks. Worthwhile product."

Price From: $8 per user per month (free trial available)
For our second help desk software solution built around businesses using Gmail as their customer support inbox, we have Keeping.
Keeping is designed to bring users a simple, unintrusive and effective option for providing customer support from your agents' own Gmail accounts, even if your customer emails are sent to one (or several) joint company email addresses.
By linking your customer support emails to Keeping, you include all your agents' personal Gmail accounts in your roster of agents who are able to access and assign customer emails. That way your team can easily see what they need to do and collaborate with teammates to make sure all your emails are answered, while simultaneously keeping the customer support emails compartmentalized away from your agents' other emails.
With features such as advanced collision detection, agents can see when other agents have responded to or are in the process of responding to a customer email and avoid doubling up on responses, and with the ability to route your emails to a specific team member, you can share the workload and create accountability.
You can even integrate your Shopify website to Keeping, allowing agents to see customer information without ever leaving Gmail, and when it's time to reflect upon your process, use advanced reporting features to understand where you can improve.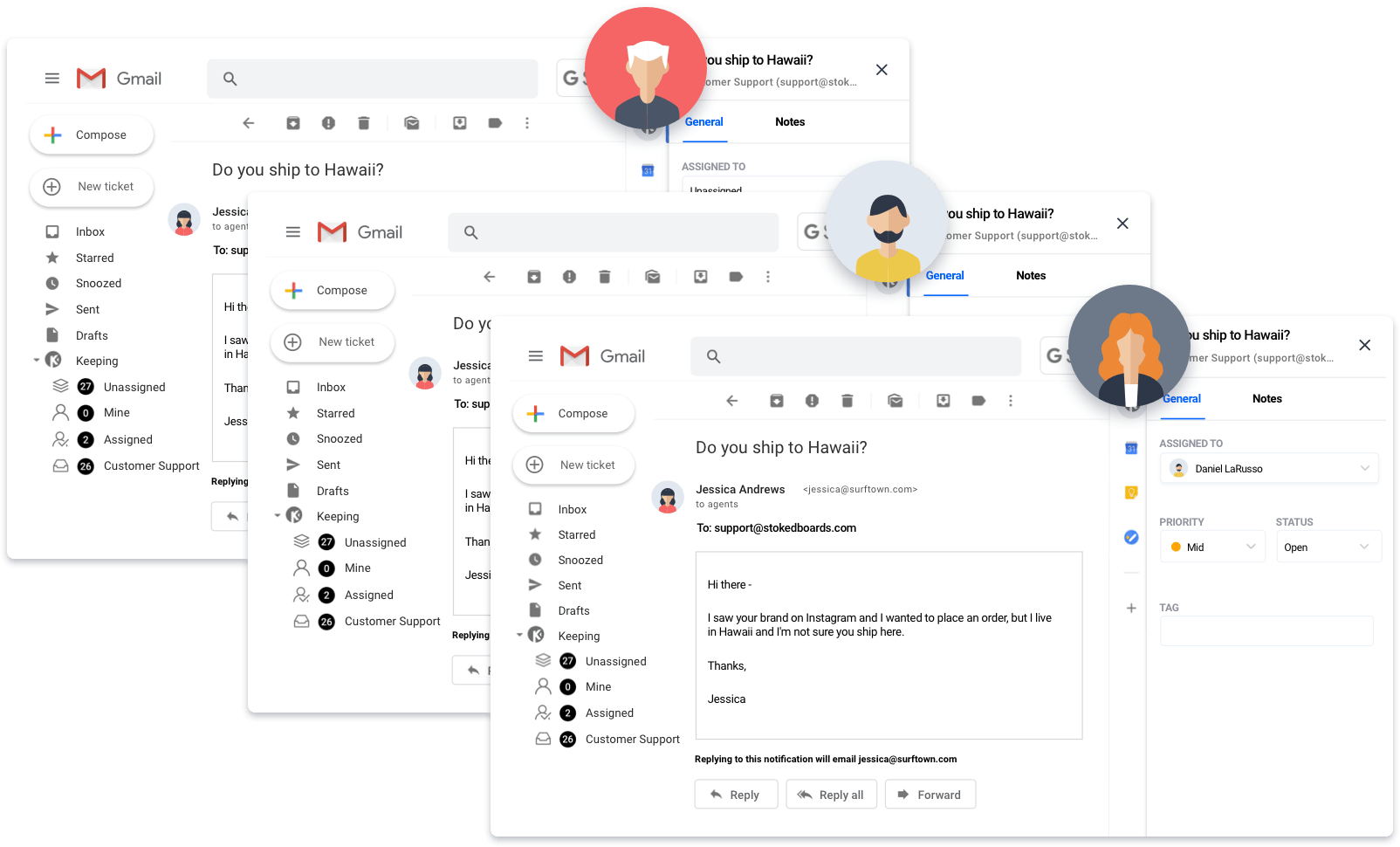 Highlight Features:
Easy setup — get your Keeping mailbox going in as little as three minutes with the simple setup instructions, so you can spend more time reaching your customers
Simple interface — keep all your customer support emails under one tab in your agents' Gmail accounts, separate from their regular email but easily accessible
Multiple shared mailboxes — bring all of your shared mailboxes under one roof for your support teams to work on, letting them answer them all from their personal Gmail account and eliminating the need for multiple logins
Collaborate with notes — share notes with your team to focus on what needs to be done and avoid information silos
Confirmation emails and templates — build customizable auto-email responses for each of your inboxes to let customers know their email has been received, and create insert answers for your most frequently asked questions that your agents can quickly paste into their email replies
Integration — connect to your Shopify web store to view your customer's information and order status without having to leave Gmail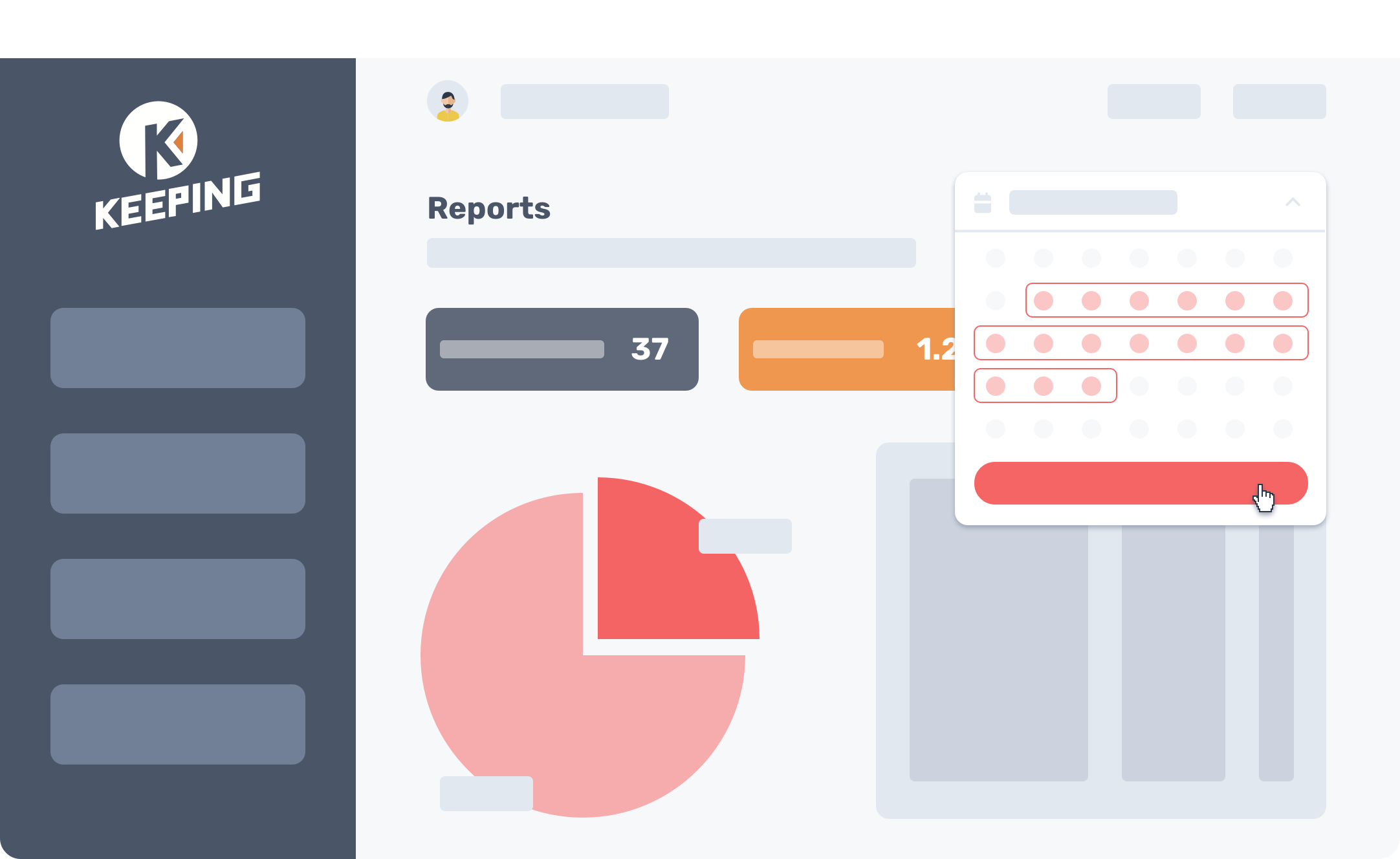 What our community says about Keeping:
Frank — "Great help desk alternative that works where I am all the time: my inbox."
Choosing the Right Specialized Help Desk Software Tool For Your Small Business
When it comes to building help desk software into your software stack, small businesses can struggle to afford the costs of stand-alone software and all the extra features that are unlikely to be used.
A better solution for these businesses is to build their help desk software into their existing platforms, which provides a quicker onboarding time and often a much more cost-effective solution.
When you've grown and it comes time to expand your help desk capabilities and feature set, you'll be ready to spend the extra money necessary to meet the needs of your customers, but until that time comes you'll be able to provide great support to your customers using the help desk software solutions listed above, and you'll be saving your agents time while doing so.