At its core, project management software just makes sense. If you have a project to do, then you'll do it better with planning, oversight and collaboration than you would just jumping into it.
But why not just use a whiteboard to plan with your team? Or software like Excel? Businesses have been using these methods for years, so why change?
The simple answer is, project management software is far, far better than ad-hoc software solutions and manually writing lists. By dedicating their entire functionality to project management, these software tools provide users with an incredible amount of useful tools to make their project management tasks quicker, easier, more intuitive and more effective.
Plus, project management software based in the cloud is designed to deal with the modern realities of working conditions; since the global pandemic, remote working has made up a significant portion of job placements, which old systems of managing projects and collaboration didn't have to account for. By being based in the cloud and being designed to be worked on simultaneously, modern project management software allows your team members to be located anywhere in the world while staying completely coordinated with the rest of their colleagues.
And with cloud-based project management software following the SaaS subscription model, it's not prohibitively expensive for smaller businesses. By choosing subscription packages with features designed for just a few users, businesses can start with very minimal expense (if not free!), and scale up when they need more users and features.
In this post, we'll be taking a look at the best comprehensive project management software tools on the market today in 2022, as voted for by our Serchen community, so you can make the best decision about which project management software tool is right for you.
Looking for more great products to help with your project management process? Then check out our Project Management Software Reviews for the best software tools available!
3 Project Management Software Tools To Supercharge Your Business
As always, our recommendations for the best project management software are based on our community of reviewers at Serchen, who rate the products they use to bring you their real-world experience of how these tools work beyond the marketing.
Price From: Free!
Wrike brings businesses a project management software tool designed to be fully tailored around the needs of the business, with a huge range of customization options and workflow automations.
With great features including real-time live-editing of your projects along with collaboration tools such as commenting and notifications, you can drastically cut down on needless meetings, emails and check-ins, because you and your team will always know who's doing what.
With the ability to view your ongoing projects from a portfolio view down to a task-by-task breakdown, organizations can quickly see the overall health of their projects, eliminate silos and determine what needs to be done to eliminate the bottlenecks.
And with smart automations designed to automate workloads, insights, workflows and software integrations, repetitive and mundane tasks can be a thing of the past. Automatically balance your workloads and resources, generate important insights into your project management process, and kick-start each new step in the process automatically with clever integrations.
Highlight Features:
Customization — create completely customizable Gantt charts and Kanban boards either from scratch or from Wrike's pre-built templates to save time
Collaboration — Speed up your team's communication with commenting and notification features in your projects. Use a shared team calendar to make sure everyone's on the same page, utilize visual proofing to provide clear visual feedback and automatically notify approvers, and use the digital asset management hub to streamline your online publishing process
Clear project management — manage your entire portfolio of projects with the ability to zoom down into the individual tasks involved. Use time tracking (manually or timer-based) to stay on top of billable hours and streamline invoices, stay up-to-date on tasks with online to-do lists, and use Wrike's invoicing software to speed up your financial tasks.
Automation and integration — automate your workflows to eliminate the time spent on repetitive tasks, including workload balancing, insights, and custom automation workflows for your business's specific needs. Plus with integration with over 400 other apps, you can bring Wrike into your existing software stack to boost your information-sharing capabilities and automated tasks.
What our community says about Wrike:
Bernabe — "Wrike is a great way to organize your company. The two best things about it I think are that it's very customizable and collaborative. You can be fully transparent or fully confidential with your projects as well as having all the custom fields and things you want to keep track of in your work. It's also fully collaborative where tons of people can work on a project, assigning tasks, to–do lists, bigger projects, etc. Full compatibility with Google Apps, we use it a lot for sharing Google Drive files. It almost has like a social network feel to it. Also, don't forget to use Dashboards and Reports to keep you on your toes on your tasks and productivity."
Kathleen — "My business exploded with work this summer requiring me to hire over 15 new freelancers. Trying to keep track of everyone's assignments was a nightmare. Wrike has saved the day in my opinion. Assigning a task is as simple as sending an email. At any point, I can see an overview of what assignments are out there and who is working on them. A lot less confusion and frustration on my end."
John — "Since adopting Wrike to use for our work with projects we have seen an improvement in our timeliness with project delivery and also an improvement in our ability to estimate our project capacity which has greatly helped our ability to plan and take on new projects."

Price From: Free!
Zenkit Suite is a very interesting product in that it provides great project management software in a modular format, meaning businesses can select the features they need without being bloated with additional tools they'll never use.
Zenkit Suite revolves around Zenkit Base, the core module that links all the others together. Zenkit Base is the centralized hub of the software, allowing you to structure, organize and combine your data for the optimal presentation of your projects, as well as acting as a file-sharing cloud for your teams.
Zenkit Projects acts as your traditional project management software, offering Gantt charts, Kanban boards, agile, hyper-agile communication driven and cross-method flows. With global views to see all your projects and tasks in one display, over 700 custom reports for insights into your process, and a resource management dashboard, Projects gives you the control and oversight you need of your projects.
But for organizations looking for added features, Zenkit offers several other add-ons. Hypernotes allows your teams to create knowledge bases and wikis, To Do brings your team easy-to-understand task management and reminders, Zenforms allows users to create powerful and dynamic forms, and Zenchat delivers a collaborative communication app with built-in task management features.
And if that doesn't seem like enough, Zenkit Suite also integrates with over 1500 other software services, making it a great addition to any software stack.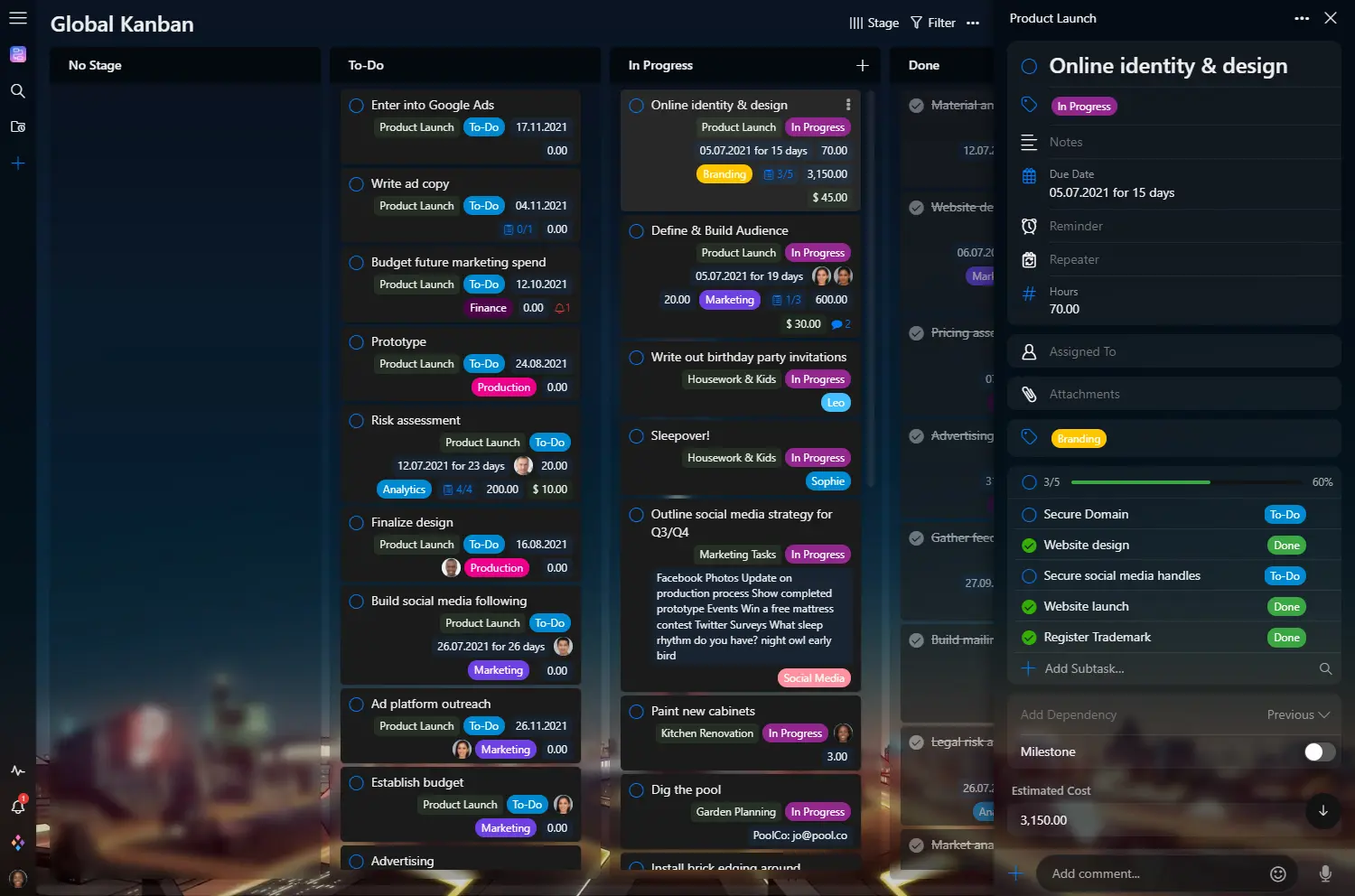 Highlight Features:
Centralized project management hub — bring all your project management data, tasks and other important information together to be combined and organized how the user sees fit via Zenkit Base
Project management — keep track of your projects with global views and work the way your business wants with Gantt charts, Kanban boards and many more powerful options
Modular system — only use the features you actually need by taking advantage of the Zenkit modular design, and ensure your bespoke working solutions are fully enabled with add-ons to create knowledge repositories and dynamic forms, or utilize the powerful task management app and communication tool
Integrations — with integration with over 1500 other apps, Zenkit Suite works with your existing software to automate the flow of information and eliminate the risk of human error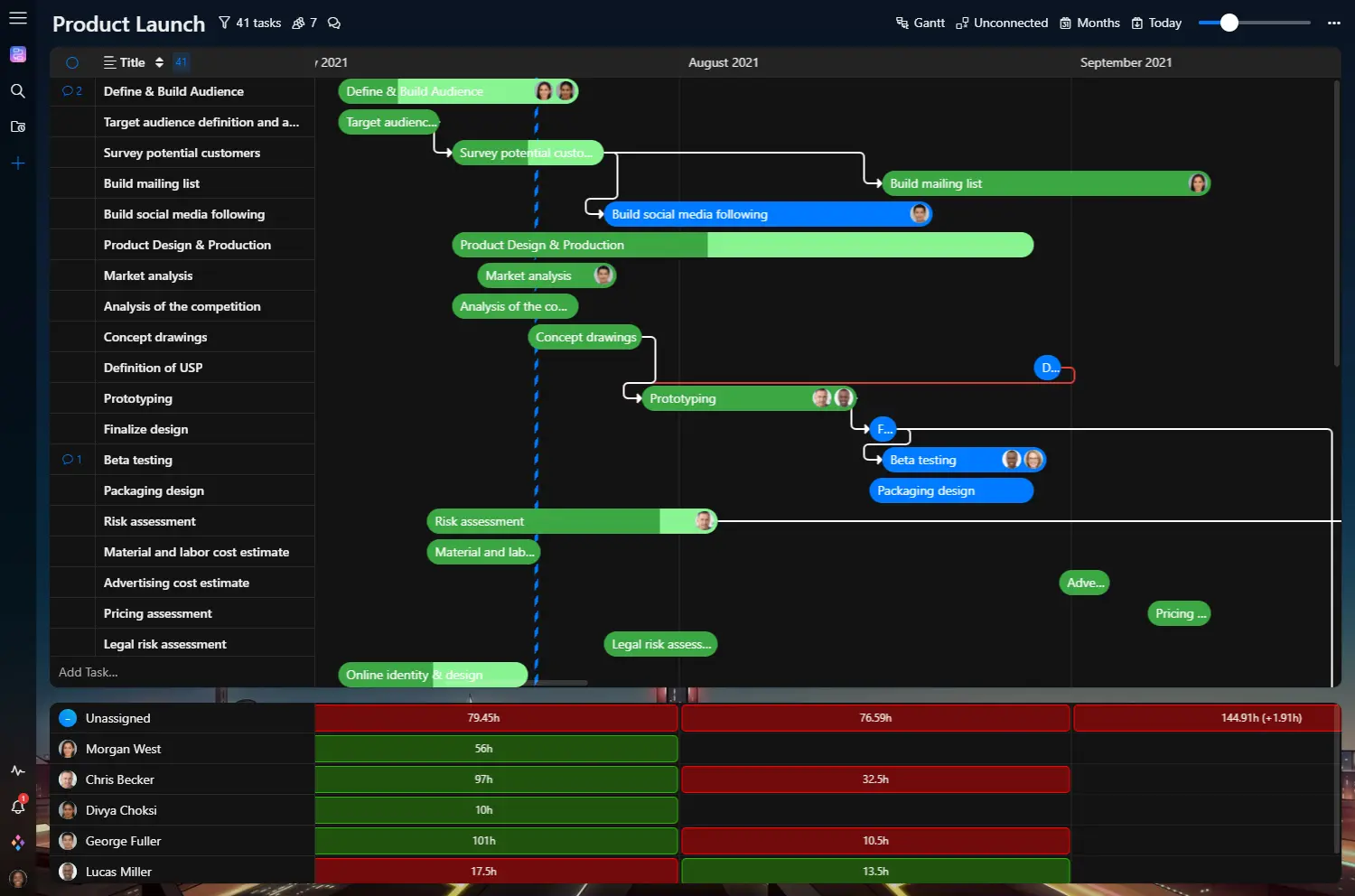 What our community says about Zenkit Suite:
Andrew — "Zenkit has a very intuitive interface, easy to use, and yet very powerful to help your team and organization to manage your projects, agile teams, and many others like chat and content. It is NOT a heavy tool that you have to change your process to fit the tool, instead, this tool will make your process and teams more efficient. Highly recommended for any teams and organization to give it a try."
Daniela — "It's an incredible tool to manage and organize tasks, projects, individual and teamwork. Its design is intuitive and the features it offers are totally useful for increasing productivity. I love using Zenkit to keep my thoughts and tasks on point!"
Patrick — "Awesome Tool! I always had the problem of switching between tools when working on projects. Now I have everything in one tool and can view my data the way I want. Even working collaboratively works seamlessly and easily. Won´t use anything else!"
Price From: $7 per user per month (free trials available)
Smartsheet makes you enterprise-level project management software accessible to even small businesses, meaning that no matter how you scale, you'll always have fantastic project management software to help you grow along the way.
Smartsheet understands that while your projects may be complex, your project management software shouldn't be, and it's been designed to be user-friendly and flexible while still offering powerful features to easily manage all your tasks.
With real-time live-editing, teams can collaborate to quickly and easily work towards common aims, and with all your toolsets in one platform, users can eliminate silos and ensure everyone is on the same page when it comes to your project management process.
And with the ability to completely remove your repetitive mundane tasks with advanced automation and out-of-the-box integrations with your favorite software tools, you'll both be saving time to let your team get on with what they do best, but you'll also be removing the chance of human error through incorrect data entry.
Highlight Features:
Project management tools — build clear and organized projects with Gantt charts, Kanban boards, and Card and Grid views, and gain overviews of your tasks, sub-tasks, task relationships, milestones, critical paths and portfolio
Resource management — with Smartsheet's project-specific and cross-project resource views and heatmaps you can easily see where your bottlenecks and workloads are
Budget management — track your time, budgets by currency and expense to stop budget creep and manage your resources across multiple projects
Reporting — assess your key metrics with a real-time analytics dashboard and custom reports generation and sharing
Automation — easily create automation workflows to automate your repetitive tasks that run on condition-based or recurring basis
Integrations — manage your data and information flow by adding Smartsheet to your existing software stack and taking advantage of the out-of-the-box integrations to automate your processes.
What our community says about Smartsheet:
Michael — "Smartsheet is the top project management in the market today with the ability to provide detailed reports of projects, breaking down tasks into subtasks and assigning them to team members. Teams also are able to share materials necessary for collaboration and completion of their tasks. They have flexible pricing plans."
Viola — "Nothing slips through the cracks with Smartsheet! Just a fantastic organizational tool; trust that I've tried many. Get your team all on the same page; you won't be disappointed."
Brian — "Smartsheets is an extremely useful tool that I use regularly. It streamlines coordinating tasks and makes project management a breeze."
Choosing Project Management Software For Your Business
The best project management software for your business is the one that allows your teams the greatest freedom to complete their tasks with clarity and oversight.
There is no single best recommendation for software on the market, as each software tool offers something a little different, but each program on this list has enabled our community to find great successes while saving time and money.
With free trials and versions available for all software on this list, we recommend trying out the programs to see which is the best fit for your business without having to risk resources on something that doesn't work for you.