Adding incentives for when your sales reps close deals is a great way to boost their motivation and dedication to finalizing a sale.
One of the best incentives for your reps is a commission system that pays them a proportional reward for the deal they close.
And while that's wonderful news for your sales department, your HR and accounting teams might not be so overjoyed at the extra paperwork commission programs entail. There's a lot of tracking, calculating, forms and admin that goes on behind the scenes to ensure each rep gets the commission they're owned.
But don't worry, because there's a simple solution! Sales commission software is designed to take all the hard labor out of the commission process, saving your HR and accounting teams time, and making sure your sales reps get the correct amount of commission.
What is Sales Commission Software?
Sales commissioning software is a tool designed to take all the difficulty out of keeping track of your sales commission, while ensuring your reps receive the compensation they're due. Sales commission software is designed to automatically assign compensation through the common commission structures and additionally for the different kinds of compensation offered, such as stocks, bonuses and time off.
Why Integrate Your Sales Commission Software With Your CRM?
While sales commission software tools have a host of great features built into them, the most commonly used features can be accessed through CRM integration.
Some sales commission software will pull data from your CRM to keep real-time updates on the condition of your reps' sales and compensation levels, whereas others will allow you to view, within your CRM, the current status of deals and the commission potentially due from them, or the amount of commission due per stage of the pipeline.
By integrating your CRM with your sales commission software, you'll have up-to-date information about the commissions due inside your pipeline from both inside and outside your CRM.
The 4 Best Sales Commissioning Software Tools
Now we understand the basics of sales commission software and the solution it aims to solve, let's look at the four best-rated sales commission software tools on Serchen as reviewed by our community.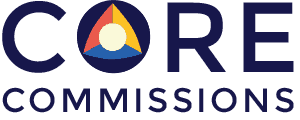 Price From: $12 per payee per month
Built to eliminate the time spent tracking commissions through error-prone spreadsheets, Core Commissions brings you an intelligent system for managing your sales commissions with the promise of being cheaper and easier than your current solution.
With the ability to create complex commission rules out of simple building blocks, you can take control and automate your process no matter how nuanced you want it to be.
And with in-depth analytics, you can generate the custom reports you need quickly and easily and share them with those who need to know.
Core Commissions also comes with a connector module that allows it to sync with almost any CRM (as well as many other software types) to make sure your commissions are always up to date with the latest deals.
Highlight Features:
Commission flow builder — quickly build custom automated flows that mirror the commission process for your business, so you can ensure the correct compensation is paid to your employees
CRM integration — eliminate the need to manually enter information by syncing your CRM pipeline with Core Commission, so you're always aware of the commission due to your reps
Automated calculation — regardless of how nuanced and complex your commission calculations are and how many payees you have on your system, you can process all your sales commissions automatically with just the click of a button
Reporting — get detailed insights into your sales commissions with in-depth customizable reports you export in several formats and easily share with others
Adam — "Core Commissions helps us track and reconcile commissions. It also allows us to easily set up different splits that need to be paid with multiple agents. This system has helped us save time and money. Our accounting team loves the system."

Price From: $30 per user per month (free trial available), one year of free service to tech startups with under $500K in annual revenue
Sales Cookie brings users a platform designed to motivate your sales reps and ease up the work on your finance and HR teams. By removing the need for spreadsheets and ensuring ASC 606 accounting compliance, Sales Cookie lets you streamline your commission process and keep your taxes in line.
With the mission statement of reducing the time spent on commissions, the errors made by commission calculators and the reps lost over sales commission disputes, Sales Cookie brings users everything they need to streamline their commission process and motivate reps.
With a flexible and clear incentive designer, you can quickly get your commissions system up and running, and with individual dashboards for your reps, they can stay motivated by keeping track of their compensation status.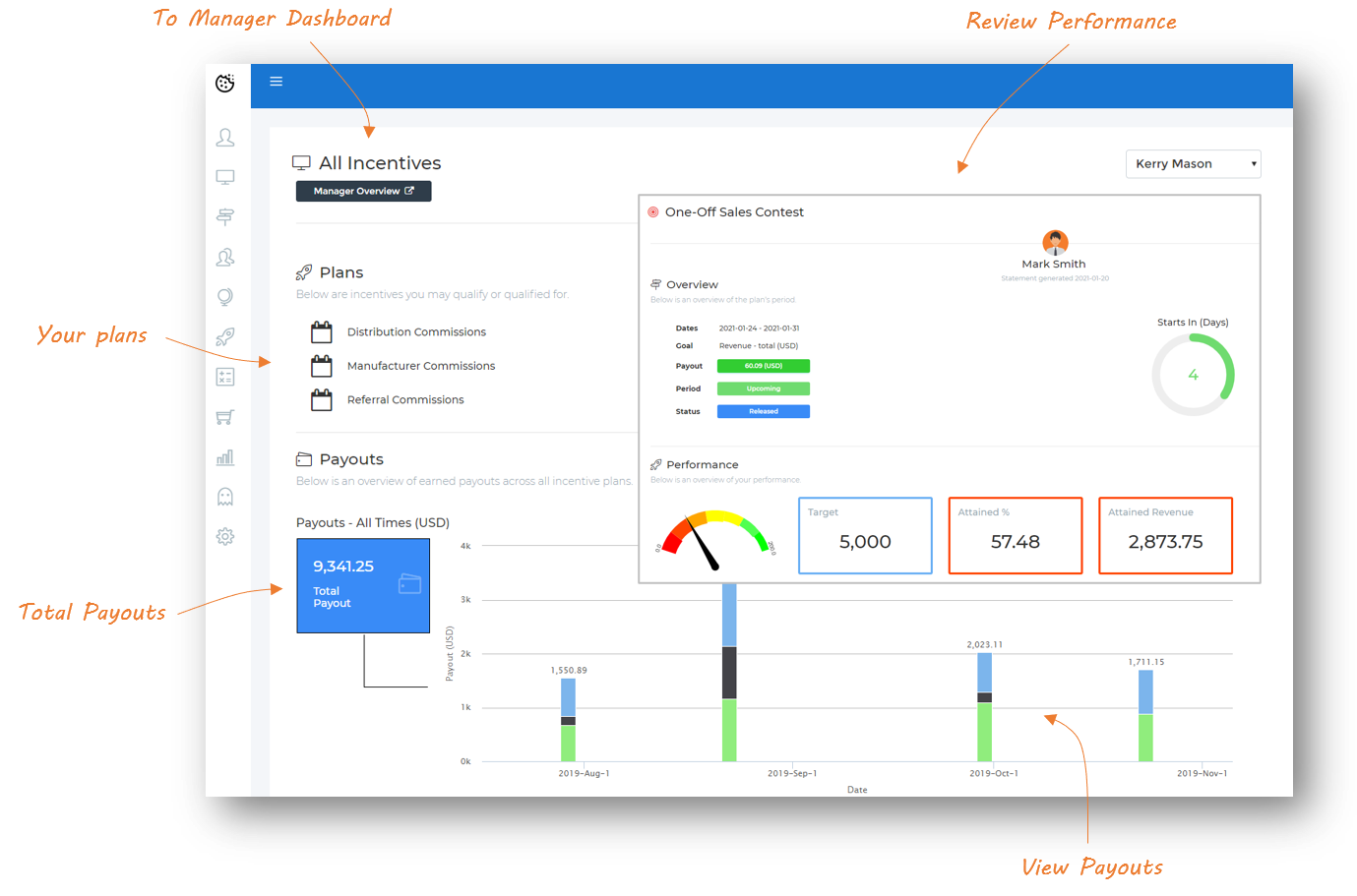 Highlight features:
Incentive builder — use Sales Cookie's interactive wizard to help you build your sales commission programs. Use their five-step approach to choose between a wealth of options to customize your program how you like, and let Sales Cookie review your plan for you to double-check for errors
CRM integration — automatically sync data from your CRM into Sales Cookie, which is then displayed on your reps' incentives dashboard and used to calculate the compensation sent out via your payroll system
Incentive dashboards — all users get their own incentive dashboard which gives them the low-down on how they're doing performance-wise. They can review their payouts, enroll in your incentive plans and even submit inquiries
Reporting — use Sales Cookie's built-in reports to easily understand the state of your sales commission programs. Make sure your incentives are fair and cost-effective by looking at the data, and give your reps surveys to complete for their feedback on the service
Robust security — Sales Cookie provides users with world-class security, making sure all your data stays safe and secure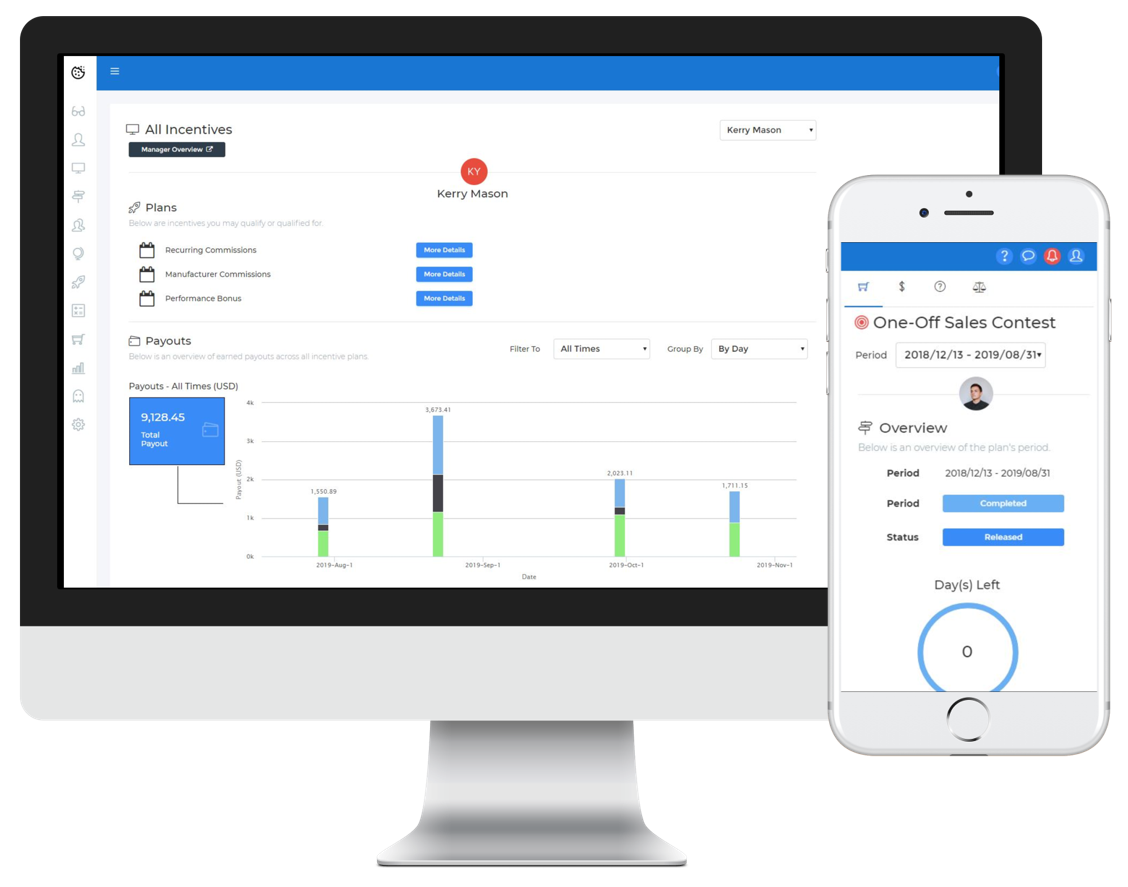 What our community says about Sales Cookie:
Laura — "Sales Cookie allowed our time spent managing sales commissions from 14 hours a week to 30 minutes."

Price From: $2.95 per user per month (free trial available)
Easy-Commission presents an affordable sales commission software tool to the market that emphasizes simplicity and flexibility.
With a streamlined platform designed to bring your team the key features for effective sales commission management, as well as some extra functions, Easy-Commission gives teams everything they need to handle the running of a transparent compensation program.
If you're looking for an affordable solution without losing any of the great features sales commissioning software brings your business, then Easy-Commission may be the perfect answer for you.
Highlight Features:
Data importing — import customers, product information and transaction data from external files, Excel, Quickbooks and Xero
Plan builder — use the Easy-Commission plan builder to set up complex compensation plans with a host of options covering different types of commission plans and paying calenders.
Reporting — generate in-depth commission statements by rep, and use the analytics dashboard to get multi-dimensional views into your data
Built-in CRM — use Easy-Commission's built-in CRM functionality to keep track of your deals, contacts and sales pipeline, with reports on your opportunity stages
What our community says about Easy-Commission:
Hailey — "Easy-Commission makes it easy to access commissions quickly and efficiently. It is a very convenient way to save time and money."

Looking for a streamlined sales commission software tool that only focuses on the features you really need to ensure your reps are easily compensated for their work without human error muddying the water?
Then Commissionly.io might be the sales commission software for you. With everything you need to set up complex compensation plans with a variety of options and plan types, Commissionly.io ensures you don't have to spend time on features you don't intend to use.
Plus, the Commissionly.io staff can help you set up your plans so that your sales commission software solution is fully customized to your business. With stress-free migration and easy CRM integration, Commissionly.io will have your compensation plans up and running in no time.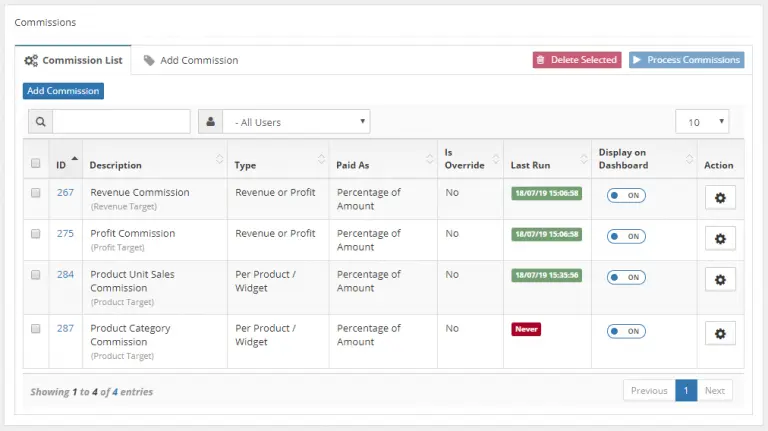 Highlight Features:
Versatile commission plans — create compensation programs as simple or complex as you need them to be. With varied commissions and splits, as well as manager override commissions, you can set up the commission plan you need to get the best out of your team
Flexible payment options — let reps draw funds against their future commissions, or set up an automation to pay out compensation when your clients pay you. Plus, manage clawbacks and adjustments to make sure any overpayments or errors are handled transparently and painlessly
Forecasting — see the commissions reps are likely to make in the future and combine them with the commissions they've already made to generate forecasts and assess outstanding future commitments
Multi-currency support — for businesses with reps worldwide, users can choose the currency in which they'd like to be paid and see what that means for their commissions with conversions in place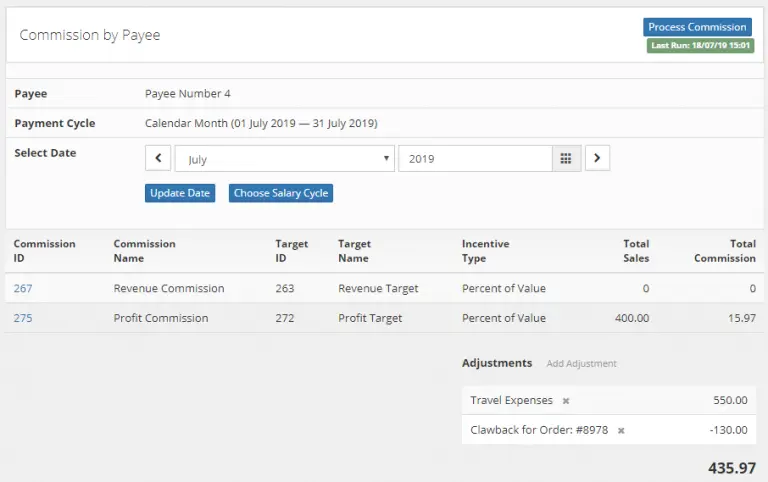 Should You Integrate Sales Commission Software With Your CRM?
Sales commission software illustrates an excellent way in which cloud-based software can automate your existing systems to save your team members time and money.
Sales commission software doesn't promise to radically change the way you work; instead, it brings your compensation programs and associated paperwork into the modern world of technological automation.
If you're seeing your HR and finance team spend hours working out your sales reps' commissions, then it might be time to bring in cloud-based sales commission software to save them from the busywork involved.
Plus, it also gives your sales reps transparency over their commissions, so there won't be any more issues over miscommunications and human error. With reporting tools, managers can easily see the effectiveness of their systems and understand how cost-effective they are.
And by introducing your CRM into the equation, you'll ensure your sales commission software is always fully up to date with the deals it's tracking, meaning you'll have a comprehensive overview of current and future compensation commitments in real-time. No more manually inputting rep and deal data — let automation take care of the repetitive tasks.