When a potential customer has a question about your product, it's important to move fast to answer any queries they have before they lose interest.
But how do you know when your prospects want more information? If there's nowhere for them to ask the questions they want answering, then your reps can't guide them towards a purchase.
Live chat and chatbots offer a solution to this problem by giving visitors to your website an immediate way to communicate with you, and in this guide, we'll be breaking down the best software on the market according to our community here at Serchen to use with your CRM software.
Chatbots vs. Live Chat — What's the Difference?
The fundamental difference between a chatbot and live chat is that one is automated, and the other is a messaging service communicating directly with a rep.
Live chat and chatbots appear very similar to the customer; often users will interact with a chatbot that will qualify the prospect's needs, and either solve their problem or hand over the prospect to a rep to communicate with over live chat.
It's important not to conflate the functions of each tool though, as when used optimally they do different things, leaning on the strengths of automation and human interaction to get the best out of the chat system.
Think of chatbots as your first line of interaction with a customer. By using chatbot scripts to provide answers to the most common questions your customers ask, you can save time by having your chatbot deliver all the necessary information to keep your prospects happy.
Moreover, they can be programmed to give your prospects the opportunities to book meetings and schedule calls with reps for demonstrations of a product, providing you and your leads a hassle-free way to progress towards a deal, or have them take prospect's contact information to add them to your pipeline.
Live chat, on the other hand, is for when your users need a more nuanced answer. This can either be through customer service if they have issues with their product or by talking to sales reps about the nitty-gritty of how a product might work for them.
By having your chatbot route leads directly to your sales reps, you can eliminate the time it takes to answer your prospect's questions and keep your leads engaged with your product.
Why Integrate Chatbots and Live Chat With Your CRM?
The key to maximizing your conversion rate is to understand what your buyer wants and help them meet their needs.
When looked at this way, sales in an information game. Gathering as much data about your prospect's wants and needs is key to progressing them through your pipeline.
As the hub of our sales team, your CRM is where your information is stored, and with the vast amount of personalized information live chat and chatbot tools can bring you, it's a great idea to centralize this information into your CRM so it can be recalled at a moment's notice to bring reps up to date with your buyer's journey.
With many live chat and chatbot services built to integrate with CRMs, it's a fantastic opportunity to boost your conversion rates and equip your reps with the information they need to close a deal.
The 6 Best Chatbots and Live Chat Tools
First off let's take a look at chatbot tools before moving on to packages including both chatbot and live chat functionality. As usual, we're only recommending the very best-rated software from our community of users at Serchen.
Price From: Free!
Looking for powerful chatbot software but have no idea how to code? Have no fear, because Landbot brings you a slew of great features in one easy-to-use package.
Landbot lets you create advanced conversational flows without the need for coding expertise. By using their drag and drop creator, you can quickly create different custom flows for your most frequently asked questions.
You can also deploy Landbot beyond just a website. Integrate it with your messaging channels, pop-ups and more with just a click, and see how quickly you can begin to convert visitors to loyal customers.
And if your chatbot can't meet your visitor's needs, then Landbot can assign them to your human reps to take to in real-time with its human takeover function.
Highlight Features:
Chatbot builder — Landbot's drag and drop chatbot builder ensures users can create a chatbot with powerful features without the need for coding. Build automated workflows from templates including conditional logic, complex formulas and pieces of media to give your visitors the best experience in minutes
Integrations — with built-in integrations for popular software like Mailchimp, Slack, Whatsapp and Zapier, it's easy to transfer the information you glean from your visitors into your CRM and other tools
Analytic reporting — see how your chatbot process is affecting your lead generation and customer engagement by using the metrics dashboard and generate reports to check on your KPIs
Human takeover — turn your chatbot conversation over to your live chat team by building human takeover blocks into your chatbot workflow
Lead generation — let your chatbot take customer information and book meetings with visitors to add quality leads to your pipeline
For web and Whatsapp — built for seamless integration into your website and Whatsapp messenger, add the complete chatbot package to your favorite messaging channels
What our community says about Landbot:
Richard — "There are so many things I like: Integration with essentials channels, such as WhatsApp, Messenger and web embed. You can integrate with other apps (SalesForce, Zapier, etc). A warm and wonderful experience. I'm sure I'll be working with them for a long time."
Yann — "The one thing that has really impressed me about Landbot is how intuitive its Drag-and-Drop workspace is. No need to have an engineering degree nor to be a programming wizard…you can select the first element of your bot, customize it and then connect it to the second element you'll choose and edit – and so on. Landbot's focus on a visual workspace is very valuable because it allows users to see, at a glance, each step and all the different options you are building for your bot."
Phoebe — "Easy to use. Pleasant design. Saves my time."

Price From: $5 per day (Demo Available)
Designed for larger companies, Engati brings a comprehensive chatbot and live chat service with minimal coding needed. With all your communication channels stitched into one view, Engati makes it easy to keep up with your customers no matter what platform they're using.
And with seamless integration into your CRM and other third-party apps, you'll be able to track all the data you need on the performance of your chatbot and live chat.
With an easy-to-use drag and drop conversation modeler, you can guide your users through the chatbot experience while making use of Engati's NLP engine to personalize responses from your customers' context and intent.
Highlight Features:
Conversation generator — Engati makes it easy to construct conversation flows with their drag and drop builder, meaning you can personalize your customer's journey through each point of their interaction with your chatbot
Built for multiple channels — engage your audience on the platform of their choice by integrating your chatbot over your website, WhatsApp, Telegram, Messenger and more
Multi-lingual — build your chatbot in your native language, but deliver it globally by selecting the language for which it will appear, and use two-way translation to overcome the language barrier with your customers
Chatbot and live chat — easily transfer your users over from your automated chatbot to your live chat team over the Engati portal. Plus, with the Engati app, reps can support customers directly from their mobile phones
Chatbot templates — why build your chatbot from scratch every time? With templates specialized for numerous different industries, you can start with the perfect template for your business
Lead generation — instantly capture prospects when they interact with your chatbot and segment them for targeting with the most effective marketing campaigns to convert them into won deals
What our community says about Engati:
Pruthvi — "We have been using this chatbot for almost 2 years and the experience is amazing. It's affordable and offers the best features as well as the best customer service from Engati. I will definitely recommend this to everyone."
Brad — "This is the best no-code chatbot building platform that is available in the market, period. I have no coding experience whatsoever and was able to build a chatbot that blew my mind away. The user interface is simple, crisp and not overly complicated. I especially like the drag and drop feature, so practical!"
Emma — "Love the interface and multi-channel deployment. Good customer support team."
(Free Trial Available)
Concerned your chatbot sounds too artificial? LivePerson provides the answer with AI-driven conversations to build meaningful connections with your prospects.
And with its Conversational Cloud bringing all your messaging and voice channels together in one place, you can ensure consistency of delivery to all of your audience.
With the LivePerson AI fuelling nearly 1 billion conversation interactions every month, you can be sure that its AI is one of the best on the market for understanding what your consumers want and providing the personalized experience that makes them more likely to buy and stay engaged.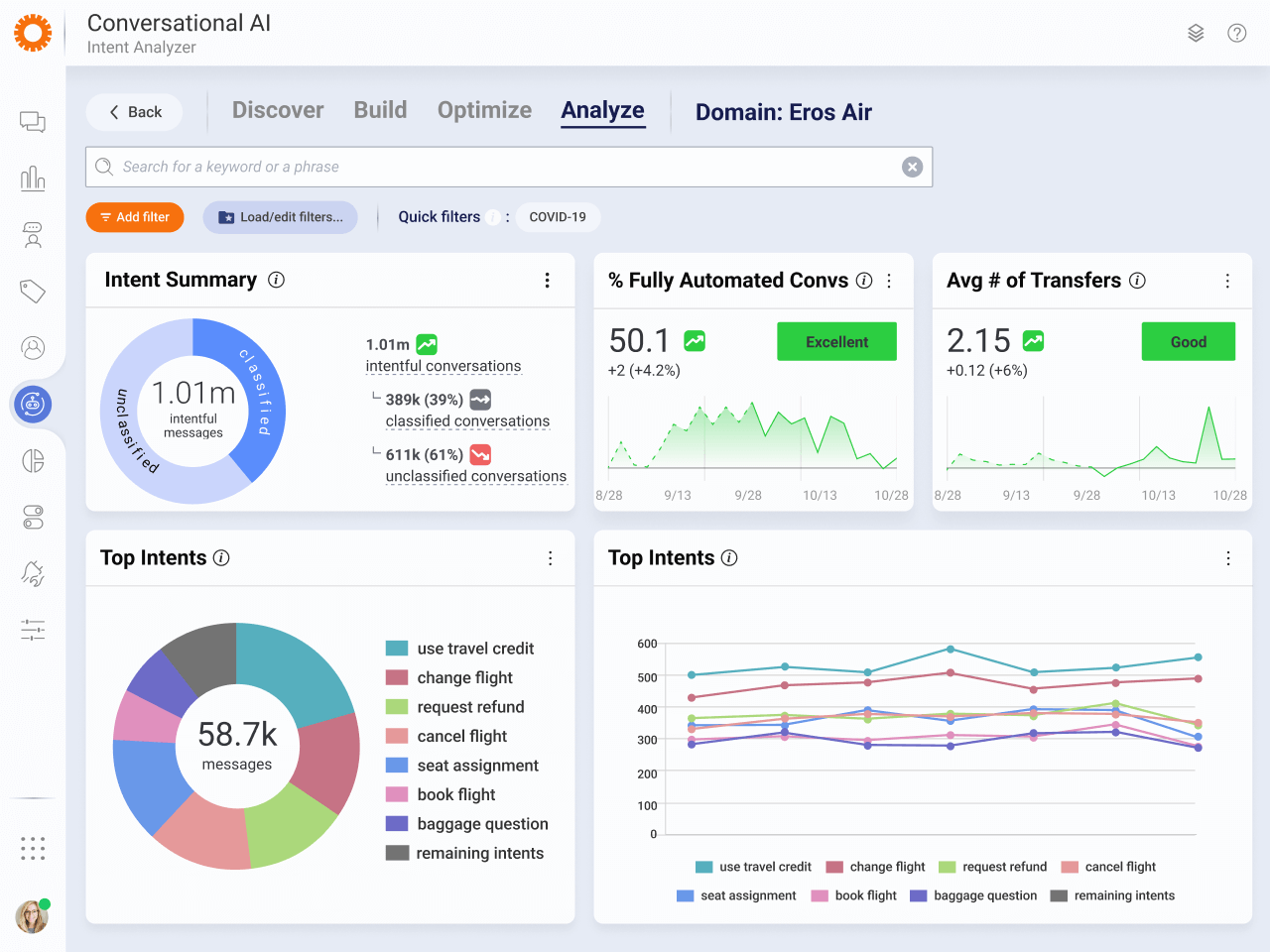 Source: LivePerson
Highlight Features:
Conversational AI — let LivePerson's natural language understanding fuel your customer interactions while simple automation saves you time and money
Conversational cloud — connect with your audience on the channels they prefer to use all in one place using the conversational cloud to centralize communications
Reporting — use LivePerson's impressive analytics dashboard to see how your chatbot process is going. Compare your benchmarks against other brands, respond to trends, and track your audience's sentiment while also refining your chatbot process
Integration — integrate LivePerson with your CRM and other software to keep track of the personal information of your buyers along their journey through the pipeline
Human interaction — empower reps to quickly find answers or take over from your chatbot while also providing the oversight managers need to ensure live chat is going to plan
What our community says about LivePerson:
Evan — "Simple and Easy way for communication, LivePerson makes it extremely easy and efficient for me to connect with customers for my ongoing business."
Basiirat — "LivePerson serves as a connection between my organization and our customers. To my organization, LivePerson has gone beyond just being a help-desk solution, it has enabled us to segment web visitors based on activities such as the part of our website they visit, how long they spend on a particular web page, their past interaction with the help-desk team, etc"
Barbara — "The best software app ever"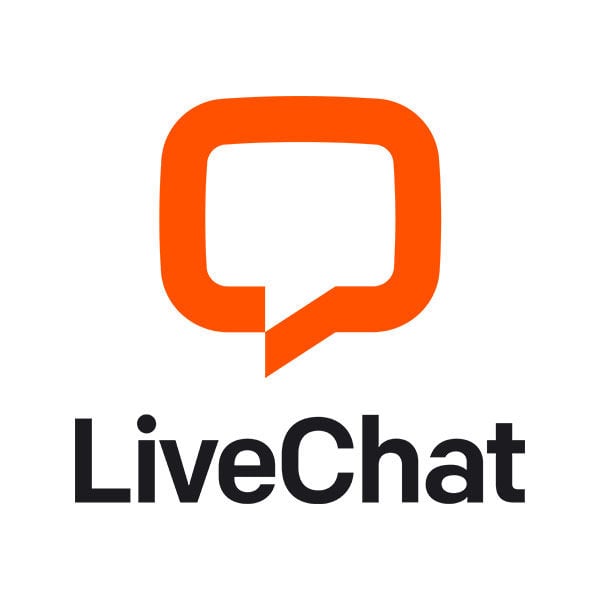 Price From: LiveChat — $16 per agent per month, ChatBot — $42 per month
Two separate pieces of software from the same company, but so clearly designed to be used together that we're going to treat them as part of the same package.
ChatBot handles your initial customer interactions, using personalized greetings to reach out to your customers, guiding them through conversation flows while qualifying them for your CRM pipeline, then either solving the customer issue or passing them over to a sales rep on LiveChat.
Designed to work across all your communication channels, LiveChat and ChatBot make it easy for your customers to feel at home at contact you over the platform they feel most comfortable with.
Highlight Features:
Multi-channel support — connect with your users on their favorite platform by using the LiveChat and ChatBot multi-channel features
Message sneak-peak — see what your customer is typing as they type so reps can plan ahead and prepare a response for an immediate answer
Reporting — gain insights over every aspect of your live chat and chatbot process with a comprehensive data analytics dashboard
Integration — integrate with over 200 other software tools to ensure your CRM stays up to date with your leads' most important personal information
Lead generation — use ChatBot to qualify your leads for you, finding out key information about them so you can see if they're a match for your business model
What our community says about LiveChat and ChatBot:
Bailey — "I love LiveChat, and I use it on my website all the time. There are all kinds of great features, and I would never ask for anything to be changed."
Cat — "I really love this interface. I know from the customer end that I am more likely to use a website/buy a product if I can get an instant answer from someone. LiveChat is very easy to use, I can interact with my customers at the same speed as if I were talking to them. It has cut down on the amount of phone calls we receive to the customer service line and is easier to handle. In this day and age of instant communications, and if you want to stay competitive, you need a chat line and LiveChat fills that function very well."
Andrew — "Since adding LiveChat to our company website, we have received so much positive feedback from customers!
The staff at LiveChat are really friendly and helpful if you have any questions or suggestions for them. I would definitely recommend LiveChat for your company's website."

Price From: Pay-as-you-go from $10 per chat, subscription from $140 per month ($7 per chat)
And now for something a little different.
So far all the options we've looked at have been for using your in-house staff to manage your chatbot and live chat tools, but what if you're a small company without dedicated reps, or you don't want to take up your current reps' time with managing a live chat?
Well, the answer is to outsource your live chat to a business dedicated to bringing your customers the best quality service, while your reps get on with selling.
Don't think of overseas call centers either; Smith.ai's staff are trained to bring you and your audience the highest quality of service. Plus, with Smith.ai's completely free chatbot, you can build a fully professional and automated chat system that doesn't expend any of your reps' time.
Highlight Features:
Professional agents — use Smith.ai's high-quality agents to manage your live chat for you. Provide them with the knowledge base they need to answer customer questions, and let them guide your prospects through to your pipeline
Free chatbot — use the Smith.ai chatbot to screen your chats and make sure you're only paying for the chats that need a human touch to answer. Let the chatbot qualify leads and bring them into your pipeline without your or your agents having to lift a finger
Multi-channel — let agents answer your visitors' questions over your website, SMS or Facebook messenger
Multi-lingual — use Smaith.ai's neural network to instantly translate Spanish to English for agents, so agents can serve customers from further afield
What our community says about Smith.ai:
Kimberley — "I switched over to Smith.ai in February after a very bad experience with another big name competitor. The difference in service is night and day. Any concern I have had has been promptly addressed and they have taken it seriously, even if it wasn't as big a deal to me. My prior service would gaslight me and pay me lip service. Smith.ai has actually booked appointments for me when the others didn't book a single appointment in three months. I'm a solo firm so having a reception service that is bilingual, friendly, courteous, and proactive has made a big difference in my client-happiness rating."
Olivia — "I've used smith.ai receptionist services, and the Live Chat was a no-brainer for me. The live chat receptionists interact in real-time with website visitors in the same way he or she would interact on a live phone call. I've received great leads from the service. I think it's important to meet leads where they are, and they now expect live chat. I honestly can't think of a negative. Smith.ai Live Chat has been great for my firm."
Bringing Live Chat and Chatbot Into Your CRM
Chatbots and live chat are great sales, marketing and customer relation tools. With their ability to quickly answer your visitors' questions, you can keep your users engaged and boost their satisfaction with your business.
By integrating these features into your CRM, you can let chatbot and live chat generate and qualify new leads based on your visitors' responses, saving your team time and letting them get on with selling.