If you want your business to work smoothly and handle all the little issues that could otherwise derail your workforce, then you need a great HR department.
A large part of a great HR department is making sure you have the processes in place to properly support and manage your employees so they're enabled to give you the best performance they can. But how do you set yourself up to run effective HR processes, where nothing falls through the gaps?
The answer is in choosing the right platform at the center of your HR strategy, as the software you choose will have an enormous impact on how effectively you can run your processes. Excel spreadsheets may once have sufficed as the basis for your HR practice, but they don't compare to dedicated HR software in terms of their ability to organize data, streamline processes, and make the whole process a lot easier to understand and more transparent.
Want to upgrade to dedicated HR software but can't budget the price tag of paid products? Then check out our guide to the best free HR software solutions here
In this post, we'll be looking at the best premium HR software solutions for businesses that are ready to add paid products to their software stack, or for those who are looking to upgrade their current HR software and want to know the best HR software tools on the market in 2022.
As always, all our suggestions are backed by our community of Serchen users who have rated and reviewed the HR software they use in the real world, so we can give you the insights of real people in the real world.
Who are Premium HR Software Solutions For?
Generally, premium products are for businesses with either an established team member or department within that software sector, or who are looking to hire someone to take on that role.
For very small businesses where staff often wear a few different hats, a premium HR product is an unnecessary expense, as there generally won't be a need for the time-saving features a premium product offers, as they're designed to operate at a higher scale of HR-related workloads. For small businesses like this, we recommend trying out free HR software, which gives you all the functionality you need to operate a small business HR department without any of the associated cost of premium products.
Therefore, premium HR products are for businesses that find the features included with free software to be too restrictive, or aren't comprehensive enough to meet their needs, and who both have the budget to spend on premium products and will also be saving money with the time saved by the features offered by premium HR software.
The Best Premium HR Software in 2022
Let's take a deep dive now into the premium HR software solutions our Serchen users have rated as the best on the market for 2022.


Price From: $86 per month for 10 users
HR Partner positions itself as a complete HR software system for small and mid-sized businesses, with their typical clients having 50-200 employees. Its mission is to bring the tools large companies use for their HR to smaller businesses, without the big cost.
HR Partner is a system designed to handle all of your HR tasks from one system, meaning there's no need to constantly switch between different software solutions to get things done. However, if you do have specialized HR software in place, HR Partner is designed to work alongside your existing software by integrating with popular payroll and accounting software packages.
With everything you need for the day-to-day running of your business included in the core package, you'll have access to a company database with employee records providing an overview of your business, with specialized functions to help streamline tasks such as leave requests, expense claims, onboarding and even reporting.
For businesses interested in tools designed to track recruitment and applicants, timesheets and E-signatures, then upgrading to the 'Premium' plan will outfit you with these powerful tools.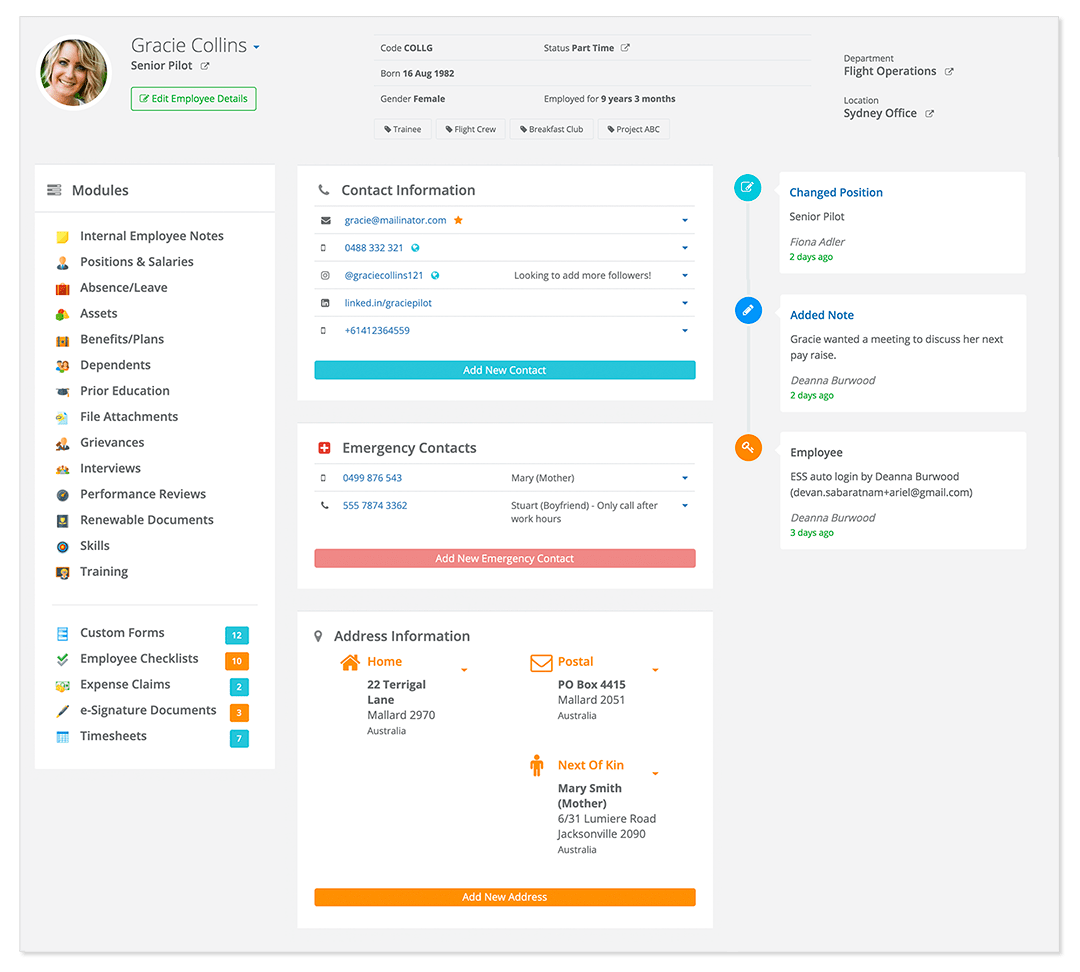 Highlight Features:
Employee records — centralize your employee information in the cloud for easy access in one secure place, with a directory of your employees and their contact details, confidential storage of other records and information about them such as performance reviews and remuneration
Self-serving leave management — make your leave management a breeze by allowing your employees to apply for leave via your online portal, allowing them to access their balance and their requests with flexible approval systems that include multi-level approval
Onboarding — set up custom checklists for on and off-boarding as well as training modules through the employee portal. Create a single source of truth for all your training and staff materials, including documents and videos
Recruitment and applicant tracking — embed your recruitment and applicant tracking processes into your HR software so you can control everything from one centralized hub. Use your own portal to publish jobs or use integrations to post to job boards, and use custom application forms to speed up the screening process while keeping track of applicant progress with Kanban-style boards
Custom forms — create customizable forms to gather valuable feedback and information from your employees, starting from a number of templates to suit your need and adapting them with the form designer
Expenses — if your employees need to settle their expenses for things like travel, meals out, software and so on, then HR Partner has you covered. Let employees submit their own expenses claims from the employee portal for managers to easily track and approve
E-signatures — speed up everyone's workflow and save on the cost of paper and ink by using e-signatures so employees and users can approve documents electronically without the need to print or scan documents
Integrations — integrate HR Partner with other tools in your software stack to streamline workflows through automation and break silos. Sync HR Partner with your payroll software, Slack, calendar software and job boards to extend your functionality and save time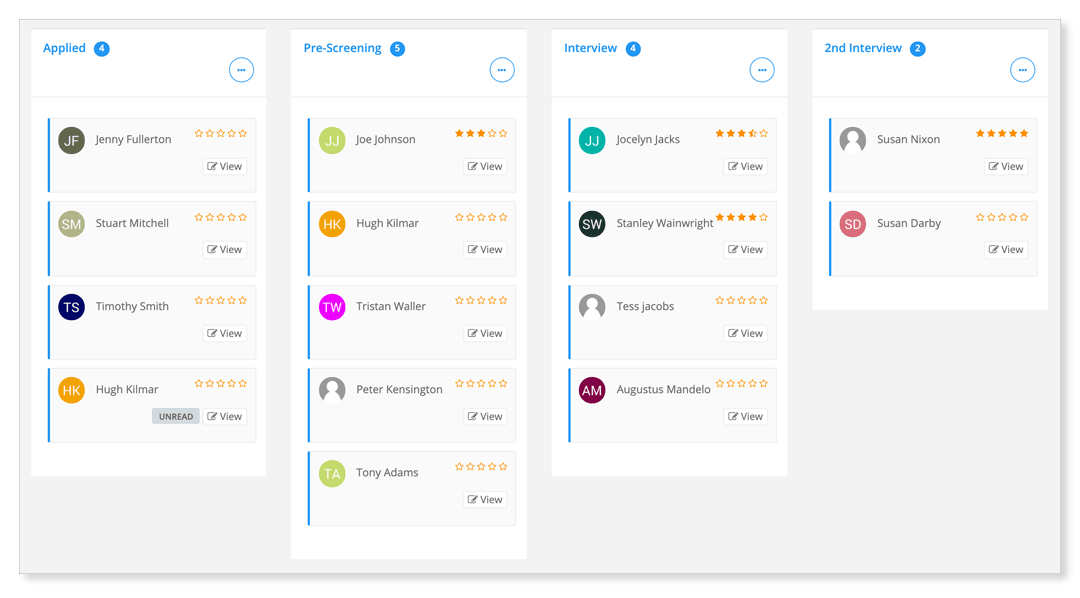 What our community says about HR Partner:
Safeena —" As I am a new starter, so far my experience has been excellent. The product is easy to use and understand. The support you received is excellent and if there is something they are not too sure about they will get back to you."
Price From: $2 per employee per month
Looking to adopt an HR software tool designed to manage your employees from hire to retire? Then peopleHum might just be the software you need.
Built to incorporate the latest in AI and automation-driven technology, peopleHum saves your business time and money while driving your business results. But that's not all; peopleHum is designed to be incredibly user-friendly, meaning it's quick to onboard and for users to get their tasks done, while also offering a SaaS platform model that allows businesses to only pay for what they need.
The result is a fully-featured and easy-to-use HR software system that works for your business, enabling you to get the most out of your HR process.
By leveraging peopleHum's AI and automation technology, users can speed up their process over a range of tasks, including hiring, reporting, document, performance and information management. And with Phia, peopleHum's AI-powered chatbot, you can streamline your pre-boarding, onboarding and internal helpdesking with its intelligent assistant capabilities.
Highlight Features:
Recruitment management — streamline your recruitment process with powerful automation at every step of your funnel, and use collaborative functionality to hire as a team based on data analysis to improve the quality of your recruits. Plus, with automated onboarding workflows sent to your hires, you can spend less time with paperwork and more time helping your new hire feel at home
Data management — manage all your employee information in one centralized databasse, with powerful self-service features to help manage leave requests, timesheets, shifts and attendance
Performance management — track goals for your employees and create customizable templates to help your team with personalized feedback about their performance
Reporting — using AI-driven HR analytics to discover trends and where your processes are/aren't effective, you can make insight-backed decisions instead of relying on guesswork
Training — create and set up courses for your staff using knowledge banks and tests to dive the performance of your staff
E-signatures — save time for users and your employees by eliminating the need to scan or print documents for signing by using e-signatures, and save time for everyone involved
AI chatbot — use Phia, peopleHum's AI chatbot to save time over a range of tasks, from onboarding to internal helpdesking. Plus, with integrations with software like Slack and Teams, you can expand Phia's utility as an intelligent assistant
Collaboration — use ChatHum, peopleHum's internal communication tool to improve your business's collaboration efforts and break down silos
What our community says about peopleHum:
Janhavi — "Good Maintenance of Database and user-friendly and the workforce is very user friendly. Here we can manage all our employees, timesheets, invoices & much more…Really nothing to complain about. It does what it says it does, the cost is very reasonable for what it offers and it is constantly developing features."
Anna — "We're very happy using peopleHum. It has made our work very easy and our employees can be productive even while working away from home."
Rachit — "I personally have been using peopleHum for the past 2 months and this platform has proved to be much more than promised. They certainly are the market leaders at being cost-effective. They take care of all activities performed by HR and also help to engage with employees. It uses AI and ML technology and provides analysis that helps in the decision-making process."

Billing itself as Asia Pacific's preferred HR tech platform, peoplestrong's HR software solutions brings users in the APAC region what they're calling HR Tech 4.0 — an HR software solution on the cutting edge of technology and methodology to save your business time and money while making your processes even more effective.
Our most fully-featured HR service of the post yet, peoplestrong really is a comprehensive HR system designed to manage every aspect of your HR process from hire to exit. It has all the usual functions you'd expect from premium HR software, but includes extras such as payroll management to fully manage your process.
But what does HR Tech 4.0 mean? Well, peoplestrong has taken what it's learned from the way business and HR operations have changed over the Covid pandemic, where hiring and retaining the best talent has become the top priority. Recognizing that HR has evolved to become talent management and engagement, peoplestrong as restructured the way we think about HR to encourage techniques to keep your best talent engaged and nurtured, with innovations being derived from AI and machine learning.
What does this mean in the real world? peoplestrong boasts more than 85% of HR workloads able to be aided through automation, speedy onboarding for your business, accurate payroll processing, halving your normal recruit joining time, and a 60% reduction in HCM expenditure.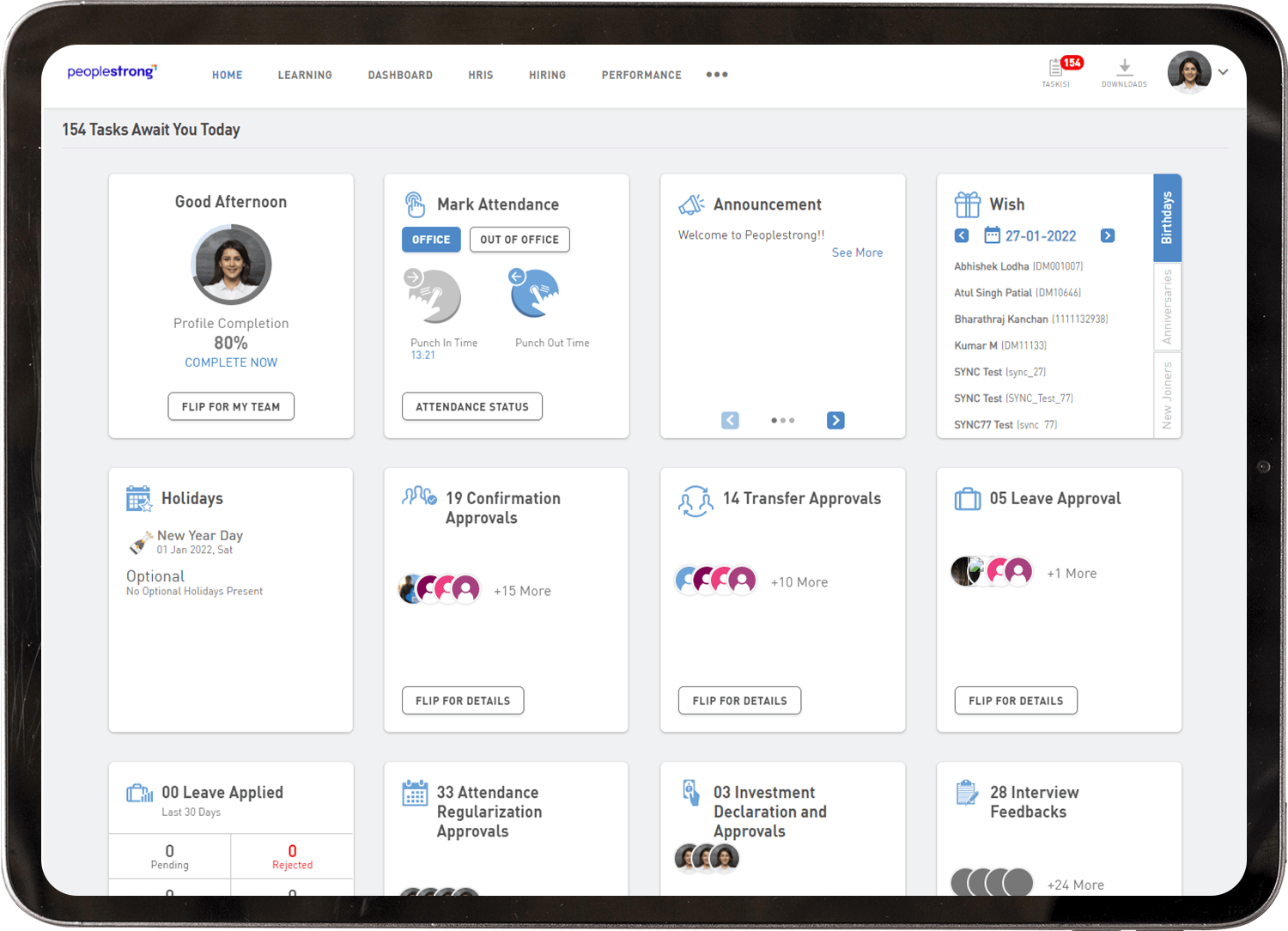 Highlight Features:
Recruitment — boost your recruiting powers with peoplestong's AI-powered recruitment engine to create a more streamlined and speedy process. With advanced sourcing, intelligent skill recommendation and relevant candidate resume matching, you can dramatically speed up your screening process, and with the ability to integrate your job listing with social media platforms, internal portals and external job boards, you'll be sure to pull in the best candidates
Onboarding — create an automated and personalized onboarding process for new recruits with paperless remote onboarding, configurable checklists, surveys and a dashboard view of your candidate's key information
Core HR functions — Stay up to date with your entire business by utilizing peoplestrong's centralized core HR features, including a complete internal view of your business, task management, and even Jinie, peoplestrong's AI-enabled assistant for answering your questions
Payroll — automate your payroll process without the need for manual input and human error, so you can rest easy knowing your staff is being paid the correct amount. The peoplestrong payroll system is secure and compliant with regulations, and from the dashboard, you can quickly generate payslips and data reporting for insights into your salary spending
Leave and attendance — manage and log your employee hours regardless of the working environment, be it remote, hybrid or flexible, and manage your leave requests with dynamic workflows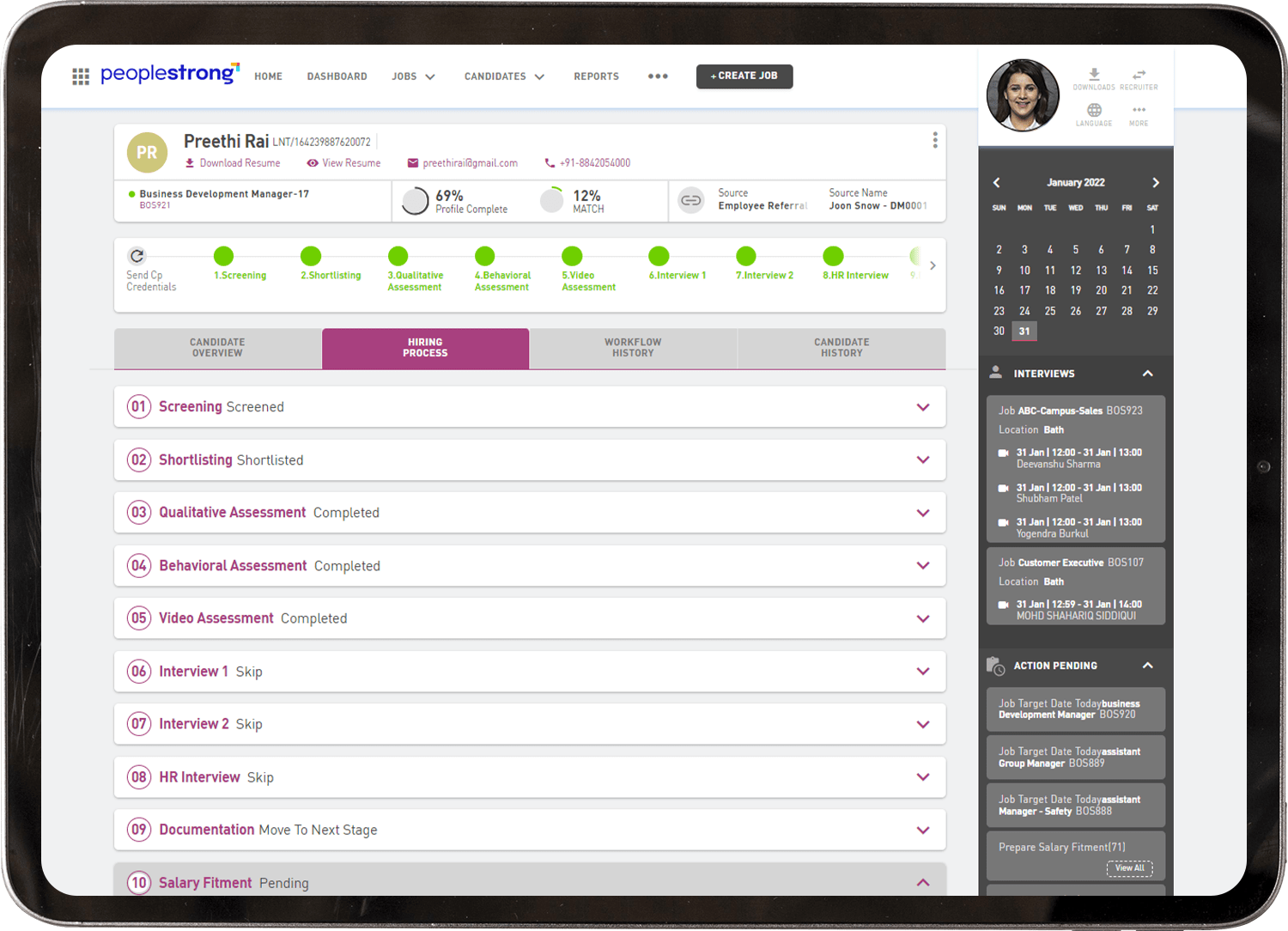 What our community says about peoplestrong:
Pallavi — "Best HRMS out there in the market. Having implemented peoplestrong within my organization I can proudly say that it has increased employee engagement and productivity. HR effectiveness has increased and employee visibility has also increased. An automated mobile-first SAAS platform enables anytime access on the go and eliminates the need of physical presence. The customer success team made sure that peoplestrong seamlessly got integrated inside my work environment."
Choosing a Premium HR Software Solution
The software you adopt for your business should always reflect your business needs, not what seems like the flashiest product at the time, and when choosing a premium HR software tool it's important to understand your business's needs to make sure you're not overpaying for features you don't need, but that the software you're electing to adopt supports the HR tasks your business needs to succeed.
The HR software in this post has been tested in the real world by our community, so you can be sure that if your use case matches what they offer, you'll find them to be a great solution.