CRM system feature sets tend to grow with a business; the larger your sales teams and the more resources you can devote to refining your sales process, the more you can make use of the extended tools that come with the more expensive CRM Systems.
For start-ups, paying $50 per user per month rather than using free CRM Systems could be a crippling expense, but for larger companies, the tools that come with the $50 package could be indispensable, and for them, the free tool may hurt their revenue stream.
In this guide we'll be looking at the best CRM systems in the $30-70 a month per user range, exploring the features that make them worth their asking price and what our community at Serchen thinks about them.
Who Are These CRM Systems For?
The software products we'll be looking at in this guide are for businesses that have outgrown either the user limitations or the feature capping of free or entry-level CRM systems or need more advanced features than the cheaper products offer.
Interested in great CRM systems but don't want to spend so much? Then check out our guides of the best Entry-Level CRM Systems and Free CRM Systems for fantastic tools on a budget!
Companies considering this level of software will probably have 10+ users, and will want to make use of the features offered by upgrading to a tier or two above entry-level CRM systems.
They won't need the huge feature sets, support and customization offered by the enterprise-tier packages though, which are designed for the largest companies with multiple sales teams across locations.
If you're interested in taking full control of your sales process and optimizing your reps' activities to make sure you're maximizing your team's revenue, then this level of CRM system is probably for you.
The 4 best CRM Systems for Medium-Sized Businesses
Let's take a look at what the Serchen community helped rate as the best CRM Systems for Medium-sized businesses.

Price from: $29 per user per month
Commence sets itself apart from the competition by pushing ahead with the next generation of CRM technology to boost automation and integration functions within its software.
And with businesses using the Commence CRM system boasting a 14-21% rise in sales over their first nine months of use, there's proof their software lives up to their claims.
Commence has built its CRM system around tools designed to cover the full CRM process, including contact management, prospect management, opportunity and activity management, marketing hub, project management, customer service and more.
By building so many features into one easy-to-use package, Commence makes it clear to users what's going on in their pipelines and how reps are performing, and with powerful insights drawn from analytics across the software, reps and managers will be more clued-in than ever about their selling process and revenue prospects.
Highlight Features:
Customer profile — use Commence's powerful software to help you build up better ideas of who your prospects are by collecting important data about how they interact with your business. Taking information from every touchpoint with your means you can build up personalized profiles of your customers and learn how best to sell to them as individuals
Customer segmentation — instead of blasting out one marketing message to all your leads, Commence helps you break down your prospects into segments that help you deliver more personalized messages to appeal to their particular habits. By automating the customer segmentation process in Commence, you can spend more time creating powerful marketing messages tailored to your leads' wants and needs
Sales tracking system — gain transparency on your sales process and success by using Commence's sales tracking system to track all the important metrics that go into winning (or losing) a deal. By understanding how you're selling to your leads and how effective your techniques are, you can make surgical changes backed up by data to improve your conversion rates
Ticket management system — whether it's a sales rep, a manager or a customer service rep interacting with a customer or looking for information about a deal, Commence lets users access all the information they need about their lead in one place. Collate lead behavior over a number of channels as well as their previous deals and communications with your business to have all the information you need at your fingertips
Project management — extend your sales capabilities by utilizing the project management features Commence provides to plan, cost and implement new projects, with the ability to delegate, assign roles and make notes as the project continues
Mobile app — stay connected to your CRM System on both iOS and Android with Commence's mobile app
Advanced analytics and reporting — quick access to real-time and historic data allows users insights into their sales process, and custom report generating means sales metrics are quick to compare and share with those who need them
What our community says about Commence:
Mel — "A very intuitive user interface makes Commence CRM a breeze to use yet the product offers very strong functionality and can be easily modified by the system administrator. The customer service has been excellent. The Commence staff ensured that we got the system set up the way we needed it and they are immediately available by telephone if you need assistance. Very pleased with the product and service."
Brett — "Commence CRM's has been a powerful, customizable and reliable solution. The product's functionality, flexibility and support have enabled us to automate our business processes, become more efficient with managing customer relationships and improve both performance and quality control. Customer support has been excellent."
Mary — "We are a repair and remodeling company that has to schedule and manage numerous jobs and projects. We choose Commence CRM because it provided us with 1 centralized database to capture and manage our customers, schedule projects and maintain one single calendar of all activities. Access to information could not be easier and the product filtering is great, if we need to research something it's quick and efficient. I don't know how we ran the business without Commence CRM."

Prices from: $14.90 per user per month
Built from the ground up by salespeople for salespeople, Pipedrive is an all-in-one sales platform for businesses looking to grow revenue without being slowed down by bulky software. With over 100,000 companies across the world using Pipedrive to close more than $85B worth of deals, it's certainly a tried and tested solution.
Pipedrive prides itself on delivering a fully-featured CRM system that's incredibly easy to pick up and use while still being customizable enough to be tailored to individual companies' unique selling processes.
What's more, Pipedrive has several great add-ons, such as Leadbooster and Smart Docs, meaning companies can save money by only paying for the features they really need.
Highlight Features:
Clear user interface — with some of the most intuitive and customizable pipeline-interface designs on the market, Pipedrive is fantastic for getting reps up and running. With minimal onboarding time and great training options, Pipedrive is great for reps who want to get on with selling, not wrestling with their software
Automation — save huge amounts of time on repetitive tasks and admin your reps would otherwise be bogged down in by setting up automation workflows. Use custom triggers to set automated responses from Pipedrive, such as auto-nurturing leads with dip marketing, or adding prospects to your pipeline from your lead generation process
Powerful reporting — gather actionable insights in custom dashboards to get the most from your sales data. Track any sales metric to reveal your successes and bottlenecks, as well as the KPIs you need to tell if your sales team is on track
Communication tracking — collect all your communications with leads in one easily-accessible place so you can stay up to date with your leads' journey through your pipeline
Integrations — explore Pipedrive's ecosystem of more than 300 out-of-the-box integrations to boost the functionality of Pipedrive with the custom extensions you need for your sales process
Add ons — Pipedrive's powerful add ons mean users can purchase the features they need without having to spend on what they don't. From lead generating software to chatbot functionality, there's a host of great extras to complement the core CRM
What our community has to say about Pipedrive:
Karl — "One of the best features about this tool is its integration with Gmail, which has enabled us to send emails via the platform. We get to see the reasons behind the lost deals if any. It provides us detailed rates of conversions along with the chances the deal would move to the next stage. Pipedrive had helped us a lot in forecasting. I love the feature of the thank you card, like when we win a deal, it automatically sends a thank you card! This tool has a lot of integrations with Slack and Trello. You don't require much training to use this application, we can customize it according to our requirements with ease."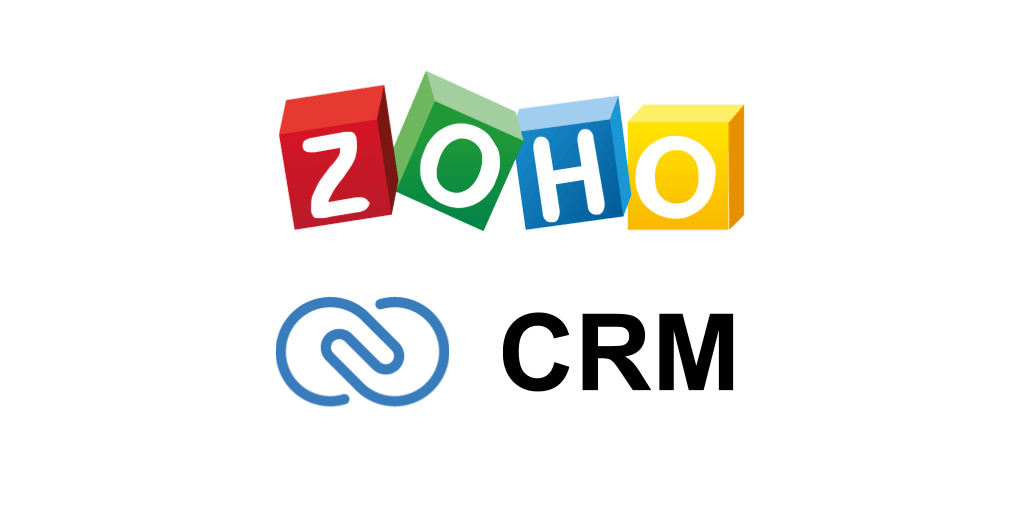 Price from: £12 per user per month
Zoho aims to help users create their own customized CRM system interface without needing to write any code, so businesses can get the unique solutions they need.
With a long list of powerful features to help users streamline their sales process, from automation through to real-time insights, Zoho gives users an excellent base to boost their revenue.
Plus, with Zia, Zoho's AI assistant, you can quickly get the answers you need to your questions as well as advanced predictions about lead conversions and task reminders based on past customer behavior.
Highlight Features:
Customizable interface — use Zoho's Canvas drag and drop software to completely redesign the interface of your Zoho CRM system based on professionally created templates
Process builder — make sure your team knows exactly what their next step should be with the process blueprint builder. Build a workflow for your whole team to follow, so they know exactly what they should be doing at all points of the sales process
Omnichannel — communicate in real-time with your prospects all in one place by combining all your channels into Zoho, including email, phone, social media and more
Analytics — get real-time reports generated from your sales data as well as analytics designed specifically for you to make data-backed decisions about how your business can grow
Zia — use Zoho's built-in AI assistant to help provide quick information, as well as more complex data such as lead and deal prediction and automation suggestions
Marketing automation — use personalized automated email campaigns to segment your audience to improve your results, as well as drip campaigns to keep your prospects engaged
Mobile app — get your CRM system and analytics on the go for both iOS and Andriod with Zoho CRM
What our community says about Zoho:
Fran —"A quality technological platform. Ideal to start campaigns of products that do not have much acceptance as well as create groups to raise awareness of a specific brand."

Price from: $5 per user per month (for more than 4 users)
BlueCamroo combines a host of great features in one affordable and easy-to-use solution. Alongside a feature-rich CRM system, users can extend their functionality to include enhanced sales, project management, marketing and customer support, all for just $41 per user per month!
What makes this such a great option is that you can have multiple teams and departments working from the same program, meaning the chances for siloed information are dramatically reduced.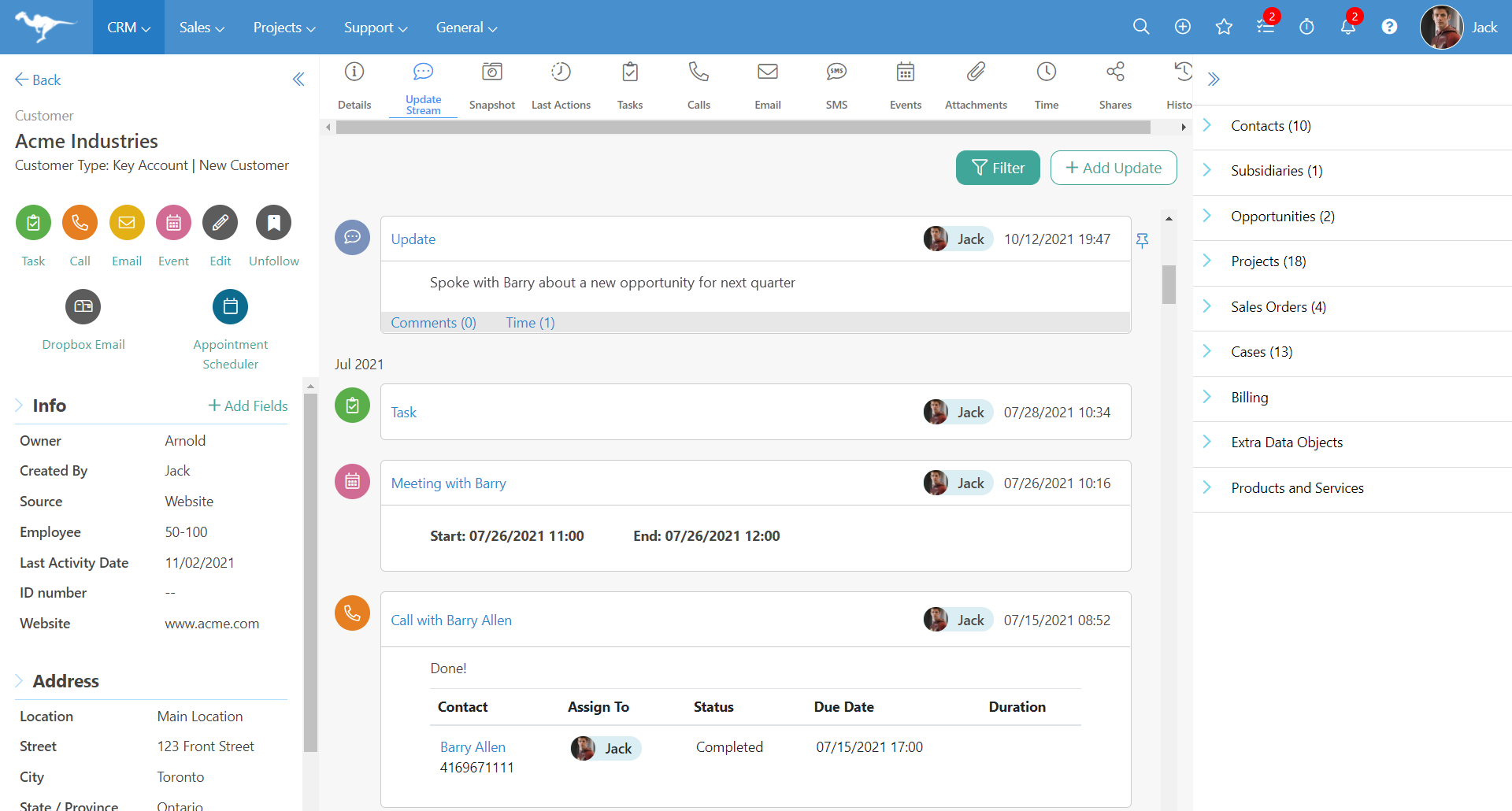 Highlight Features:
Sales forecasts — use BlueCamroo to help budget for the future with their revenue and expenses forecasting functions
Project management — create project templates and workflows with powerful features like resources, billable hours, invoices and payments, timelines, automated approvals and sign-offs and shared project documents
Enhanced collaboration — improve your internal social and collaboration with BlueCamroo by sharing statuses and comments, as well as coordinating with other team members and sharing documents
Customer support — use BlueCamroo to help support your customers with trackable support tickets, a configurable knowledge base and more great features to help keep your customers in the loop
What our community says about BlueCamroo:
Gilles — "We love the product and the way it evolves. We saw so many enhancements, most of them really adapted to our needs. Their support has always been listening and able to find a solution or a workaround."
Johnathan —"We are a full-service online presence agency servicing 177 countries. We are a mid-sized agency with very specific business management requirements. BlueCamroo has been able to accommodate all our requirements and allow us to save money overall. At least once every day or two someone on the team comments on how great BlueCamroo is."
Theresa — "BlueCamroo has helped me organize my leads and clients – and make some sense of all the lead details. I use BlueCamroo as a database and detail management tool. I love that I can have emails directly in the program so the details are attached to the client (and that I can forward them there from other inboxes). This can't be beaten for a free version. I may have to upgrade eventually as my business grows but it is affordable."
Which CRM System for Medium-Sized Businesses Should You Use?
When it comes down to it, the best CRM system is the one that suits your need best.
That being said, there's no point in getting bogged down in analysis paralysis; with these great CRM systems, we're sure that you'll have a fantastic user experience and see your revenue grow even if you go for a tool that isn't 100% tailored to your exact business needs.
If these comprehensive selling solutions seem like they might be right for your business, then we urge you to look into free trials, as they can often illuminate whether the software is right for you. Our users have found these to be the best CRM system options for medium-sized businesses, and we're confident one of them will be right for you too.
Check out our other great articles on the Serchen blog here!