Choosing the right CRM software can be a daunting task given the range of options and price points out there.
But you needn't fork over hefty monthly subscription fees if you just don't have the budget for it.
At its heart, CRM software is just a clever way of organizing all the information your company holds relating to your customers and your interactions with them. Extra features can be helpful down the line, but to begin with, using CRM software to dial in your selling process is the most important use case.
Plus, most CRM packages are built with company growth in mind. They often offer tiered pricing structures allowing users to upgrade to more feature-rich versions when the time comes, meaning there's very little downside to adopting a free package, as there's minimal onboarding time needed for an upgrade versus an entire software change.
In this guide we'll be looking at the free CRM software packages our users have rated best, highlighting the key features they found most useful for their businesses in real-world experience.
What to Expect From Free CRM Software
It might be tempting to think of free CRM tools as bare-bones versions of premium versions, stripped down to all but the most fundamental CRM features.
However, you might be surprised at just how feature-rich some free CRM products are. Instead of limiting users on functionality, limits are instead imposed on the number of users, contacts or leads your software can store.
Before we dive into our recommendations of the best free CRM software on the market and what makes each one a contender, let's quickly go over what you can expect to find in most good free CRM software tools.
Pipeline Management and Contact information Storage
The bread and butter of CRM tools. CRM software displays the progression of each prospect along the stages of your pipeline, allowing users to understand the health and status of their sales funnel at a glance.
All the customer information your company needs for each lead is held on its own contact page, easily accessible from the pipeline view, and stored securely in the cloud CRM provider's server.
Basic Integrations
CRM providers understand businesses use an array of helpful software for their day-to-day running, and so are built to integrate with the tools users are most likely to be using alongside the CRM.
CRM software commonly integrates with Gmail, Google Docs, Office 365 and Outlook, allowing users to import contact information and store documents with just a few clicks, saving time by eliminating the need for manual data entry.
Webforms and Landing Pages
Generating new leads via webforms and landing pages is an excellent and easy way to add leads to your pipeline without having to do any of the work yourself, and free CRM packages generally offer this feature to some degree, though it may be stripped down compared to some of the customization options offered by premium products.
Basic User Support
Hopefully, you won't need it, but should you require help with your CRM software, or something goes wrong, it's important to have support ready for you.
Free CRM tool users will find they can contact their provider either through email or webchat, which, while not as speedy as having a dedicated phone line, will generally be enough to solve all but the most difficult problems, letting you get on with operating as normal.
Data Security
Hosting your leads' and customers' sensitive data on a 3rd party server means you're not in control of security, but using free CRM software shouldn't be a cause for concern. All CRM software should offer robust security measures for your data, and if they don't, it's time to look elsewhere.
The 5 Best Free Cloud-Based CRM Packages in 2022
If you're in the market for a free CRM product, you can be confident in the great core features most of the offerings available to you provide.
But we're interested in the very best free CRM tools. Thanks to our users we can bring you real-world reviews to determine the cream of the crop.
Here are the highest-rated free CRM tools on Serchen, with an explanation of what makes them head and shoulders above the rest.

Free product limitations: 500 contacts, 1,000 branded emails, 1 pipeline, 15 users
Engagebay offers an exciting package—CRM and marketing software, both for free! You can opt for just the CRM or the marketing suite, but unless you already have something in place it makes sense to get both.
Your limit is set by the number of contacts you can store (500) and the number of branded emails you can send per month (1000). This works out better for businesses with higher-cost products that deal with fewer customers, but should still be sufficient for start-ups of any business type. You can add up to 15 users, which should be plenty while using the free model.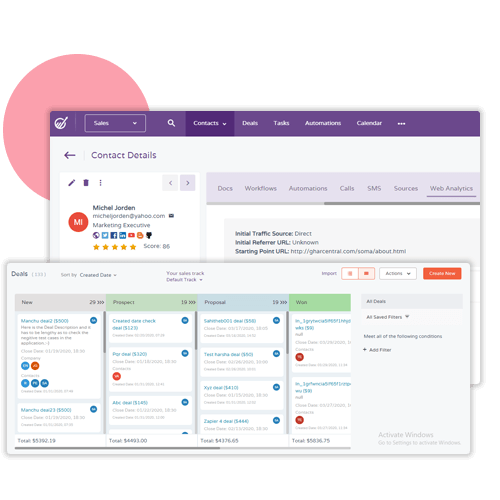 Highlight Features:
Social suite — connect with Twitter, Instagram and Facebook through Engagebay to easily connect with your customers and leads over social media
Web pop-ups — use pop-ups on your website to direct traffic, promote special offers, get users to sign up for your newsletter and more!
Email tracking — determine the success of your outreach and email communications via email tracking
Live chat — speak directly to your customers and potential leads in real-time to help bring them into your pipeline
Email templates — Improve the visuals of your emails and save time by using templates to streamline your most common communications
Reports dashboard — a reports dashboard reveals all the data behind the success of your sales team and where you need to work on your process. It can also produce sales forecasts, which are vital for understanding your business' ongoing budget
Meeting scheduling — the easy way to schedule a meeting without the need to go back and forth with your leads
Lead scoring — built-in lead qualification to help users identify their most valuable leads
That's a lot of great features for a free CRM! Not to mention there's also a free marketing suite!
Engagebay brings a range of powerful features you'd normally only see in premium CRM products to their free product, which makes it a fantastic choice for small businesses looking to really make an impact in the sales space.
And for when it comes time to upgrade, Engagebay offers a very affordable monthly fee. The stand-alone CRM or marketing suite cost $10.39 per user per month, but the all-in-one package only costs $11.99 per user per month, providing great value.
What our community says about Engagebay:
Bert — "The free CRM is a big win! You get features that highly help you out especially if you're a start-up or an SBM. We're glad we got to use this feature as it made it easier for us to get things done. Simply put, it is a powerful platform, and it has helped us attain our goals."
Paul — "Simply put, AN AMAZING TOOL! I've had lots of tools open on tab simultaneously. And there are times that I get confused because of that. But with EngageBay, everything is there. It's more organized and efficient than having to open lots of tabs and lots of different tools. Plus, it's more affordable according to its features"
Lotes — "The features it has puts it at par with the giants of the CRM like Hubspot, Salesforce, Dynamics 365, and the like. The growth and potential are immense…It is a fraction of the price of a system with a quarter of its functions"

Free product limitations: 5 users, 100 contacts, 4 email broadcasts per month, 1 workflow automation
Offering a sales platform with a heavy emphasis on communication with customers, Respond.io provides a novel system that maintains many of the core features of CRM while combining marketing and customer support feature sets too.
The result is a product that brings together your departments and streamlines how you interact with your customers, while still bringing powerful selling tools we normally associate with CRM software.
Highlight Features:
Cross-platform support — Respond.io works on your computer, but also mobile (both Apple and Android), so you can manage your customers on the go
Social suite — connect with Whatsapp, Facebook, WeChat, LINE, Viber, Twitter, Telegram and SMS to easily connect with your customers and leads over social media
Workflow automation — the free version of Respond.io allows users to set up one workflow automation, potentially saving your team bags of time
Integration — a good selection of 3rd party tools and social media integrations means you can extend the functionality of your CRM to meet your business' needs
Webchat support — speak directly to your customers and potential leads in real-time to help bring them into your pipeline
Communication tracking — have every piece of communication you've made with your leads and customers all in one place, so your team is always in the loop
Supervisor dashboard — a dashboard for managers to oversee the sales pipeline, from identifying anomalies to conversations that have been on hold for too long
Reporting and analytics — a reports dashboard reveals all the data behind the success of your sales team and where you need to work on your process
If you like the sound of what CRM software brings, but prefer the interface of social media for interacting with your customers, then Respond.io may be the perfect free CRM tool for you.
You'll get the tools to log and record your customer details and interactions, as well as insights into your selling process. Moreover, you'll be better set up to reach out and respond to customers and leads instantly over a range of social media forums.
Upgrading to the premium models starts from $29 a month for 10 users, which is an excellent per user per month price!
What our community says about Respond.io:
Chad — "Great little support tool with AI."

Free product limitations: 1 automated process, 1 pipeline, 100 completed CRM forms, limited leads, 5GB disk space
Bitrix offers an interesting proposition, combining CRM software with internal social media-like functionality, the aim of which is to improve collaboration and streamline the management of tasks and projects while also maintaining great communication links to your leads and customers.
Highlight Features:
Company social network and feed — an internal social network with storage space for the sharing of documents and messages, as well as a user feed displaying internal messages and activities
Website builder — perfect for creating a web presence for your business or adding that professional sheen to the company website
Videoconferencing — videoconference inside Bitrix24 with up to 48 people, with no limits on call duration
Task and projects — a management tool specifically for tasks and projects that may fall outside of standard CRM practice, with the ability to assign roles, deadlines, etc
Social media integration — integration with Facebook, Instagram and Telegram for easier communication with customers and prospects
What Bitrix lacks in dedicated CRM functionality, it makes up for with its unique internal collaboration tools.
If boosting your team's ability to work together alongside performing routine CRM software practices is a priority, then Bitrix24 is a great free option to try.
Upgrading to the premium models costs from $39 a month for 5 users, making this an affordable upgrade path.
What our community says about Bitrix24:
Andrew – "All-in-all the tool is very flexible. Collaboration and the speed of decision-making improved since we introduced Bitrix24 within our team. Assigning and following tasks is easy. The mobile apps are free as well, so you are always in touch. Don't know what to add. Just great!"

Free product limitations: Limited Leads and contacts, 500MB Disk Space
If you're looking for a free CRM tool that does everything from classic CRM software functionality to project management and customer support, then take a look at Wakeupsales.
With a host of great features you'd expect from premium services, Wakeupsales' Freebie plan offers everything a budding start-up needs to build up fantastic CRM practice and more.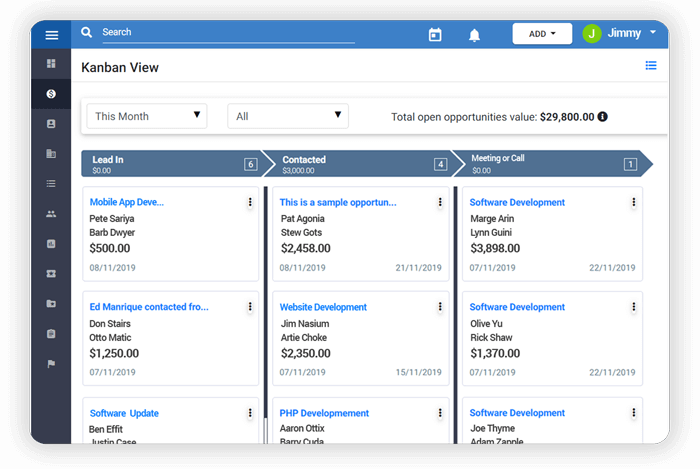 Highlight Features:
Task and projects — a management tool specifically for tasks and projects that may fall outside of standard CRM practice, with the ability to assign roles, deadlines, etc
Workflow automation — setting up sales automations for a range of activities saves your team bags of time
Email tracking — determine the success of your outreach and email communications via email tracking
Website integration — a feature that allows users to automatically convert website visitors into leads in the pipeline
Integrations — a good selection of 3rd party tools to boost productivity across commonly used apps
Customization — flexible customization options allow users to set up their pipelines and features to best suit their business needs
Wakeupsales is a great all-rounder tool, with a well-featured CRM package at its core that you'd expect to pay a premium for. If you do choose to upgrade, costs start at $9 per user per month to unlock unlimited contacts and leads, as well as more advanced apps, integration and product support options.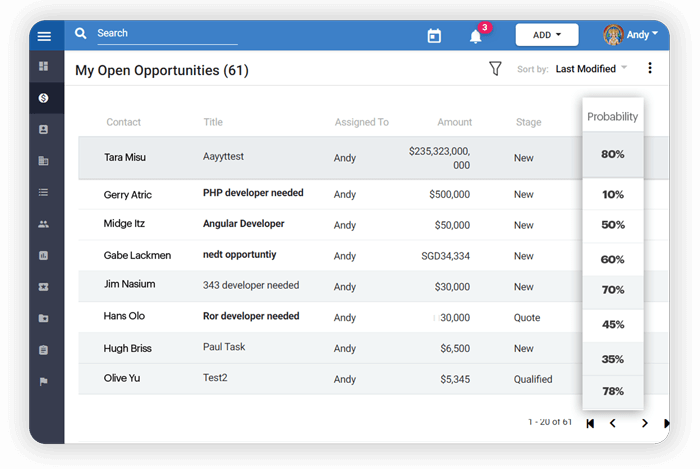 What our community says about Wakeupsales:
Boris — "Wakeupsales is one of the easiest and lowest cost CRM Software"

Free product limitations: 10 user limit
Last, but certainly not least, comes Infinity Suite by 500apps, an enormously featured software suite containing 37(!) specialized apps dedicated to sales, marketing and more.
Among the other useful tools included comes CRM.io, their dedicated CRM app. And while their CRM app isn't especially feature-loaded in itself, it's designed to be integrated with the other bundled apps, giving you enormous flexibility over what you can achieve.
Highlight Features:
Chatbot — dedicated chatbot software Botup allows for custom chatbots for your website
Form builder — Forms.io allows users to create custom forms to build into websites and emails to generate leads
Email finder — Finder.io allows users to search from a huge database of professionals' emails to find and verify new leads
Document signing software — Sign.cc allows for the signing of e-documents, perfect for sending contracts to customers
Lead generation — dedicated apps ConvertPath and Outreachly help develop and engage with new leads
Live chat — install live chat functionality between your reps and customers with Ninjachat
Email tracking — determine the success of your email communications with OpenedOrNot
BotPath — create automations within your workflow to save your team time on repetitive tasks
That's a great set of features to get for free, and those are only the apps that work directly with your core CRM. The full software suite means you can link up your CRM functionality to your email marketing, your social media, your project management and more.
500app's Infinity Suite is an incredible bundle for small businesses looking to build a fully integrated sales system with the flexibility to add more features whenever you want them, all for free!
To upgrade beyond ten users, you'll be charged $14.99 a month. What a bargain!
Which Free CRM Package Should You Choose?
Like most software choices, there's no single 'best' option.
Instead, it's important to think about what features your company needs and what your upgrade path is likely to look like.
When you know what you'll need as a business, then you can make an informed decision about your software.
Is heavy social media important to your sales process, or do you place more of an emphasis on specialist tools for lead generation? Do you need the option to automate your workflows, or do you value insights reporting more?
Ensuring your CRM software choice aligns with your sales philosophy and needs is the key factor in identifying the best CRM tool for you, and getting on the road to boosting your sales revenue.
For more insights, how-tos and buying guides, sign up to our newsletter and stay up to date with all the latest Serchen content
Do you have experience using cloud-based business software? We'd love to hear form you! Why not leave a review about your experiences to help other buyers choose the right software?