A large part of customer relationship management (CRM) is handling the communications you have with your prospects and return customers.
It's only natural that potential customers will want to get in touch with you about your product to make sure it will work for their situation, and you'll be contacting your best leads throughout their buying journey to give them more information and learn about their situation and how your product can help.
But in the modern world, there are a multitude of channels for your customers and leads to reach out to you from, and it can be a big ask to keep track of what every customer is saying and making sure you respond to everyone in a timely fashion.
The solution? Contact center software.
What Is Contact Center Software?
Contact center software is a way for businesses to centralize their inbound and outbound communications with potential customers over a variety of communication channels.
By using one platform to manage all of your communications you can streamline your communication workflow, and you can analyze the data from your contact center in the form of reports.
Plus, rather than having to build up a professional-level infrastructure to run your own contact center, the best third-party software tools will provide you with everything you need to bring the best support to your team and your leads.
Why Should You Integrate Contact Center Software With Your CRM Software?
Simply put, personalized customer information is some of the most valuable data you can get when it comes to converting your leads into customers.
Every time you interact with your prospects, you're giving yourself the opportunity to collect this valuable information about your leads. But even when you're asking the right questions and learning exactly what it is your prospects want, where do you keep track of this information?
On your CRM, of course!
By integrating your CRM software with your contact center software, you're creating the perfect system to record everything your prospects and customers have ever said to you, meaning you can recall at a moment's notice every previous communication you've had.
This is fantastic for keeping your reps up to date with where your lead is in their buying process, as well as being the perfect resource for building personalized pitches to win them over.
The 4 Best Contact Center Software Tools to Integrate with Your CRM Software
Let's dive into the best contact center software you can integrate with your CRM as rated by our Serchen community.
Price From: $149 per month
Built to be a comprehensive cloud contact center platform, Five9 gives you everything you need to delight your customers and empower your workforce.
Designed to be an omnichannel solution, Five9 enables your customers and leads to reach out to you and be heard across their preferred channel, as well as offering powerful AI and automation to improve your workflow.
With a large feature set for optimizing your team's performance (such as recordings, gamification, etc) and the ability for managers to watch in real-time how their teams are performing, Five9 empowers users to make the most of their communication strategies to boost their customer engagement and deal closures.
Plus, with useful AI functions, such as automatic call transcription, agent coaching, basic interaction automation and workflow automation, you can save hours of time and see your communications improve at once!
Highlight Features:
Omnichannel platform: Connect to your customers and leads across the channels they like to use the most and route your interactions to the right agents to meet the customer's concern based on context and customer intent
CRM Integration: designed to be integrated with your CRM to improve agent productivity, enhanced user experiences and rich customer data at your fingertips
Automation: cut down on the time your reps spend on repetitive interactions with the system by creating custom automation that allows your reps to be more available to your customers. You can also create more complex workflows with multistep actions and cross-system functionality
Reporting: with over 120 out-of-the-box report templates based on operations and business best practices, you can quickly get an idea of how your business is performing. Then, with custom reports, you can generate data for your unique needs. See what's happening in real-time, or generate your metrics daily, monthly, quarterly or annually to see how your sales team is faring
AI real-time intelligence: let the Five9 AI take the difficulty out of your customer interactions by suggesting key information based on the context of your conversation, as well as reminders and tips to help steer the conversation in the best direction for a conversion.
Automatic transcription: real-time transcription means agents aren't hamstrung by taking notes, and with all transcriptions automatically synced with your CRM software after the call, you'll have instant access to the transcription
Workforce optimization: analyze your captured interactions to find the common trends and understand where your bottlenecks might be, and make the most of your reps' performance with real-time monitoring, automated communication scoring and more
What our community says about Five9:
Aaron — "We've been using Five9 for almost 6 years now. Very reliable software and support. Highly recommended!"
Corbin — "4–year customer. Five9 is simple yet robust, meeting most of our needs. Robust reporting, simple agent interface, no expensive software or equipment required, very supportive and available customer service. Quickly Scaleable. Great for small, medium, and large call centers."
Amanda — "Five9 has made running a call center simple! Monitoring my agents is a breeze. Even teaching our employees to use the Agent system is easy. Even Five9's team are all amazing! They are always right there ready to answer any questions and help! I would definitely recommend Five9 to anyone!"
Designed with CRM integration in mind, Vocalcom brings a comprehensive cloud-based contact center suite to your business to help consolidate all your channels into one simple-to-use package.
With a clear interface for your reps to use, they'll have all the information they need to understand the buyer's journey, including all your past interactions, to guide them through to the next stage of the pipeline.
With best-in-class inbound and outbound capabilities and omnichannel support, you can be sure you're given all the tools you need for your reps to shine and deliver great results. Plus, you even have access to chatbots and voice bots to help automate part of the customer interaction process to save your reps time.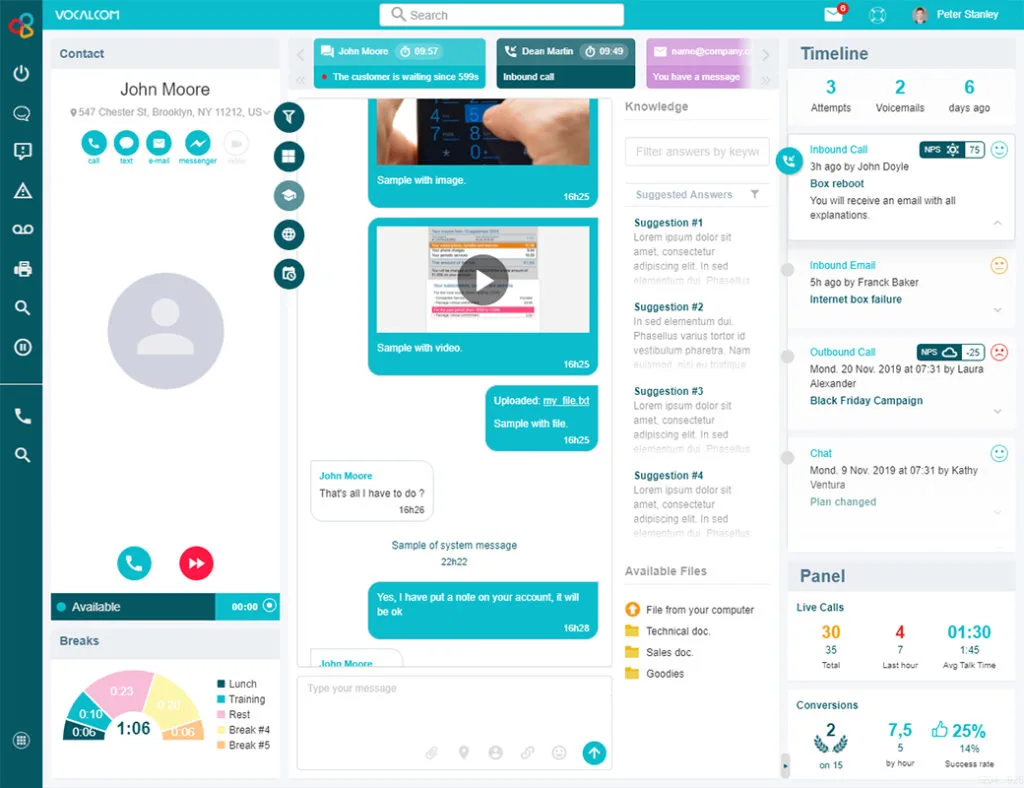 Highlight Features:
Clear user dashboard — easily manage your customer relationships by centralizing all your channels and previous customer communications on one page to give your reps all the information and tools they need to succeed
Inbound and outbound calls — cloud-based (on-premise also offered) call center solution offering the best computer telephony interface technology. Automatically route inbound calls to the most qualified agents, create your own automated self-service voice options (without needing coding know-how), and use Vocalcom's automated outbound dialer to increase your contact rate and agent productivity
Omnichannel support — let your customers contact you over their preferred channel, with support for inbound and outbound calls, email, social media and instant messengers, live chat, chatbots, voice chat, webforms and SMS
Customizable data dashboards — gain real-time comprehensive insights into your communications data for analyzing trends and your rep performance. Use the built-in KPIs to illuminate where your successes and bottlenecks are so you can optimize your process for maximum customer satisfaction and conversion
CRM integration — designed for native CRM integration with Salesforce, though also able to be integrated with other leading CRMs for easy access to contextual customer information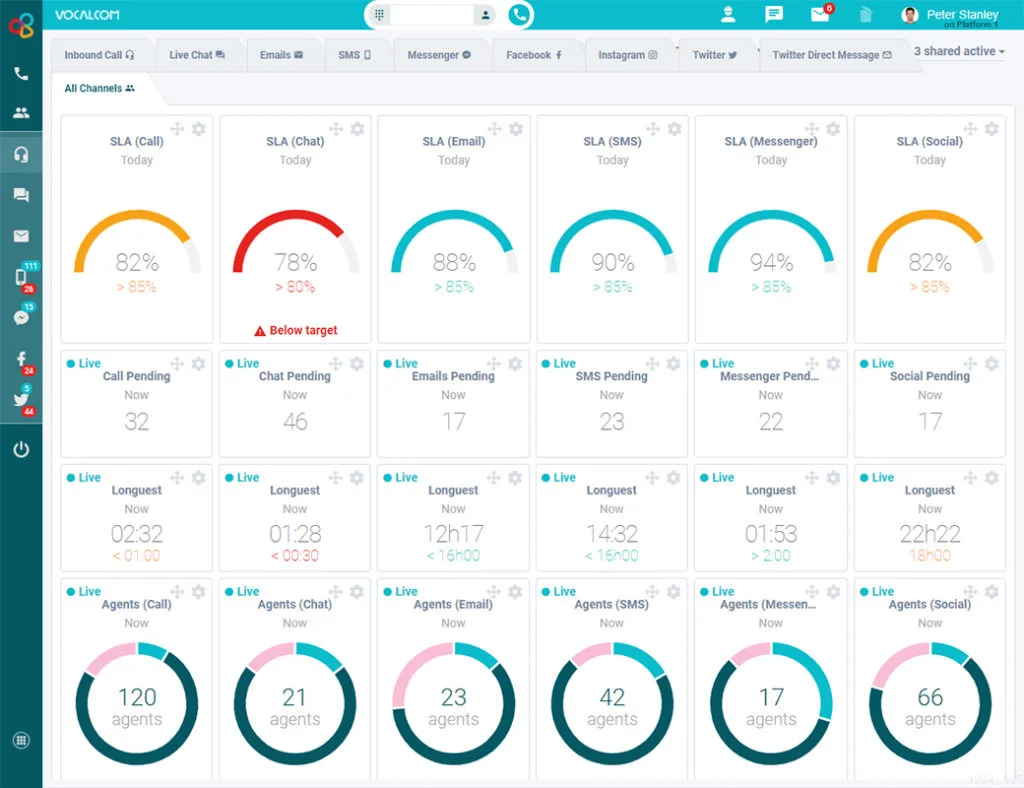 Price From: $25 per user per month
Rather than covering every communication channel, Cloudtalk instead focuses on providing its users with an excellent cloud-based call center platform.
With the perfect setup for remote working, Cloudtalk lets users make and receive calls from their browser or on mobile app wherever they have an internet connection. Plus with Cloudtalk's network of quality telco partners spanning the globe, you can ensure minimal delay and maximum quality on your calls.
And with your reps having the full display of customer information when they receive customer calls, including all previous communications with your business, reps will have everything they need to boost revenue by converting prospects with the personal touch.
Highlight Features:
Call routing — create routing and customized queues based on rules you've set to ensure customers get the best response
Call recording — record all your customer interactions for playback later so you can learn from your successes and refine what isn't working so well
Conference and three-way calling — easily create large conference calls between clients and agents, or quickly add a third member to an existing call when the need arises
Local Calling — with international numbers for over 140 countries, allow customers to call you from abroad at a standard local rate, and appear local when you make calls
CRM integration — integrate with your existing CRM for 2-way syncing, and click to call features
What our community says about Cloudtalk:
Raimonds — "CloudTalk has allowed me to focus more on what's essential – establishing long-lasting partnerships with clients abroad, not worrying about enormous cellular bills."
Mike — "Simple and easy to use. I find it great when you have to call multiple countries and also track who you have called and when you called them. The system is also reliable, meaning it is always up and running."
Alan — "Fantastic product – does exactly what it is supposed to do. Quick and easy integration with CRM, easy and intuitive interface plus a nice bundle of features that should have you leaving your old provider without a second thought."

Price From: $20 per user per month
Another all-in-one cloud-based call center platform with an excellent reputation with our users, CrazyCall gives your team everything they need to bring in more leads and convert more deals.
Bring your telecommunications to the cutting edge with automated dialer functionality, self-service call routing and lead generating widgets, while behind the scenes all your customer calls are recorded for analysis and real-time reporting on all your sales data can be used to generate the insights you need to succeed.
Highlight Features:
Autodialer — automate your outbound calls with the Crazycall autodialer and replace your manual dialing system
Click-to-call widget — have CrazyCall automatically detect phone numbers on the web and use the click-to-call widget to automatically make a call without leaving your browser
Callback widget — let your leads identify themselves to you by letting them request a callback by leaving their number
Reporting — make quick customized dashboards for an overview of your most important KPIs, or delve into more complex analytics and in-depth reports to find out everything about your sales calls data
Call monitoring and recording — record your calls for listening back later, both to analyze the effectiveness of the call and for use during training. Plus, listen to calls in real-time with the call monitoring feature to check how your reps are getting on
Call scripts — use customized scripts to steer your conversations with prospects to where you want them to go every time, and have the answers to your prospect's questions ready to go
Call routing — let your customers self-serve by using a customized IVR, letting them define the agent they need to talk to so CrazyCall can connect them to the most qualified person to answer the call
What our community says about CrazyCall:
Marcin — "The CrazyCall is so far the best app designed to communicate with B2B & B2C markets that I've used. The UI is simple and clear. The manager dashboard appears with loads of information and options which I love using to check my team progress. What is the best feature in Crazy Call? I just simply never had any issues using it. Simply perfect ;)"
Should You Integrate Call Center Software With Your CRM Software?
One of the most powerful features of a CRM is the ability it gives you to make use of all the personalized information your sales process gathers about your prospects by letting it inform how you tailor your approach to that lead.
Therefore, if your business spends a lot of time talking to potential customers, either outbound, inbound, or both, then it's incredibly important to make use of the information you're gathering at each and every contact point with your prospects.
Using any of the contact center software listed above will provide you with fantastic tools for making the most out of the selling process when it comes to direct customer communication, but by integrating them with your CRM you get to pass that information down the line to anyone who may need to know how to sell to that prospect.
Simply put, you enable all the personalized information learned about your prospects during your contact with them to be used for the rest of your sales process down the line, such as for pitches and presentations based on customer needs.
In the world of sales, you want your data to be providing as much value as possible. If you have similar contact center software, or you intend to try out one of the options above, then we highly recommend you sync your results with your CRM to maximize the value of your reps' work.