Remote work has been a viable working arrangement for some time, with cloud-based applications making working from outside the office while retaining all the organization and information flow businesses need to function.
But since the worldwide Covid-19 pandemic and the long-lasting lockdown restrictions, remote work has been a necessity for many workers and businesses around the world.
And though restrictions around the world have been lifted, the forced transition to remote work has seen many employees and companies come to love the flexibility and cost-saving potential of remote work.
With modern technology making remote work easier than ever, overcoming many of the drawbacks of out-of-office work, savvy organizations are looking to take advantage of the benefits offered by remote working.
Therefore, in this article, we'll be looking at the best remote work tools on the market today over a range of categories, as reviewed and rated by our Serchen community.
In This Article, We'll Explore:
Check out our huge range of cloud-based software software reviews to find more remote work tools for your business
The Benefits of Remote Work
If you're wondering whether remote working is the right solution for your business, or you're on the fence about whether the benefits of remote work are worth it, then let's go over the main advantages of remote work for businesses in the modern world.
Employee and working flexibility
Perhaps the most obvious benefit of remote work is the flexibility it provides your business and employees.
Greater flexibility for your employees leads to a range of secondary benefits. Firstly, by providing your employees with a working arrangement that can accommodate more flexible schedules, and removing the need for commuting altogether, employees are able to achieve a more even work/life balance and thus reduced risks of burnout and staff turnover and increase employee motivation and productivity due to better mental health and lower stress levels.
But remote working flexibility also provides benefits to the business outside of employee boosts. For example, by adopting the infrastructure needed to facilitate remote working, businesses provide themselves with the opportunities to use other flexible working arrangements without seeing significant disruption.
For businesses where employees have to travel, having the tools to connect them to the rest of your team, software, and information databases means workers can still get on with work on the go. Remote working arrangements mean businesses are far more capable of adapting to whatever out-of-office situations life throws at them.
And finally, another benefit to businesses using remote working arrangements is the vastly extended talent pool they can draw from when it comes to hiring. No longer are businesses restricted to workers local to their offices or those willing to relocate; now employees can be sourced from the world over, meaning more great candidates to choose from when hiring.
Low Operating Costs
The main cost benefit of remote working is that businesses no longer need an office, eliminating the expense of renting office space and all the other overheads that go along with the day-to-day operations, such as heating, utilities, and so on.
But a benefit of lots of modern business software is that as they're designed to be centralized platforms operating as single sources of truth, they are already primed for remote working arrangements.
As most businesses already use powerful modern cloud-based solutions, they don't need to spend very much more on remote working tools (if any; there's plenty of great free software) to round out the remote working infrastructure needed.
Instant speed communication
With the widespread adoption of internet-based communications, mobile devices, and apps specializing in making the most of different communication channels, reaching out to your colleagues is easier than ever and holds a few benefits over physical interactions.
The first is the speed at which communications happen, which is near instant. Rather than having to walk around the office to find the person you need to talk to, you can just send them a message. And, provided the question you need to ask isn't overly complicated, it can be quicker for the person responding to do so over an app rather than in person.
Plus, with video conferencing tools and software designed to provide oversight for everyone involved over how different tasks are progressing, more complicated topics can be easily communicated without needing in-person communication.
Another great feature of cloud-based software is real-time updating. If you're waiting for updates, you no longer need to ask for one from your colleagues every instance, you can just check your centralized software to see if a task has been completed yet or not.
The 11 Best Remote Work Tools
We'll be breaking this list down into manageable categories, highlighting the best remote work tools for each and any great free options you can use. The remote work tools we'll recommend are designed to be flexible in order to meet your general remote working demands, but for businesses that rely heavily on a particular category, we recommend checking out our more in-depth guides to make sure these solutions meet all your business's needs.
Project Management
Keeping all your projects on track through careful planning and oversight is the purview of project management tools, making sure your teams understand where they are in the process and what their next tasks are.
We've written guides to the best planning tools and project management platforms, but if you're looking for all our community's ratings and reviews, check out our project management software page.
Price
Free Plan
Team Plan @ $9.80 per user per month
Business Plan @24.80 per user per month
Free trial and custom enterprise options available
Wrike provides remote teams with a one-stop shop for all their project management needs.
With customization, personalized dashboards delivering oversight of your current projects including workloads and tasks, cross-tagging to give your teams access to tasks, folders, milestones, phases, and projects from within a single source of truth, proofing software to streamline collaborative work and feedback, and Gantt charts for complete oversight of your current projects and their dependencies, you'll have all the software tools to get work done faster and more effectively in one place.
Plus, with over 400 built-in integrations with popular software, users can connect the other apps in their software stack with Wrike to help speed up the flow of information between their systems, and fully customize the interactions between software to create automated workflows to dramatically speed up their processes.
Key Features:
All-in-one system
If you're after specific project management software tools, Wrike probably has them. With custom dashboards, cross-tagging, Gantt charts, proofing, Kanban boards, resource planning, dynamic request forms, approvals, and invoicing, there's an enormous amount of choice and flexibility when it comes to remote work setups.
Integrations
With over 400 built-in integrations, each with customizable interactions, Wrike gives your remote workers the opportunity to sync their cloud-based apps to provide automated workflows to save time and reduce human error.
Free Option
While the vast array of features is slimmed down for the free version, it makes a great starting point for remote teams looking to take project management more seriously, with the option to upgrade down the line without having to worry about system migration.

Price
Free plan (2 users max)
Team plan @ €5 per user per month
Enterprise plan @ €9 per user per month
14-day free train available
If your remote teams are just looking for a system for Kanban boards to help with your project and task management, then Kanban Tool might be the perfect solution.
Kanban Tool provides enormous flexibility within Kanban boards, so it's not a one-trick pony. Instead, it's a comprehensive planning and tracking system for Kanban board project management, with multiple swimlanes, extensive customization with power-ups, real-time updating, and file attachments.
Kanban Tool also incorporates time tracking and reporting features, so team members can easily track their time working on projects, and use the reporting features to find the bottlenecks in your processes to improve efficiency.
Key Features:
Flexible Kanban board solution
The perfect solution for remote teams just wanting a Kanban-based tool, Kanban Tool provides enormous flexibility and oversight options in project management.
Time tracking and reporting features
Track the time your team members spend on projects for accurate invoicing and cost analysis, and gain insights into your projects so you can make improvements by eliminating bottlenecks and boosting efficiency.
Free version available
Great for small and startup businesses, Kanban Tool's free plan provides two remote workers with up to two simultaneous boards.

Zenkit is a suite of project management and collaboration system that remote teams can pick and mix from to create the custom bundle that suits their needs best.
Plus, with free versions of most of their programs, small businesses can put together custom solutions that meet their remote work needs without having to spend a penny.
Software tools in the Zenkit Suite include Projects, Hypernotes, Base, To Do, Zenforms, and Zenchat. For project management, we recommend looking into Base (the centralized platform dashboard for all Zenkit products), Projects (for Kanban, Gantt, agile, calendars, resource management, and reporting), and To Do (daily and weekly task management with deadlines and reminders, custom inbox and collaboration features).
ZenKit makes a great arrangement for remote teams that need modular project management and collaboration tool software, letting users build a custom solution for their way of working.
Key Features
Modular System
Build and pay for only what you need, meaning remote workers can create highly customized solutions that all integrate and centralize into Zenkit Base.
Variety of project management tools
Zenkit Project and To Do bring a large range of team-based and personalized project management features to your remote teams, helping to improve efficiency and output.
Free version
Perfect for small businesses, the free versions of Zenkit's products provide most of the great software tools, with the option to upgrade down the line for more features of increased usage caps without having to change system.
Collaboration Tools
Collaboration tools overlap with project management tools, but with a slightly different angle of helping to boost collaboration efforts between teams across projects as well as other tasks.
Businesses looking to invest in collaboration remote work tools should check out our guide on choosing the best collaboration software, as well as our articles on improving meetings and communications with collaboration software and the best file-sharing systems to improve teamwork.
Or check out our full list of collaboration software if you'd like to see all the reviews our community has left.

Price
Free plan (up to 30 users)
Pro plan @ $4 per user per month, billed annually
Enterprise version available
Freehand is a collaborative system built around a whiteboard system that allows remote workers to communicate through a variety of channels in real time over projects, brainstorming, meetings, and more.
By centralizing your workflow in Freehand, you give your team members the power to collaborate over every aspect of your process. With over 100 templates to help structure your tasks and projects, you can quickly set things up to let your teams get to work.
What makes Freehand so special is how easy it is to align your team members when it comes to brainstorming, making strategic decisions, and collaborating together over a visual workspace where everyone can have an input.
Because of the flexibility of the tool, the sky's the limit on what you can accomplish on the platform. Any process that requires input from a team can be performed over Freehand to keep engagement high and your employees aligned.
Plus, with integrations with a host of popular software tools, from project management, design, document creation, and communication, businesses can bring all their favorite remote working tools together in one centralized collaborative platform.
Key Features:
Blank Canvas
Freehand gives you the power to create whatever workspace your teams need. They can be set up from scratch, or users can adapt templates used by successful businesses such as Microsoft, Amazon, Salesforce, and more.
Integration
Bring your favorite remote work tools together in one place for easier collaboration between teams.
Free Version
With a free version only limited by the number of boards you can use, the Freehand free tool is an excellent way for small businesses to start enabling collaboration between their team members.

Price
Free plan
Personal Pro plan @ $4 per month, billed annually (limit to one user)
Team plan @ $8 per user per month, billed annually
Custom enterprise plan
Free trial available
Notion is another great collaboration system for teams who need whiteboard-style software tools to give them the flexibility to manage their planning and projects.
Notion revolves around using supercharged tables that provide users with a wealth of flexibility about how to use them. This makes it great for processes that follow predictable flows, where elements can be isolated to work on, and if that sounds limiting, it's not; businesses use Notion to create blog posts, sprint boards, Kanban boards, mood boards, calendars, task management, and much more.
By hosting your boards in a centralized, cloud-based location, users can change and update their boards in real time, so you always have an up-to-date view of what needs to be done.
Plus, integrating with a range of popular software, from communication to project management tools, you can once again bring your remote work tools together into one system.
Key Features
Huge flexibility
With complete customization and a vast array of templates to help get you started, Notion makes it easy to put together boards for your business to collaborate over and boost results.
Integrations
Bring together your software stack by integrating them with Notion so you can make use of your external apps to boost teamwork and Notions features.
Free plan
Another great app with a free plan for individual users, making it a great tool for small businesses and startups.
Communication Software
Vital for staying up to date with the latest developments and communicating with clients, communication software allows for a range of interactions, often at instant speed.


Price
Free video meeting and messaging tool
Essentials plan @ $19.99 per user per month, billed annually
Standard plan @ $27.99 per user per month, billed annually
Premium plan @ $34.99 per user per month, billed annually
Ultimate plan @ $49.99 per user per month, billed annually
RingCentral is an all-in-one cloud-based communication system for businesses that need an advanced communication platform for their day-to-day operations.
And while RingCentral's MVP software is designed for businesses that use their communication systems heavily to interact with clients, for businesses that just need webinar software, RingCentral also offers a free Video conferencing tool.
RingCentral MVP centralizes your messaging, video, phone, fax, and SMS systems in one platform so that businesses that rely on a variety of channels to communicate internally and externally can do it all from one place.
RingCentral MVP provides businesses with every feature they need for their favored channels. The phone system includes intelligent routing, interactive multilingual voice response, call queues, and built-in analytics.
The Messenger app provides chat, file sharing, task management, and collaboration functions, with easy switching to video or phone calls with the tap of a button, and the SMS system is embedded within the phone and fax channel for workflow ease and uses optimized delivery systems as well as multimedia sending to impress recipients with more than just text.
And with secure video calls, users can host large meetings, switch devices on the go, access the platform from a browser without needing any downloads, use a suite of tools within the calls such as whiteboards, chats, and video recordings, have their calls transcribed live, and much more.
RingCentral MVP really is a fantastic tool for businesses that can make use of the centralized communications features to streamline their workflows and improve efficiency, with reporting analytics to help improve the process over time.
Key Features:
Centralized multichannel communication platform
Bring all your communication channels under one roof to avoid switching apps, and make use of all RingCentral MVP's features to speed up your processes and provide data about your communications.
Integrations
Integrate RingCentral with your other software tools, including CRMs, other communications tools, automation software, and more, to build a custom communications solution that works with your business's exact needs.

Price
Pro plan @ $8 per user per month, billed annually
Business+ plan @ $15 per user per month, billed annually
A very popular communication tool, Slack brings your staff, users, and tools together over a digital HQ.
Slack is a messenger-based app with extra utility, such as multimedia sharing, built around channels for your chats, so you can easily create dedicated searchable channels for your particular needs, so your conversations stay on track.
With support for most devices, your teams can be reachable by Slack wherever they are. And with Slack's Huddles, you can have your team chat over audio instead, and even switch to video and screen sharing with the tap of a button, or even record clips to share with other Slack users.
And with over 2400 integration, as well as automation for tasks such as briefings, approvals, and requests, there are a ton of ways to speed up workflows and your communications.
Key Features:
Centralized multimedia messenger
Bring all your communications into one place, with a messenger built to handle a range of communication media types, such as text, video, audio, clips, screen sharing, audio calls, and document sharing.
Integrations and automation
Integrate Slack with a huge array of external tools so you can communicate through Slack within other apps, and automate your routine meetings and tasks.

Price
Free (Skype to phone credits must be purchased)
For businesses, Skype is essentially the free version of Teams, but with a more limited feature set. However, for small businesses, Skype does everything you'll need it to do for free, so it makes a great choice as a starting point, with the option to upgrade to Teams down the line.
Skype's primary feature is its free video calling, where users can create meetings with up to 99 other Skype users. It has all the video call features you'd expect, such as call recording, background blurring, and screen sharing, but Skype also has some other extra features that make it useful beyond video calls.
Skype also has a smart messenger feature for instant messaging with other users, and it also gives users the ability to call mobile and landline phones from their device, though note that this does cost credits that must be purchased.
There's a range of great video conferencing software on the market, and remote-working businesses are almost required to use some form of it. However, if you're just starting out, there's no need to pay for it, and Skype makes a great platform until you grow enough to warrant a paid upgrade.
Key Features
Free video conferencing tool
Skype's multi-device free video conferencing tool means you can conduct video calls with up to 99 other participants without it costing you a penny.
Document and File Management
Every business needs flexible document-making tools, outside of their specialized task software, and there are a few great options out there for businesses to make use of.

Price
Business starter plan @ $6 per user per month
Business standard plan @ $12 per user per month
Business plan @ $19 per user per month
Custom enterprise plans available
Outside of your core software that handles very specific functions (think CRM, accounting software, etc), you'll also need a set of tools to cover your more general tasks and activities, and Google Workspace makes a great choice for businesses looking for a lot of flexibility and remote working capabilities.
Let's take a look at the software included in Google Workspace: Gmail, Drive, Meet, Calendar, Chat, Jamboard, Docs, Sheets, Slides, Keep, Sites, and Forms.
The most basic plan comes with 30GB storage per user, custom secure business email, 100 participant video meetings, and security and management controls, which, combined with all the software included, is a great deal for just $6 per user per month.
In terms of document management, Docs, Sheets, Slides, Keep and Forms have you covered for all your generic document types. And by centralizing all your files on a shared or personal Drive, you can provide easy access for all your team to every document on Drive. And with all software being cloud-based, you can access your software from any device!
And if that wasn't enough, Meet, Chat, Calendar, and Jamboard provide collaboration and communication tools for your business, meaning you don't have to shell out on other software if you subscribe to Workplace.
As a final benefit, with Google's product's popularity, you'll find it very easy to integrate your Workspace tools with your other business software, as most apps are designed to work with the Workspace suite!
Key Features:
Wide range of software
Google Workspace provides a wide range of software for an affordable price, helping businesses cover document creation and management, collaboration, communication, email, and more.
Centralized, cloud-based platform
With all apps cloud-based, and Google Drive providing shared and personal cloud storage, you can keep all your files in one easy-accessible place for your teams to use.
Price
Business basics plan @ $6 per user per month
Apps for Business plan @ $8.25 per user per month
Business standard plan @$12.50 per user per month
Business premium plan @ $22 per user per month
One month free trial available
Like Google Workspace, Microsoft 365 offers a wide range of useful and affordable software for businesses for document creation and management, as well as communication and collaboration tools.
All plans include the following software: Word, Excel, Powerpoint, Teams, Outlook, Exchange, OneDrive, and SharePoint, with Access, Publisher, Intune, and Azure Information Protection available on the higher tier plans.
While you get slightly fewer tools than Google Workspace, you get dedicated mobile apps (as well as browser-based versions), up to 300 attendees for your chats, calls, and videos, as well as 1TB of cloud storage per user and anytime call and web support, so if Microsoft 365 has all the tools you need, it offers better storage, help desk, and attendee features.
In terms of document creation, Word, Excel, and PowerPoint are your main tools, which should be sufficient for most businesses' generic document needs. And with a centralized cloud-based storage system in OneDrive, users can share documents and files across the company no matter the location of employees.
Plus, with Teams, SharePoint, and Exchange, there's business-class email, scheduling, centralized communications, and collaboration for your business too.
Microsoft 365 makes a great suite of software for businesses that need document creation and file storage software, as the extra tools included mean you don't need to invest in other tools.
And, like Google Workspace, most large software providers have built-in integrations for Microsoft 365 products, meaning you can get even more value out of your tools.
Key Features:
Wide Range of Tools
Microsoft 365 provides businesses with an array of great software to handle all your document creation and management needs, along with extra tools for communication and collaboration within the company.
Centralized storage
Provide your business with easy access to important files with OneDrive's cloud-based storage, at 1TB of space per user!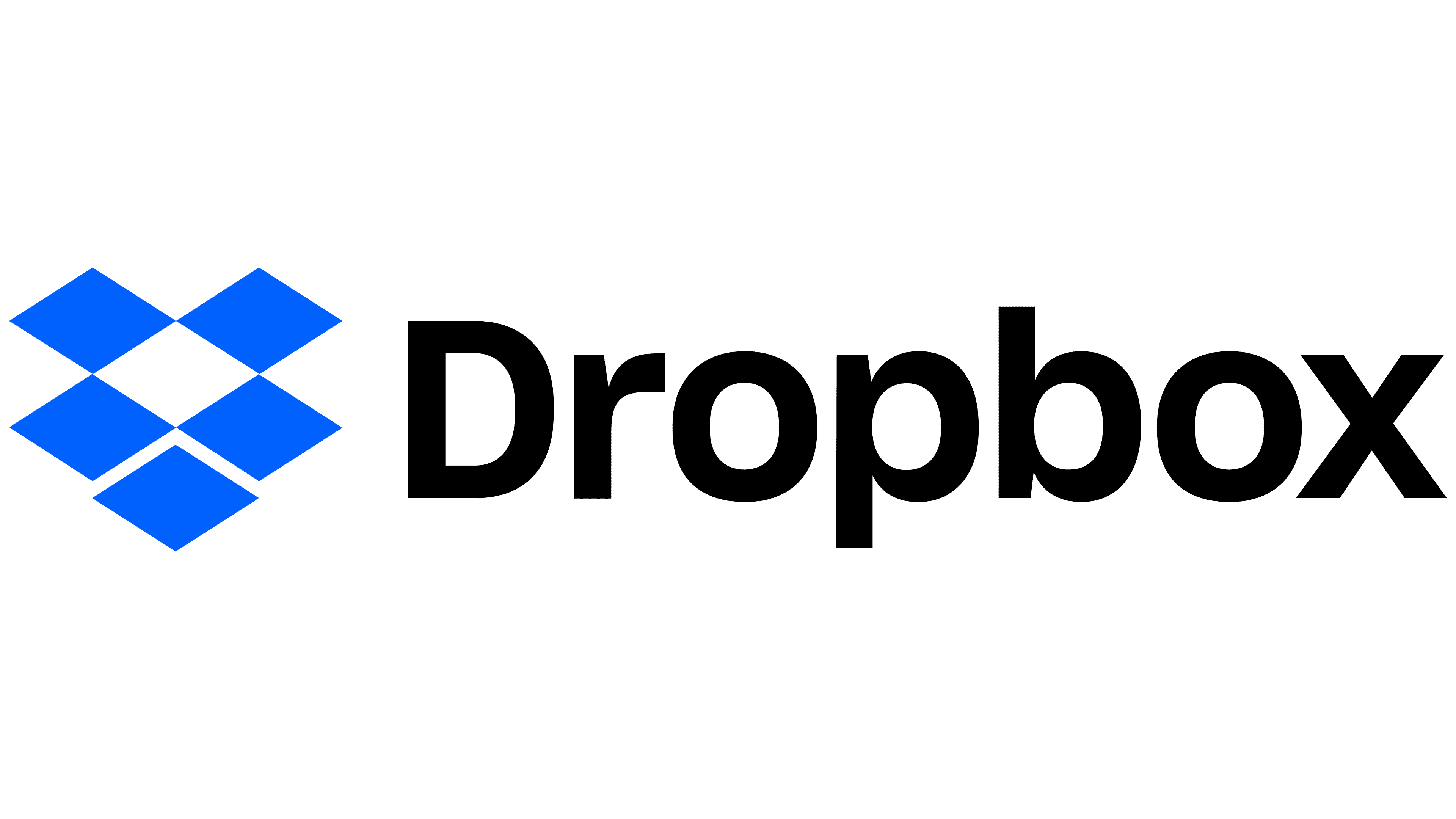 Price
Standard plan @ $15 per user per month
Advanced plan @ $25 per user per month
Custom enterprise package available
Free trial available
Dropbox offers businesses a centralized, cloud-based storage platform for the easy management and sharing of files and documents.
Dropbox offers 5000GB storage for their standard plan, with unlimited storage for the Advanced plan up, with any time, anywhere access and 256-bit AES and SSL/TLS encryption.
With at least 180-day document recovery and rewind, users don't have to worry about lost files, though the Advanced plan does offer more features, including external sharing and reporting, data classification, and ransomware detection and recovery.
But Dropbox also comes with a range of other tools and features to boost what you get for your money. Dropbox paper is a creative and sharing space for your work, where teams can collaborate over files including video and audio files, Dropbox Capture provides 4K recordings with video editing features for users to create and share videos, and Dropbox Transfer for sharing large files up to 2GB in size.
Dropbox makes a great system for businesses that can make use of the large file sizes it facilitates, while also using Dropbox Paper to collaborate on documents and files over the centralized, cloud-based Dropbox platform.
Key Features:
Centralized file and document management
With a minimum of 5000GB of storage, up to 2GB file transfers, excellent security features, and easy access for teams, Dropbox provides a great cloud-based hub for businesses to store, manage and access their files and documents on.