When we imagine the idea of a proactive, high-achieving sales rep, it's easy to fall back onto the old stereotype of hard-selling rogues with manipulative sales tactics.
But that image is outdated; selling has come a long way, and now more than ever it's important for your sales team to take key factors like personalization into account.
It's still possible to be incredibly successful in the modern landscape of outreach sales, and in this article, we'll be looking at some of the best ways to boost your outreach methods, as well as the tools to use to create highly effective outreach sales automation systems.
What is Outreach Sales?
Outreach sales is the process by which sales reps reach out to new and existing leads to boost engagement.
This can be to introduce new leads to your pipeline or to touch base with leads that are in danger of going cold.
Any practice where reps are reaching out to prospects in this way is considered outreach; it's the business going to the lead, rather than the other way around.
In practice, outreach sales is generally cold calling, cold emailing, social media messaging, and follow-ups.
Outreach, inbound, and outbound sales
Similar terms, but not to be confused.
Outbound and inbound sales refer to the way in which you acquire leads. When leads are acquired through your business going to them first, the tactics and activities that make up that process are outbound techniques.
Likewise, the tools and tactics you use to encourage your leads to contact your business first are considered inbound sales techniques.
Outreach sales seems like it would apply more to the outbound sales process, but outreach actually applies to both inbound and outbound.
The reason is that inbound and outbound sales only refer to how you bring your leads into the sales pipeline. Outreach sales, however, covers the entire length of your pipeline. Outreach does cover a lot of outbound techniques, as you're the one reaching out to your potential leads, but you'll need to keep in contact with your leads once they're in the pipeline regardless of how they got there.
Whenever you need to begin a new conversation to engage with your leads to keep them on the track toward a deal, you are performing outreach sales.
Final note: Inbound, outbound, and outreach sales are different from inbound, outbound, and outreach marketing. While the principles behind them are the same (I.e. who approaches whom), the techniques and intention behind the processes are different, so shouldn't be confused.
What is outreach sales automation?
Simply put, outreach sales automation is the process through which you use software to automate parts of your sales engagement system.
Different communication channels can benefit more from sales automation than others. For example, entire outreach campaigns can be created for text-based channels like email, social media, or messengers, where new messages are sent depending on lead behavior.
This means you can free up huge amounts of time for your reps by having your software do lots of the outreach process for you.
There are many other ways to help automate your outreach system, meaning there are ways to save time regardless of the channel your business uses.
How to Automate Outreach Sales and Increase Sales Engagement
In order to make the most of outreach automation, you'll first need to have a solid outreach strategy in place for your sales team.
Let's take a look at some of the ways you can lay excellent foundations for your outreach sales automation to build on.
Ideal Customer Persona
Having an ideal customer persona is an amazing resource for your sales team, and can be applied to many aspects of your sales process to save time on leads that will never convert.
The idea is to hone in on the type of lead who makes the perfect customer for your business. This can include factors such as business size, budget, industry, and location, but can extend to whatever traits are key for your business and products.
Once you have this ideal customer persona mapped out, you can then begin vetting your potential customers to see how well they match. The closer they are to your ideal customer, the better the chance you have of converting them.
By qualifying your leads this way, you can easily see which leads should be the priority for your sales engagement team. Spending too much time on prospects that don't match up well with your ideal customer persona will result in lower sales, as the chances are they just aren't right for your product.
By qualifying and targeting your prospects, you stand a much better chance of both bringing in higher-quality leads and converting them.
Personalization
Personalization is a key factor in modern sales for winning over your prospects. In fact, 80% of customers are more likely to buy from a company that provides a personalized experience, and 72% of customers will only engage with personalized messaging.
If you're not using personalized messaging as a cornerstone of your sales engagement, then you'll want to start if you're looking to improve your sales and revenue.
Though it may seem at odds with sales automation, personalization is great when partnered with your outreach sales automation tools. Why? Because by understanding your prospects and splitting them into lists that account for key traits, you can target them with automated campaigns that take personalized traits into account.
You can even account for behavioral patterns this way too, and use automated messages for your leads depending on how they are behaving in your pipeline.
Through the use of automation features like email templates with auto-filling fields, you can create all the messages you want to send out once, and then save them as a template to be used automatically whenever your defined triggers are met.
Build a consistent approach
You want your sales processes to follow a repeatable pattern, for a number of reasons.
First, by having steps to follow, you'll know how to respond to any outreach scenario. This way you can ensure consistency in your approach, and achieve predictable outcomes.
Secondly, by using a consistent method, you can use analytics to understand how effective your sales metrics are.
Leveraging your sales data wherever you can is a great way to hone your practice by seeing what works and what doesn't. Rather than wondering why you're not making your sales quota, you can instead pinpoint the part of the process bottlenecking your team, and make surgical changes to address the issue.
Outreach Sales Automation Tools
Now we know what outreach sales automation is, and how you can build the foundations of an excellent outreach process, let's take a look at the top-rated outreach sales engagement platform tools on the market today, as reviewed by our Serchen community.

Koncert Cadence is a sales engagement platform built to automate multichannel sales outreach, covering phone, email, video, text, and social.
As you might expect, Koncert Cadence has a large range of tools aimed at improving the workflow and effectiveness of your sales outreach procedures.
For businesses that prefer to use emails and other text-based communications, Koncert Cadence lets you define and customize your sales outreach workflow. By bringing together all of your outreach steps into one workflow, you can ensure consistent messaging across your team.
But if your business prefers to use a calls-based system, then Koncert Cadence has a solution for you too. With a hugely customizable dialer, you can make sure your calls are routed effectively, even with your outreach calls. Plus, with new AI dialer features, local caller IDs, and Remote Coach training, you can save even more time while boosting the effectiveness of your outreach efforts.
Koncert Cadence also gives reps the chance to respond to lead behavior, with scoring to determine your most promising leads. By assigning points to prospects based on their activities, such as emails opened and links clicked, your most engaged leads are highlighted for you to prioritize.
Plus, with the ability to integrate with a range of CRMs and other common software, you can centralize your data across platforms to ensure sellers are always working with up-to-date information.
Salesforce users can even take advantage of the beta-stage Coverage features, which use AI-automated personalized messaging systems based on your lead's activities, so you can reach the right prospects at the right time with minimal effort.
Key Features
Customizable outreach workflow
Define your own consistent workflow for your sales outreach from lead prospecting to closing, ensuring all your reps are working off the same page and getting predictable results
Smart Dialer
Use advanced automation dialer features to dramatically decrease your downtime and route calls effectively between agents, prospects, and sales. AI features save you time, local caller ID increases call acceptance, and the Remote Coach feature keeps your sales team at the top of their game.
Integration
With over 300 integrations built-in to Koncert out of the box, you can integrate your CRM and the other key sales software tools already in your software stack, removing the chance of siloing information and adding to your centralized data platform.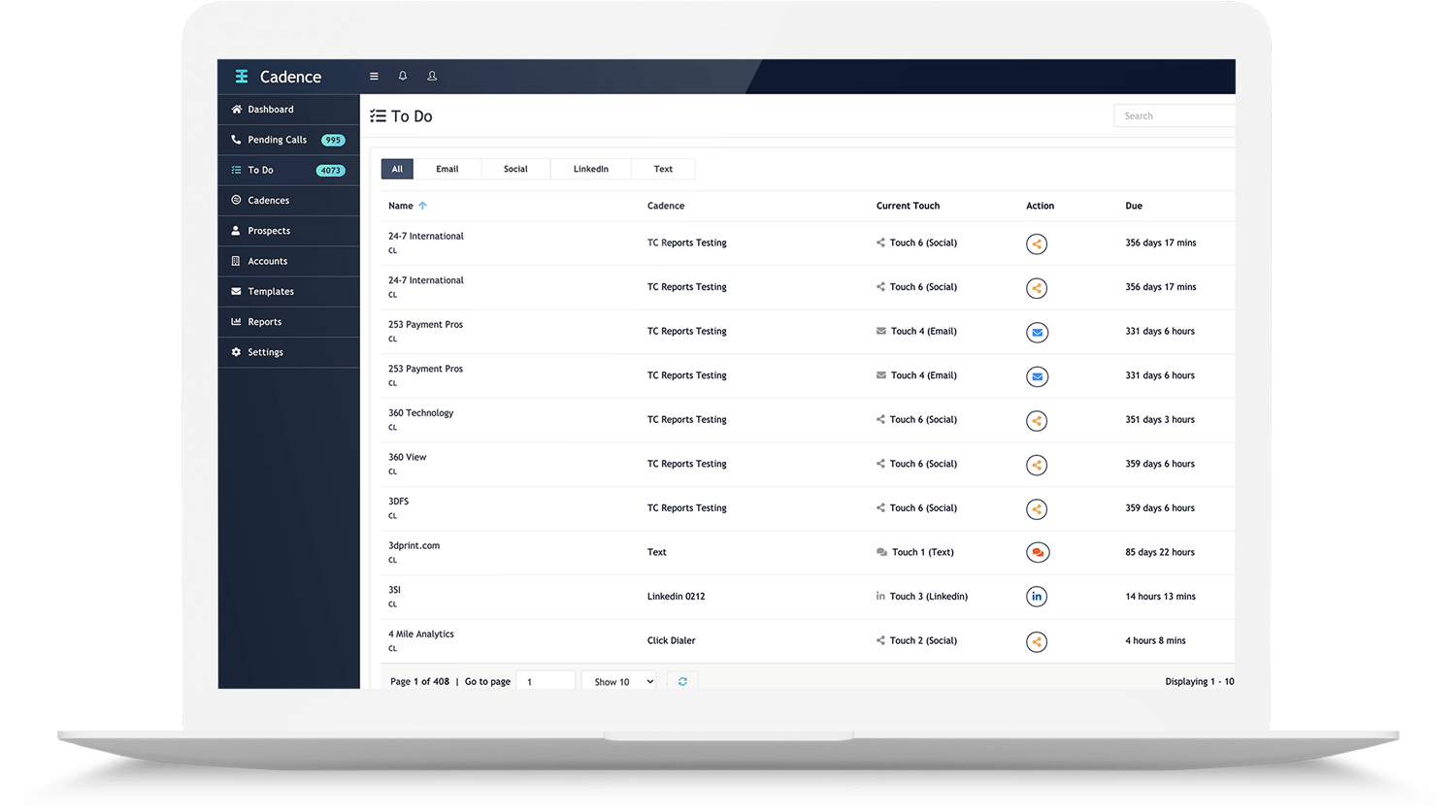 What our community says about Koncert:
Steve — "Koncert has multiple products in their products stack. We have used their Cadence software for our outbound email campaign process. We see great results in our sales productivity.
We have been able to use Koncert's advanced dialer stack to improve our hourly dialing cadence from 2-3x and 8-10x. This has had a measurable impact on productivity and positive ROI across our business.
Koncert makes 200-1000 dials per day a regular and achievable dialing cadence. This can drive a large increase in team productivity."
Price
Starter plan, $60 per user per month
Professional plan, $90 per user per month
Custom plan available
Reply.io is an all-in-one sales engagement platform designed to automate and provide new opportunities for your business while still retaining the personal touch in your outreach efforts.
Reply.io has features to automate your outreach process, but it also brings an email finder, deliverability suite, AI assistant, CRM integration, and analytic features, making it a powerful platform for your outreach efforts.
Reply.io gives you the tools for a full-cycle sales engagement process. First, use Reply.io on LinkedIn to find business emails for new leads and push them into an outreach campaign directly from Reply.io.
Then, once you've got your leads in your pipeline, use Reply.io's automated multichannel sequences, including phone, email, LinkedIn, messengers, social media, and video, to touch base with your prospects at every stage of the journey to keep them engaged and en route to a closed deal.
And with tools to ease your task flow, book meetings, and trigger notifications, you can simplify your tasks and keep on top of what you need to be doing next. Plus, with CRM integration, you can ensure all your data from Reply.io is recorded on your CRM, and all your contact information is present in Reply.io.
And when the process is done, Reply.io has the reporting features you need to analyze your outreach performance by bringing in all your sequence data.
Key Features
Multichannel sequence automation
Conduct automated outreach campaigns across your sales channels with Reply.io's multichannel features. Bring all your channels together so you can reach out over the right channel at the right time, including email, calls, SMS, Whatsapp, LinkedIn, and social media, using the channels you need in your own custom sequence.
Reporting
Make sense of your outreach campaigns by bringing the data from your sales automation efforts into the reports and analytics suite of Reply.io. Gain insights into your messaging systems, your meetings booked, your sequences, your calls, and more.
What our community says about Reply.io:
Terry — "The ability to create multi-step campaigns utilizing calls, email, and LinkedIn. The tracking capability along with email customization tools really helped."
Andreea — "Customer services is a 10 They continuously improve the product, continuously and for each improvement, you get email notifications and webinars to explain them. We get at least 2 meetings booked per week with reply.io just because of the way the cadences are set up automatically, they suggest the best copy, ( they have an AI) And the Chrome extension is amazing at extracting data!"
Using a Sales Engagement Platform
Businesses looking to save time and increase the effectiveness of their sales engagement process will find enormous use in the automation of an outreach sales engagement platform.
Provided you choose software that works with your current workflow, you'll find onboard your new sales automation software a breeze.