Managing your inventory as a small business can be tricky enough, but as soon as you begin to add multiple warehouse locations, physical store locations and eCommerce channels, keeping track of everything that's going on can be a nightmare without dedicated inventory management software.
With often multiple teams spread across locations, effective communication about the status of your inventory and orders is vital to keeping your business running smoothly. A messy system means delays, errors, unfulfillable orders and missed sales. You run the risk not only of losing money through the missed opportunities, but you can even see your brand reputation damaged from poor customer service.
The benefit of having a great inventory management system for your sales is twofold: you not only provide the transparency and fulfillment speed that your customers desire, but you ensure that you're always able to provide your products to your customers when they're ready to buy.
And when it comes to streamlining your internal processes to save money and time, inventory management software is indispensable. Make sure your staff aren't trying to put out fires with inventory and communication errors, and are instead able to get on with their jobs efficiently and stay ahead of stocking issues.
In this post, we'll be looking at the best inventory management solutions for medium and larger businesses as reviewed by our community of users on Serchen.
3 Inventory Management Solutions for Medium to Large Businesses
As always, our recommendations in this post are based on our wonderful Serchen community's reviews and ratings to bring real-world examples of how these inventory management software solutions perform.

Price From: $39 per month (free trial available)
HandiFox is a comprehensive inventory management solution that's perfect for medium and larger-sized companies with dedicated warehousing teams.
With a host of functions designed to ensure your inventory management is both error-free and as time-saving as possible, HandiFox brings users the advantages of cloud software packed with automation.
At its core, HandiFox works by using scanners at each point of interaction with your inventory to both ensure you have consistent, up-to-date numbers about your stock, but also to eliminate errors during the fulfillment of orders.
By using scanners (which can be Bluetooth scanners or mobile devices with cameras) to track your inventory at every stage, you have a trail of each product's journey through your system, and ensure that each item is going where it needs to go.
By actively including the warehouse team in the inventory management process, you remove the siloing of information around your stock by enabling two-way communication. In fact, HandiFox even offers the function of allowing your warehousing team to make purchasing orders for new stock, or even automated it based on units of stock remaining.
And of course, HandiFox is designed to work across multiple warehouses, acting as a centralized platform to bring together all the information regarding stock across your locations. Plus, with built-in integration with Shopify, you can manage all your eCommerce orders from that platform too!
Users of QuickBooks will be pleased to know that HandiFox is designed to be integrated with it, meaning that financial transactions related to your inventory will automatically be routed through your QuickBooks account, giving you full transparency and accountability.
Highlight Features:
Inventory management — automate your inventory management with the HandiFox software solution. Use simple barcoding and scanning techniques combined with the HandiFox software to automatically track your stock and build in fail-safes during the packing phase to eliminate the chance of accidental human error
Shipment verification — bring your warehouse team into the fold with scanners that allow them to ensure they're packaging the right products, but also allow them to keep track of inventory too, including the ability to reorder stock at their discretion
Multi-location — make one of the most difficult parts of inventory tracking a breeze with the ability to manage multiple stock locations from one centralized platform, accessible from anywhere with an internet connection
Integration — bring in your existing software stack to speed up and automate repetitive admin and data entry. Designed to integrate with QuickBooks and Shopify, you can streamline your accounting and eCommerce processes with automated workflows, saving you time and removing human error from the equation.
What our community says about HandiFox:
Mark — "It interfaces well with Quickbooks without having to have another inventory software. Apps easily synchronize with Quickbooks inventory and update back and forth. Apps are easy to install and user–friendly. What I like most is its ability to barcode and track our inventory accurately! Administration is an ease. Apps are easy to use in our operations – as long as procedures are followed properly all inventory should be accurately accounted for!"
Kurt — "HandiFox is the best software that can manage inventory, sales orders, purchase orders, customer balances and route sales data that I have found. The fact that HandiFox integrates with QuickBooks means that I can use QuickBooks to run my company, and have advanced inventory control within QuickBooks. This makes HandiFox able to use QuickBooks add–on. Our salesmen enter and fulfill orders from their handhelds. We can monitor the inventory and route sales that each of our salesmen delivers. I like the way HandiFox tracks the detailed movement of inventory from within QuickBooks. This software is a must–have for any business that has a mobile sales force."
Margilyn — "Handifox solves our issue in our inventory and stacking and helps us monitor easily when we start using HandiFox software. What I like the most is the stock finder and availability of the goods, counting, the transfer items. One of the best customer and support services!"

Price From: $135 per month (free trial available)
Megaventory brings businesses a cloud-based inventory management system designed to cover every aspect of inventory and order management, with a plethora of useful features to help save time and avoid errors.
Best suited for medium and larger companies with multiple stores, warehouses or locations, Megaventory provides a centralized platform for users to trace their inventory in real-time, regardless of where they are in the world. Using their intuitive software, users can prevent inventory from running out of stock, manage their returns, review supplier availability and lead times, and much more.
Plus, your warehouse team will have an easier job of it too, with various automation tasks designed to help the order fulfillment side of your business and even integration with shipping providers.
And for businesses that require their products to be manufactured for them, the manufacturing tracking system lets those businesses stay on top of the costs associated with manufacture, with comprehensive breakdowns for each aspect of the process.
Plus, when it's time to review the data about how your business is performing in its inventory management and sales capacity, Megaventory helps businesses track their KPIs with generated reports.
Megaventory also comes with built-in localization tools, such as different languages and currencies, as well as other great extra features, such as sophisticated user permissions and customer documentation and invoice generation.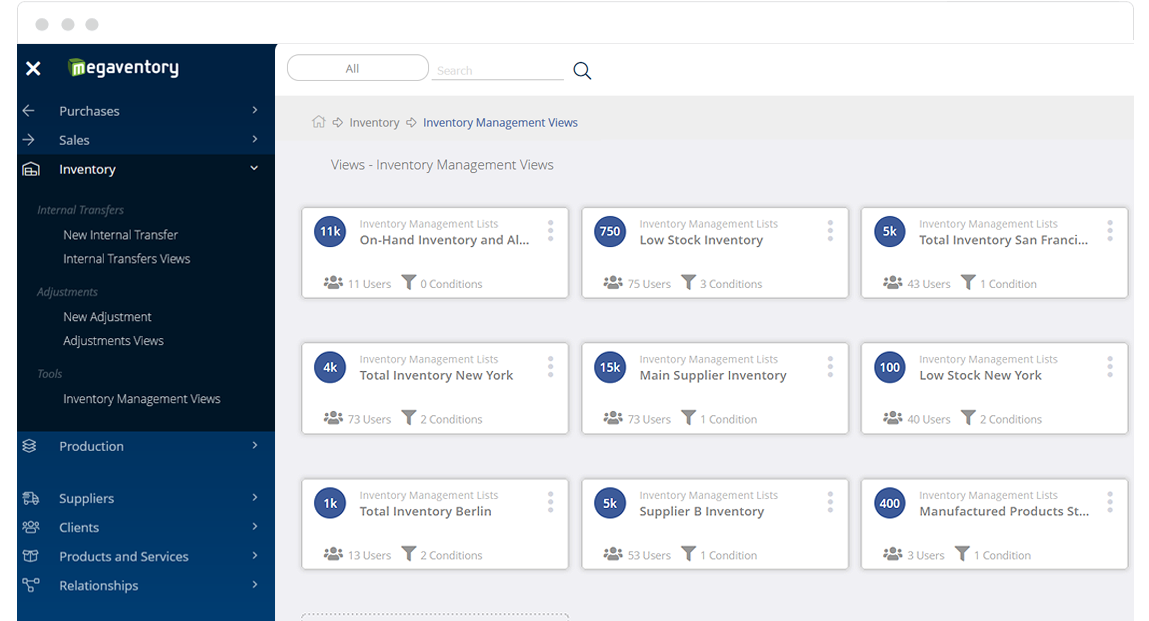 Highlight Features:
Inventory management — centralize your inventory management over the cloud with Megaventory and keep track of your stock over multiple stores, warehouses or locations. With stock alerts, returns, inventory changes and transfers, batch numbers and expiry dates all tracked, as well as product cost tracking and landed cost calculations, you'll have comprehensive oversight of your inventory management process
Order fulfillment — create sales orders and quotes for your clients and purchase orders from your suppliers, integrate your system with shipping providers to streamline that aspect of the process and automate your fulfillment capacity check
Reporting — Create powerful, data-driven reporting about your inventory management and sales process so you can see how your teams are performing and track your KPIs
Manufacturing tracking — comprehensive cost breakdowns and time scales for your manufacturing process
Integrations — integrate with your existing software stack, such as Magento, WooCommerce and Shopify for your eCommerce platforms, QuickBooks accounting software and API extensions with Zapier.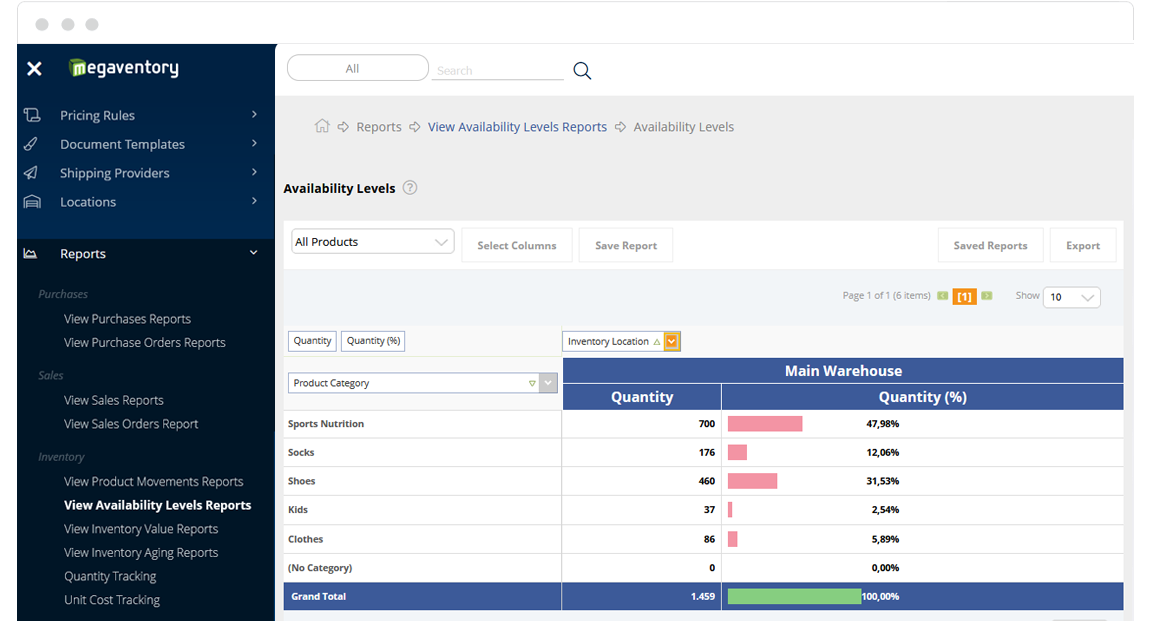 What our community says about Megaventory:
Kim — "Easy to use and great support! We were looking for an inventory management & order processing system that worked with a manual order input process as well as our Shopify store. We got demos from a few companies and the Megaventory team was by far the most knowledgeable and easiest to work with. We've been using Megaventory for a few months now and are super happy. Highly recommend."
Joseph — "Very good product with Exceptional customer support !! Who would expect to have support at midnight on a Sunday, well you can expect this from Megaventory because they are ready to go above and beyond to support your business? They are exceptional."
Tia — "Perfect for scaling manufacturing companies with multiple distribution outlets. We have gained a better understanding of our inventory with customizable reports and tracking."


Price From: Free! (free trial for paid products available)
Looking for a fantastic inventory management software solution that offers all the tools you need to control every aspect of your inventory and sales process from one place, all for a great price?
Then you should definitely check out SalesBinder, our last software solution for this post.
SalesBinder was built to give users quick and easy access to all the information they need about their products at a glance while retaining all the functions you need to streamline and automate your inventory management and sales order processes.
SalesBinder revolves around an inventory database with deep customization around your products so you can account for all your specifications and variations, as well as including up to five hi-res photos per product for easy identification. With inventory tracking, low-stock notifications and location-specific items, you can keep real-time tabs on exactly how your inventory is looking.
You can also use barcode scanning technology with SalesBinder, allowing you to scan items into your orders and use them to look up product information. Using auto-generated barcodes on your documents, you can immediately view the documents in SalesBinder with just a quick scan.
And with invoice and estimate generation tools, you can quickly get your sales documents to your clients with information based on your actual inventory stock, and from there create packing lists with just one click. Not to mention your purchase orders, which can be made and tracked through SalesBinder.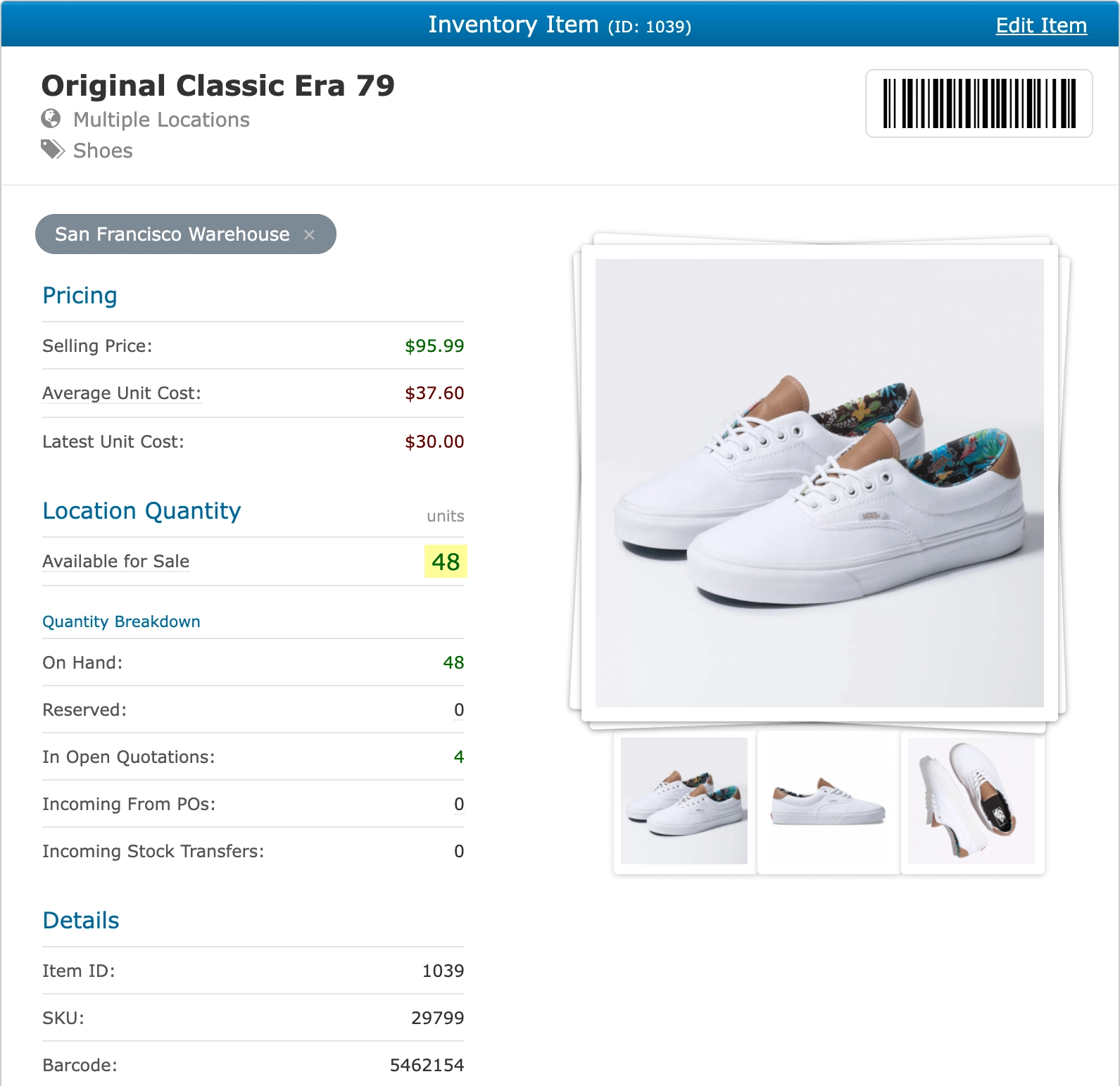 Highlight Features:
Inventory management — SalesBinder brings users an inventory management platform built to be as intuitive and accessible as possible, with all relevant product information across multiple locations and zones available at a glance
Barcode scanning — use barcode scanning in conjunction with SalesBinder to help automate your inventory management process. Create sales orders from your barcode scanning, bring up all the product information you need with a scan, and scan auto-generated document barcodes to open them in Salesbinder
Item variations — ensure your entire product catalog is inventoried with all the details and variations that matter. Use custom fields, variations and hi-res images to help distinguish your different products
Reporting — generate in-depth financial reports regarding your inventory management and sales processes to measure against your KPIs
Document generator — create customizable invoices and estimates from inside SalesBinder than can generate sales orders in one click, and create purchase orders from within SalesBinder to top up your stock.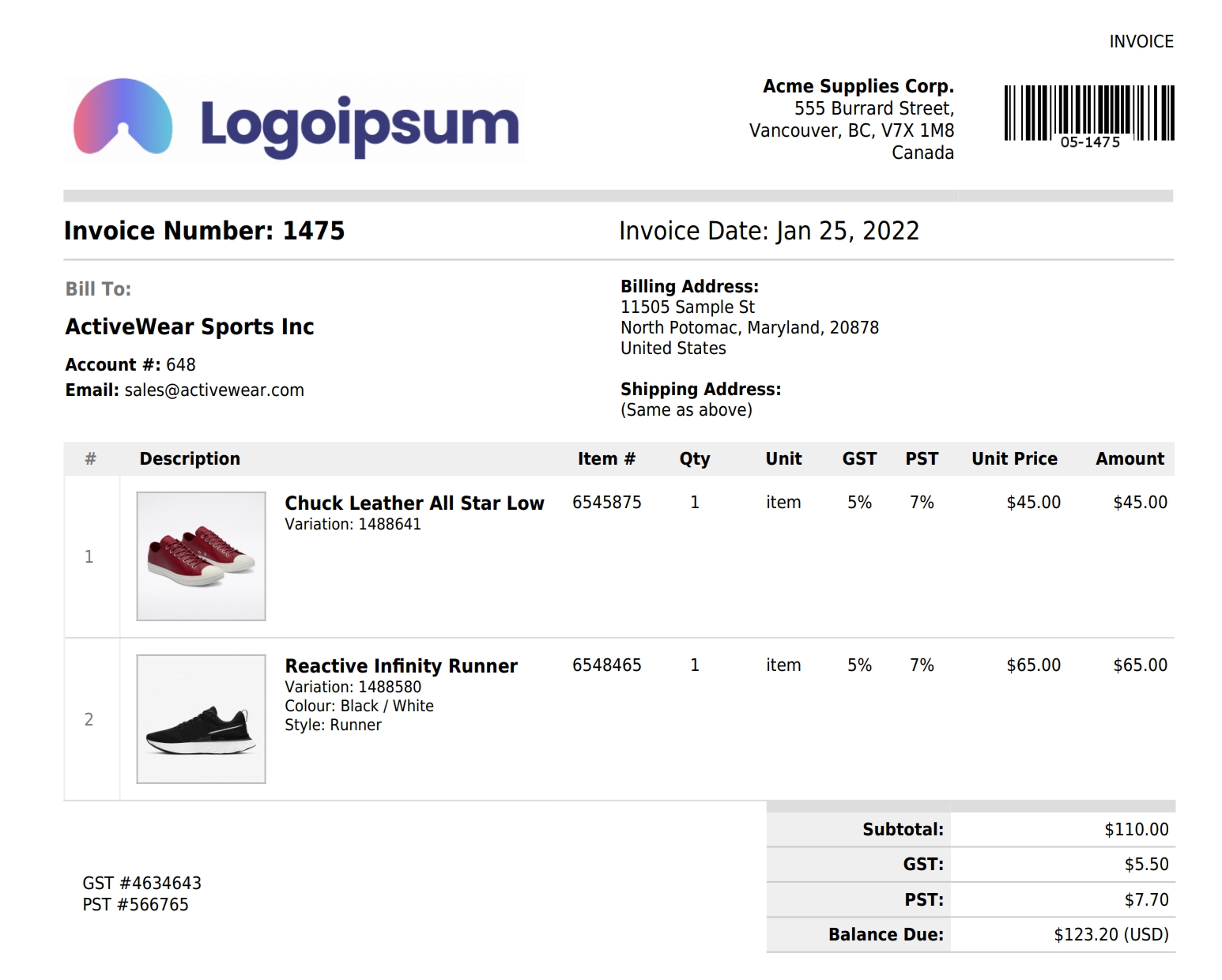 What our community says about SalesBinder:
Philip — "I personally love how easy to use their software is. It enables me to set up my new staff members in the system without having to spend hours training them on how to use it. I also really appreciate how receptive their support team is to feedback. We've made a few suggestions over the years about ways they could improve things and even small things that we wished it would do – and they actually implemented them! I'd highly recommend SalesBinder to any business that needs inventory management and everything else all tied together."
Esteritta — "SalesBinder had everything I was looking for in an inventory management system. I run a resale booth and needed a product to keep track of all my vintage items that I have for sale. I love the ability to add pictures, add unique items, and the support team is great to work with and responds quickly. I highly recommend for it to the entrepreneur or small business owner!"
Inventory Management for Medium and Larger Businesses
To maximize your business's efficiency and ability to create revenue, it's imperative to have an effective inventory management software solution in place.
Understanding your current stock levels in real-time across multiple locations, stores and warehouses, as well as your eCommerce catalogs, is key to avoiding stockouts and missing sales opportunities. There's also a huge amount of sales information to be gathered from reporting made on your inventory, regarding your most popular products, etc.
Plus, with many workflow improvements around your product journeys through your warehouses and on their way to fulfillment, modern automation techniques can drastically improve your business's ability to complete order requests quickly while reducing the chance of human error.
Therefore, you're not only creating more opportunities for your organization, but you're also saving time and money. Quality inventory management software is a must-have for any business that handles its products in this way.