Managing your business's inventory is a balancing act. Overstock a product and you risk locking up your funds in a product that might not sell, but understock and you risk losing sales from customers who would have made a purchase, but can't.
Staying on top of your inventory is key to the day-to-day operations of your business, ensuring you have the ability to create revenue via sales while not sucking up resources that could be better used elsewhere.
In this post, we'll be looking at the best inventory management tools on the market for eCommerce businesses.
Investing in specialized eCommerce inventory management software for businesses that focus on selling their products and services online can provide some great benefits over using ad-hoc solutions (such as Excel spreadsheets) or even inventory management software without eCommerce dedication.
If you run an eCommerce business and want to save time and money while increasing your ability to project your future stock requirements and hone your product catalog based on your inventory data, then eCommerce inventory management software solutions are an excellent place to start, and let you spend more time on the important tasks needed to help your business grow.
Looking for other great inventory management reviews? Then check out our list of the best software on the market!
3 Great eCommerce Inventory Management Software Tools
We've brought together the top three best-rated eCommerce inventory management software tools from our real-world user reviews over on Serchen, so you can choose the best eCommerce inventory management solution for your business.
---

Price From: $69 per month
Lightspeed brings businesses a one-stop eCommerce platform to customers the world over with the mission of helping them simplify their business practices, scale up their sales and bring their customers outstanding customer support.
Lightspeed actually offers its customers a complete commerce platform, meaning that bricks-and-mortar stores can benefit from the platform too, but we're happy recommending it based purely on its eCommerce inventory management system, which is the focus of this post.
The Lightspeed inventory management software is built to accommodate the unique products you sell; whether it's bundles, serialized items, unique pieces and products with multiple variants, you'll find it simple to manage your catalog.
As Lightspeed is based in the cloud, rather than on one specific device, you can have real-time access to your stock levels from wherever you are, on whatever device you're using, meaning that you no longer have to worry about deviating from your current workflow to keep track of your inventory.
And when it comes to ordering more stock, Lightspeed makes it simple with their integrated stock ordering tools built into their eCommerce inventory management system. Search through vendor catalogs, and use purchase orders to manage your purchasing for multiple locations from multiple vendors with ease. Plus you can even manage your customers' special orders by using the vendor catalogs to find what they're looking for.
Plus Lightspeed gives you the flexibility to optimize your sales floor by making bulk pricing changes quickly and easily across your store and using pricing rules to designate selected inventory for planned sales and discounts. You can even manage your giveaways and donations from the inventory management page!
And at its core, Lightspeed provides you with the key inventory management tools you'll need to make sure you're always trading profitably. From automated stock re-order triggers, unit costs and margin management, inventory reports and even sales data reporting, you can keep track of the full picture of your sales process.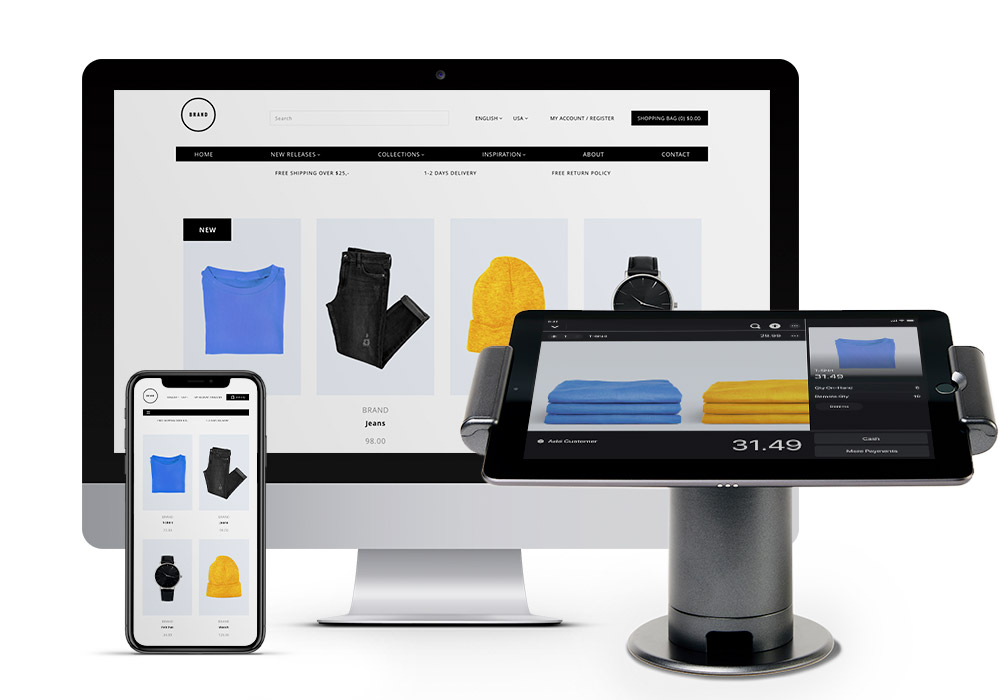 Highlight Features:
eCommerce features — built to accommodate your eCommerce business, Lightspeed ensures you can connect all your locations and channels to your centralized inventory, so no matter where your selling platform is, you can be sure you always have the stock and the data you need to make profitable decisions
Centralized inventory — by hosting your information in the cloud, Lightspeed makes it possible to keep track of your inventory across locations and channels all in one place, that you can access anywhere with an internet connection, across your devices
Product variations — no matter what you sell, ensure your catalog is completely up to date with product specifications that reflect your selling process and products
Ordering Tools — with built-in purchase orders and integrated vendor catalogs, reordering stock for your eCommerce business is simple and easy
Product pricing — easily alter your prices and assign products to sales and discounts from your inventory management system
Powerful inventory tracking tools — make sure you always have the products and information you need to trade profitably with Lightspeed's customizable reorder point triggers and data reporting, including unit costs and your profit margins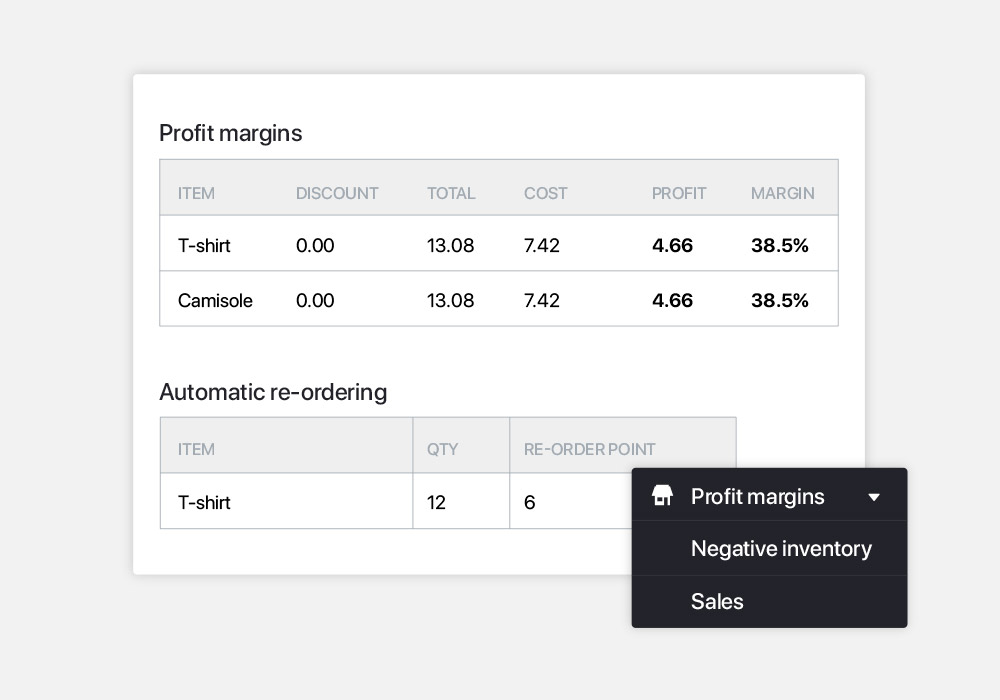 What our community says about Lightspeed:
James — "LightSpeed is a great POS solution for retailers using Apple. It has benefited us with POS, eCommerce and back-office management."
---
Price From: $299 per month
Cin7 brings users a comprehensive package designed to bring a fantastic inventory and order management system to small businesses so they can save time managing their inventory by cutting out awkward spreadsheets and time-consuming data entry.
Suited to businesses with an eCommerce model, Cin7 brings all your online selling platforms and online stores (as well as various stock locations) into one automated and centralized place for you to manage your inventory in real-time.
Designed to do away with spreadsheets and manual data entry for your products, Cin7's dedicated inventory and order management software utilizes powerful automation and integrations to speed up and streamline your inventory, order, shipping and accounting workflows. With over 700 integrations across a range of software types, you'll have no issue expanding into other marketplaces, growing, and keeping all your data accessible to those who need it.
Plus with order automation to collect and route orders from your web store to where you keep your stock and integration with shipping solutions for labeling, processing your orders is a piece of cake. There's also in-depth reporting to ensure you're getting the most out of your stock, and easy purchase ordering and supplier contact management to ensure your inventory is topped up.
Highlight Features:
eCommerce features — build to bring all of your online selling channels and marketplaces together, Cin7 centralizes your inventories so you can ensure you have a real-time up-to-date feed of your stock numbers
Inventory management — ensure you're working efficiently on your inventory by always having access to up-to-date stock numbers and the status of your orders
Order management — make sure your eCommerce orders are routed to the most convenient warehouses and stock locations for your business, and with integration with shipping solutions, you can streamline the shipping process and keep customers up-to-date
Reporting — gain valuable insights into your inventory management process so you can judge and predict future inventory requirements to make the most income
Stock purchasing — manage your supplier relationships and orders through Cin7, creating your purchase orders to stay on top of your stock levels and even dropship
Integrations — integrate Cin7 with over 700 other software tools, including your eCommerce platforms, your marketplaces, accounting software and shipping to streamline every aspect of your inventory management process and break down silos.
What our community says about Cin7:
Courtney Rayzor — "Finally a system that works! Cin7 was exactly what I was looking for in order to grow my wholesale business. The onboarding and training for this program and been incredible. Arlyn Delacruz was who did my onboarding and she was fantastic and so helpful! Looking forward to many years of business with Cin7."
Madison — "After 3 months of onboarding and careful workflow construction with Gavin, we have launched and are loving the software. The multi-level look we get at our inventory is phenomenal. Not to mention, our B2B customers have their own portal to shop, and WooCommerce integrates seamlessly as our online shopping portal."
Kelli — "After using several other inventory software programs. and being unhappy with their back traceability, high cost, and how not user-friendly the software interface is. We finally found Cin7 from the recommendation of another business using Cin7. Not only can I track inventory with batch numbers it also has CRM capabilities. The reports are easy to use and modify. Information flowing back to QuickBooks is easy to control."
---
Rounding out our eCommerce inventory management tools is Fishbowl, a fully-featured inventory management system with extra features for reordering, shipping and receiving and more.
Designed to be integrated seamlessly with Quickbooks, this piece of software is perfect for Quickbook users looking to up their inventory management game while ensuring their inventory management software works perfectly with their existing software stack.
Manage your inventory across multiple warehouses and track your products using a host of different criteria, including serial numbers and expiration dates, and use reorder triggers to keep your stock topped up. Fishbowl is designed to work with more than 12 eCommerce platforms, including eBay, Amazon, Shopify and WooCommerce.
Use Fishbowl to automate your purchase and manufacture orders, and generate orders through your eCommerce integration, and use shipping integrations to save time and money when shipping orders. Plus, with advanced cost calculations, you can determine the true cost of goods sold when factoring in additional fees, such as shipping, to give a comprehensive understanding of your margins and profitability.
And of course, as a cloud software system, Fishbowl is accessible from anywhere with an internet connection, so there's never a barrier to you seeing real-time figures on your inventory, and you don't have to worry about hosting your own server!
Highlight Features:
eCommerce integrations — integrate your Fishbowl inventory management system with over 12 eCommerce marketplaces and channels so you can manage your inventory over all of your online stores
Quickbooks integration — Fishbowl is designed to be integrated with Quickbooks accounting solutions, so you can ensure that your sales and stock reordering are accounted for
Centralized cloud solution — access your inventory management software from anywhere you have an internet connection, so you no longer have to tie your workflow to one location
Order management and shipping — create your purchase orders and manufacture orders from inside Fishbowl, and automate the process to save time. And by integrating with shipping providers, you can streamline the packaging process while saving money and providing transparency to your customers
Reporting — use Fishbowl's business intelligence tools to generate in-depth data reporting to measure the effectiveness of your inventory management processes.
What our community says about Fishbowl:
Anthony — "So far Fishbowl was the right choice for our company. Our inventory has been the most accurate ever and the employees love how easy it is to use."
Tonya — "This product has streamlined our processes. We know everything we need to know pertaining to the warehouse and more. The best part is the customer service. Jed Baldwin was wonderful to work with, very knowledgeable and helpful."
Rob — "We have been using Fishbowl since late 2017 and I would highly recommend it for a company transitioning from using Quickbooks inventory system. We have had great success in managing our sales orders, work orders and inventory management system with Fishbowl while still integrating with Quickbooks for our accounting. Fishbowl support has been great, we just had a small issue that was likely my own fault and Randy stuck with me for quite a while until we had a full resolution and were back up and running."
---
Using Inventory Management Software With Your eCommerce Business
Keeping track of your inventory, on a fundamental level, is vital to the smooth day-to-day running of your business. Without stock to sell, you can't generate revenue, but too much stock sucks up funds that could be better used elsewhere.
And when running an eCommerce business, inventory management can be even more complicated. Having to manage inventories over a number of selling channels can be incredibly difficult without dedicated software to align your sales over the channels with your centralized inventory status, making the risk of running out of stock much more likely.
With dedicated inventory management software, you bring all of your sales and inventory under the same roof so you can easily track what's happening, where it's happening, and react accordingly. Plus, with other great features like integrations with accounting software, shipping solutions and more, you can streamline other aspects of your inventory management and sales processes and save yourself more time while also reducing the chance for human error.