Like most things in life, there's a case of diminishing returns when it comes to CRM software.
Which isn't to say expensive CRM software isn't worth it; they're enormously capable tools. It's just you need to be using a lot of their features to justify the high cost, and most businesses just won't need the extra bells and whistles of the highest-end products.
Not so for the sales CRMs we'll be looking at today.
In this sales CRM review, we'll be taking a peek at sales CRM software, Monday Sales CRM, as well as 5 of our best-reviewed entry-level sales CRM tools as rated by our Serchen users. These are all premium products (though some have free plans available), but we're setting the price cap at $15 per user per month so they won't break the bank.
In This Post, We'll Be Looking At:
Price tag still too high? Don't worry, we've got you covered — check out the best free CRM packages here!
Who Is Entry-Level Customer Relationship Management (CRM) Software For?
Like free CRM software, entry-level products are designed for start-ups and small businesses that don't have large sales teams using their CRM and aren't likely to run into the customer data limits imposed by cheaper sales CRM packages (at least not to begin with).
That being said, if users are going to pay for a product, they'll want to get the most out of it. Unless you plan to make use of the extra features these sales CRMs offer, then you might be better off with a free tool, or at least seeing if the product has a free trial.
But if you're committed to using a professional selling platform with powerful tools to expand your selling capabilities and manage your customer relations, with somewhere between 3-10 users on your team, then entry-level sales CRM software is the perfect step to boost your sales team's efficiency and effectiveness.
For a small monthly outlay, you gain a host of powerful features not available on free products, plus extended functionality of your sales pipelines, and support. Often you're gaining the majority of the more expensive tools' feature sets for a fraction of the cost, making these products excellent value for money.
And when you find yourself brushing up against the limits of your entry-level plan, upgrading is a simple process, and by then you'll have the revenue and team size to justify the extra storage and tools.
So let's take a look at how Monday sales CRM stacks up against 5 of our best-rated cheap, entry-level CRMs for startups and small businesses so that you can make an informed choice about your next sales CRM platform.
Monday Sales CRM Review
Price From: $10 per user per month, minimum 3 users (free plan also available)
Monday Sales CRM certainly makes for an attractive proposition for small business owners looking to step up to a premium CRM platform while making use of the Monday.com integration center to bring all their software under one centralized platform.
Monday.com CRM has all the traditional CRM software system features you'd want to keep track of your entire sales pipeline. With clear sales pipeline status to manage leads, you can keep watch over your entire sales cycle, while fully customizing your interface to reflect your business's unique sales pipeline.
Sales teams will have an easy time with contact management, as Monday sales CRM holds all their customer data in its centralized database, as well as syncing with any Gmail or Outlook email client communication they have, so they'll always be up to date with your leads' journeys.
Monday.com CRM also has a range of workflow automation tools to help automate repetitive tasks, such as data entry and information transfers. Monday Sales CRM makes it easy for anyone to make custom automation tools, there's no need to code, so you can save time by eliminating as much repetitive manual work as possible.
And with powerful reporting capabilities, Monday sales CRM gives your sales team the information it needs to gather insightful sales data and sales analytics so that it can create accurate sales forecasting reports and hone its sales processes to a fine art.
Monday sales CRM integrates with a wide range of your favorite business software tools, such as your collaboration tools, project management tool, time tracking, and more, as well as the rest of the range of software Monday.com offers. Monday sales CRM makes cross-team collaboration a breeze.
The 5 Best Entry-Level CRM Alternatives to Monday.com CRM for Sales Teams
Let's take a look at the best Monday.com CRM alternatives by checking out the sales CRM review scores for tools under $15 per user per month our Serchen users have awarded to the best products they've had real-world experience with.

Price from: $15 per user per month (free trial available)
Simply prides itself on bringing users the most simple-to-understand user interface in the world of CRM and sales pipelines, which is a pretty big deal when it comes to onboarding new users and understanding the customer journey in your sales pipeline.
The team at Simply is also keen on giving users a great customer experience, offering 24/7 phone, email, and live chat support. Most companies don't offer this service at this price range, so it's a great extra, and perhaps part of why it's the best-rated CRM tool on Serchen.
At their entry-level tier, you won't have access to more advanced sales process functions like automation, workflows, and campaign feedback (you'll have to upgrade to the $22 per user per month plan for that), but you're getting everything you need for basic sales management in a package that's incredibly easy to pick up and use.
Highlight Features:
Reporting — create custom dashboards with the key performance indicators that are most important to you.
Mobile App — Connect from your phone with the Simply mobile app, allowing users to be more flexible with their work.
Clear user interface and support — The stand-out features of Simply CRM. Make new user and client onboarding a piece of cake and your sales management a breeze, and reach out to the support team whenever you need help via phone, email, or live chat.
What our community says about Simply:
Kirsten — "It's a great little CRM that is perfect for our requirements at the small firm that I work at. We typically use it for leads and contacts management for our various clients and campaigns."
Deryl — "We have used Simply for almost 3 months and our experience with this tool has been great so far. Multilingual features, support availability, pipeline management, enhanced customization and insights are very helpful in tracking the workflow."
Debleena — "Featured toolkit for business operations and client collaboration. You get everything that a costly CRM provides for the best competitive pricing options. We recommend this to all medium-small and micro-level organizations to go and check as if it fulfills your business needs."


Price from: $14.95 per user per month (free trial available)
Addresstwo is a sales CRM aimed at small business sales teams looking for an affordable solution that caters to their needs.
With simplicity at its core, Addresstwo rejects the idea of repackaging sales CRM for big businesses with arbitrary limits, instead building itself from the ground up to serve small business.
Addresstwo understands the personal nature of sales at this level; this is a CRM for selling teams and sales managers looking to build relationships with their customers, where everyone is involved with the customer journey.
And with the great features small business needs to boost their sales and keep their customers engaged, Addresstwo keeps the focus on only what you need to grow and succeed.
Highlight Features:
Lead generation — with tools like direct-response mailers, landing pages, web forms, and SEM/SEO campaigns, Addresstwo helps you keep your sales funnel topped up with fresh leads.
Email marketing — with an included all-in-one email marketing suite, you have everything you need to run your email marketing campaign from within your CRM. With an easy-to-use template designer, automated unsubscribe process, click and open rate reports, and automated email campaigns, you can streamline your marketing efforts for maximum success, while cutting down on repetitive tasks.
Follow-up prompts — built-in prompts and reminders mean your relationships never grow stale and you never forget to take the next step on closing a deal.
What our community says about Addresstwo:
Christina — "Addresstwo (A2) is a wonderful system. It is intuitive, has great customization, and is cost-effective. Troy and the team always respond quickly and are easy to work with. I would highly recommend A2."
Brian — "Addresstwo has been such a great help to our sales and marketing efforts. The program is robust enough for power users and simple enough to learn very quickly. Their support is top-notch and fast. I encourage you to try this software for an excellent experience."
Tammy — "I've been using A2 for over 5 years now, and recommend it anytime someone asks me for a CRM solution! The functionality is complete without being complicated, customizable, and very affordable for our small business."

Price from: $13 per user per month (Free trial available)
With a focus on order management and eCommerce, 1CRM aims to bring users everything they need to build their customer relationships and project management process all in one package.
It markets itself as an all-in-one CRM tool, meaning its functionality extends beyond traditional CRM boundaries to include sales, marketing, customer service, order management, project management and, more.
Plus with an ecosystem of integrating applications, 1CRM makes an excellent selling platform to build your process around. Perhaps the only downside is that the $13 entry tier has a maximum of 3 users before needing to upgrade to the more costly $20 package, but with the number of roles you can use 1CRM to cover, that could still be a bargain.
Highlight Features:
Marketing automation — create automated newsletters, drip-feed campaigns, and dynamic target lists to save time for your marketing team.
Enhanced customization — 1CRM is built for your to customize, including client documents, but also your pipeline and menu system, letting you create the perfect interface for your team.
Reporting — use custom dashboards and scheduled reports to wring all the information out of your sales process and see where you're succeeding and where your practice needs refining.
Order Management — everything from sending quotes to printing packaging slips, 1CRM lets you control the back end of your store within your CRM platform.
Customer Service Management — track and keep up to date with your customers' experiences with your products, all through your CRM.
Project Management — track projects, create expense reports, invoice for hours worked, and add HR functions to your employee roster.
What our community says about 1CRM:
Brian — "I've been using 1CRM for 2 years now, and it's really helped me to organize and grow my business. The drip-feed campaigns in particular are a real time-saver, and have helped me to connect with my customers. Great software!"
Tim — "Using 1CRM has helped me to understand the needs of my customers through tracking of project management, sales and marketing and order management. Overall 1CRM has helped me to get more control over my business so I can concentrate on the #1"
John — "This software is amazing – it revolutionized the way I do business! As a small business owner, I really needed a CRM system that could support my customers and manage my business. When I was exploring CRM options, none of the others had everything I was looking for. Not to mention, they were all incredibly expensive!"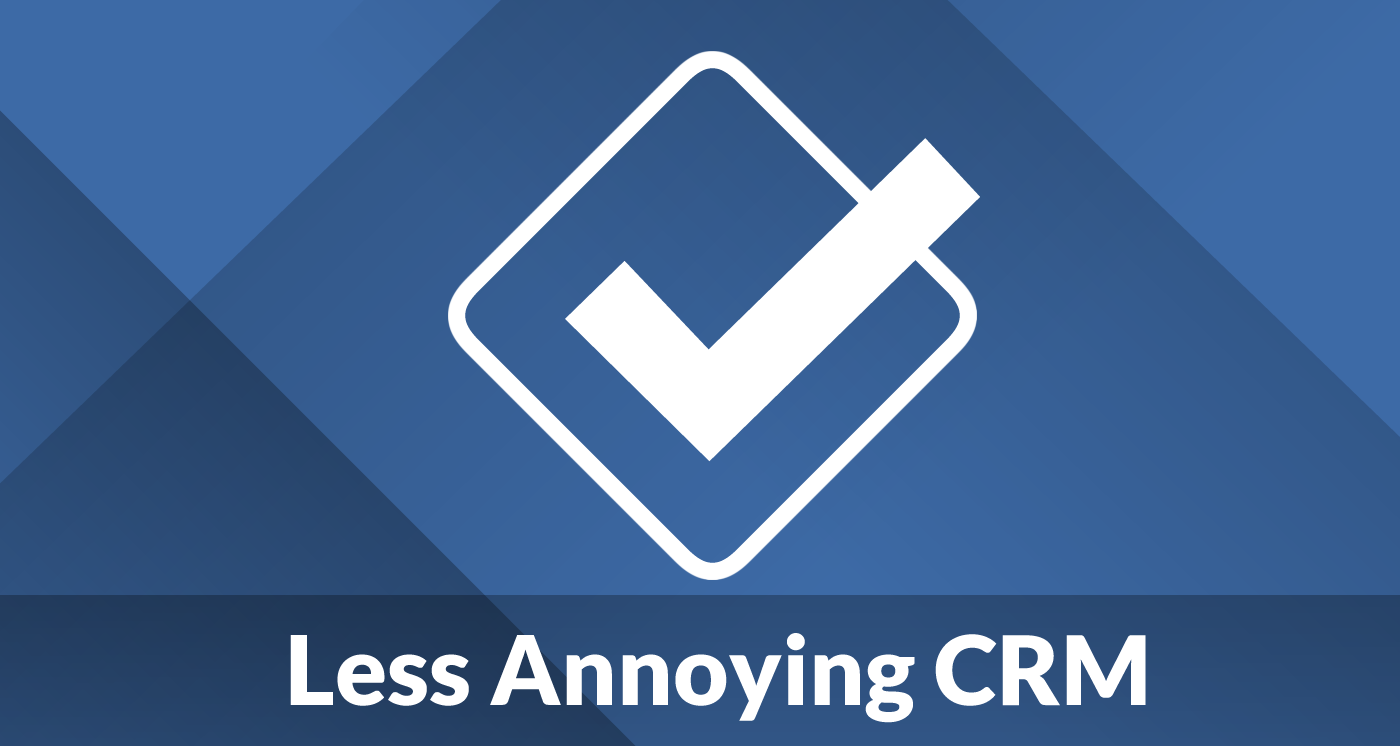 Price from: $15 per user per month (Free trial available)
As you might be able to tell from the product name, Less Annoying CRM was born out of frustration with expensive and clunky CRMs designed for large companies that didn't translate to fit the needs of smaller companies.
With a mission statement of making CRM tools as simple as possible, this tool is designed to get you up and running in only a few minutes, with no confusing pricing tiers or locked-away features, and fantastic customer service.
And with only one price ($15 per user per month) you can rest easy knowing you'll never have to bump up your package just to work around artificial contact caps. You're getting the full CRM product for that price, and need only ever pay more if you choose to add more users.
Highlight Features:
Lead report — an up-to-date list of all the leads in your pipeline with information on the status and priority of the lead, their contact information, and any notes from your last contact with them, meaning your team's always on top of lead nurturing.
Customization — Less Annoying CRM offers a good amount of customization, including custom pipeline fields, and is happy to help you work out how to customize your CRM to get it to fit your needs.
Entirely web-based — as Less Annoying CRM is based purely in the cloud, users can access their sales CRM from wherever they have a web connection on whatever device they have, offering a lot of flexibility over working situations.
Phone and email support — even if you're only using the free trial, Less Annoying CRM offers phone and email support to make sure you're getting the best out of your product.
Helen — "The CRM helps me keep track of customer contacts and conversations we've had and helps me not to be surrounded by bits of paper with scribbled notes on. The emailed daily agenda reminds me what's coming up for the day and includes appointments I've entered in the calendar on my phone.
Importing all the contacts in my phone to the CRM was quite straightforward too. Fantastic tool for people like me who are multi-tasking beyond the reach of their memory!"
Christina — "As a startup, I couldn't find a tool that was simple and easy to use, but my contacts kept growing, and a spreadsheet wasn't working anymore, and was draining all my energy. I did a search and found Less Annoying.
They have the best team, and customer service, also "in a less annoying way," and have helped me grow and organize my contacts, so it's sustainable…If you are a startup at day one or day 500, stop messing around and get Less Annoying."
Troy — "When I checked out the software my first impressions were good. I liked the fact that they have a telephone support line. I got a return phone call from this company in less than 3 minutes, and it was a person and not a recording. I don't need to look any further, everything has been great so far. I don't think Google can match this kind of service for a small start-up company."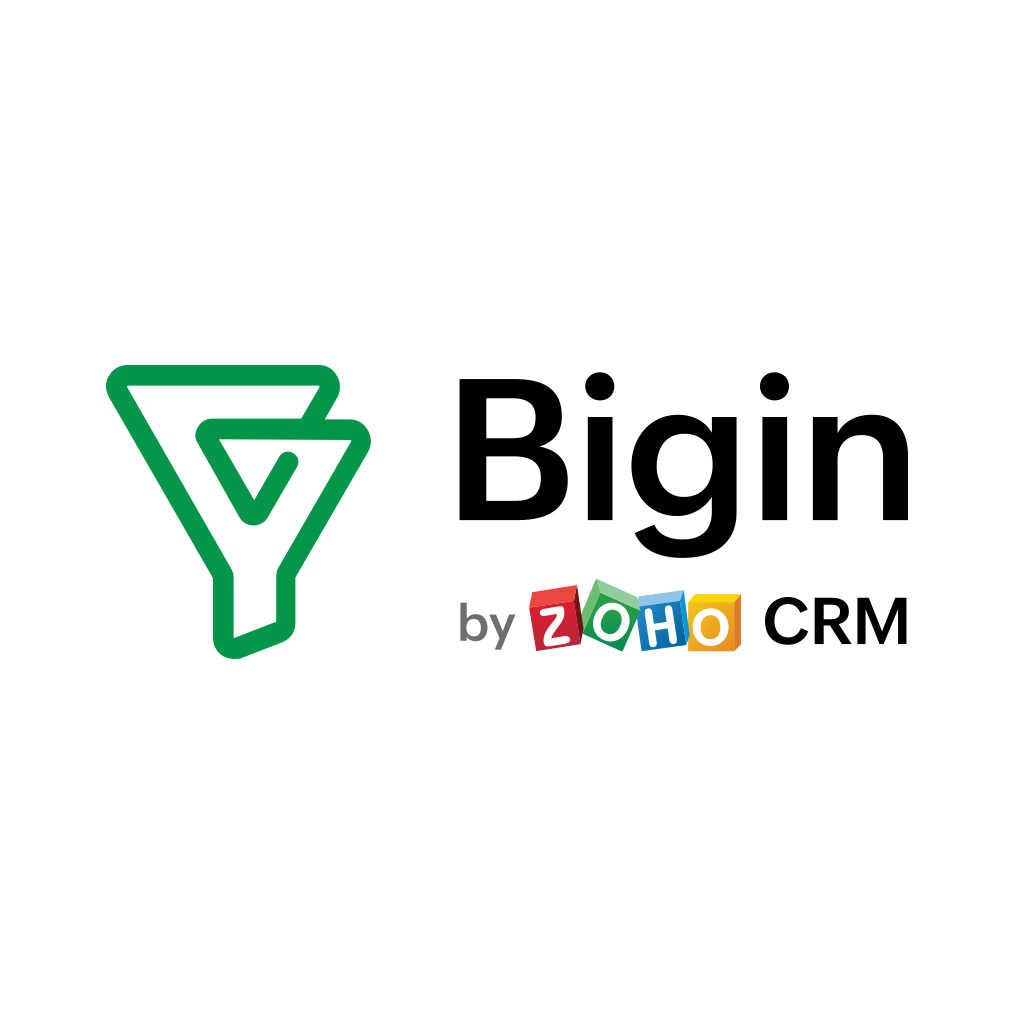 Price from: £5 per user per month (free plan available, Free trial available)
Bigin is a smaller, more affordable version of Zoho's sales CRM, designed for companies that don't need all the functions of their more expensive offerings.
But don't be fooling into thinking Bigin isn't a powerful tool. At £5 per user per month you get a great deal, but stepping up to the top tier is only £10 a month, and has even more great features.
Plus, if you find yourself brushing up against their caps, then you can purchase add-ons instead of having to upgrade to another tier or their full CRM product.
Bigin is designed for companies that need all the great tools of a CRM without the bloated costs and features that larger products have, not to mention the increased complexity. With an emphasis on ease of use and simple use, Bigin makes a great first step into the world of CRM.
Highlight Features:
CRM templates — Bigin has a set of pre-made templates to suit your industry off the bat! No more having to spend time on tedious customization, just choose a template and go.
Multiple pipelines — most entry-tier products restrict the number of pipelines you can use, but with Bigin's £10 per month option you get up to 10, encouraging good segmentation of your customers.
Built-in call center — gain all the great features of a call center for free, pre-integrated with Bigin for any sales rep to make, receive and record calls, and more.
Automated workflows — Instead of having your team do all those repetitive little tasks that eat into their selling time, why not set up a couple of automated routines for Bigin to perform whenever the triggers are met?
Mobile apps — support for iOS and Android users means sales reps on the go always have access to their CRM.
What our community says about Bigin:
Fran — "A quality technological platform. Ideal to start campaigns of products that do not have much acceptance as well as create groups to raise awareness of a specific brand."
Is Monday Sales CRM the Best Entry-Level CRM in 2022?
There's a good variety of excellent entry-level CRM products to choose from, including Monday sales CRM, from software that prioritizes simplicity to software that's intended for ongoing customization and integration into the future.
Ultimately, the best CRM is the one that suits your needs and your budget. Not the one with the highest score (although scores are good indicators!).
Once you understand what your sales team needs to succeed, you can make an informed decision. Having had a look at the features offered by the best-reviewed entry-level CRMs on Serchen, you should have an idea of which CRM would be a good fit for you.
If you're thinking of purchasing one of the CRMs we've looked at today, we recommend seeing if there's a free trial (there often is). This way you can test out your compatibility, and use the customer support system to make sure you're getting the most out of the CRM from the get-go.