From the smallest business to the largest enterprise, selling products online is a key factor in boosting the reach and availability of your product.
With internet access easily available to consumers, your business and products are only a few clicks away from your potential buyers. But to make sure you convert those sales, it's vital to make the most of your online platform. Making sure you have a powerful eCommerce platform is important not only in presenting your customers with a fantastic buying experience but also in creating a business space that seamlessly works with your other software products to save you time and money while giving your business great extra features.
In this guide, we'll be looking at the best eCommerce developer packages for creating and managing your own web store and backend features, as rated by our community of real-world users at Serchen.
Interested in more eCommerce tools to help your online business presence? Then check out our eCommerce software reviews!
The 4 Best eCommerce Solution Developers in 2022
Let's take a look at the best-rated eCommerce platform tools as reviewed by our Serchen community. Some of these businesses offer a variety of useful services, but we'll be putting the spotlight on their web building and management products.

Prices From: $5,000
SpurIT brings an all-in-one solution for businesses looking to set up their own eCommerce platform, but who don't know where to start. With a team of experienced professionals over a variety of business aspects, SpurIT offers businesses the opportunity to get it right the first time, and to continue to grow into the future.
SpurIT understands that standing out while keeping your ROI in the eCommerce world is a tricky prospect, and so they've made your organization's bottom line their top priority by focusing on the most effective methods to build a fantastic looking store while simultaneously ensuring your money's spent in the right place to boost growth and sales.
Shopify is the platform of choice for SpurIT, so customers can rest easy knowing their business is on one of the top eCommerce marketplaces.
When building web stores for their clients, SpurIT begins by researching themes to ensure your brand is on trend and what your customers expect, and then creates visual content to populate your site. They also build your product catalog, test your pre-launch site, and set up your Google Search Console and eCommerce Analytics, so that you'll have the insights to grow into the future.
Plus, they offer advanced features such as app creation, website optimization, website maintenance training and a dedicated account manager. And if you want to get the lay of the land before embarking on your web journey, they can even perform an audit of the competition to see exactly what you need to do to succeed, taking the guesswork out and basing the decisions on data.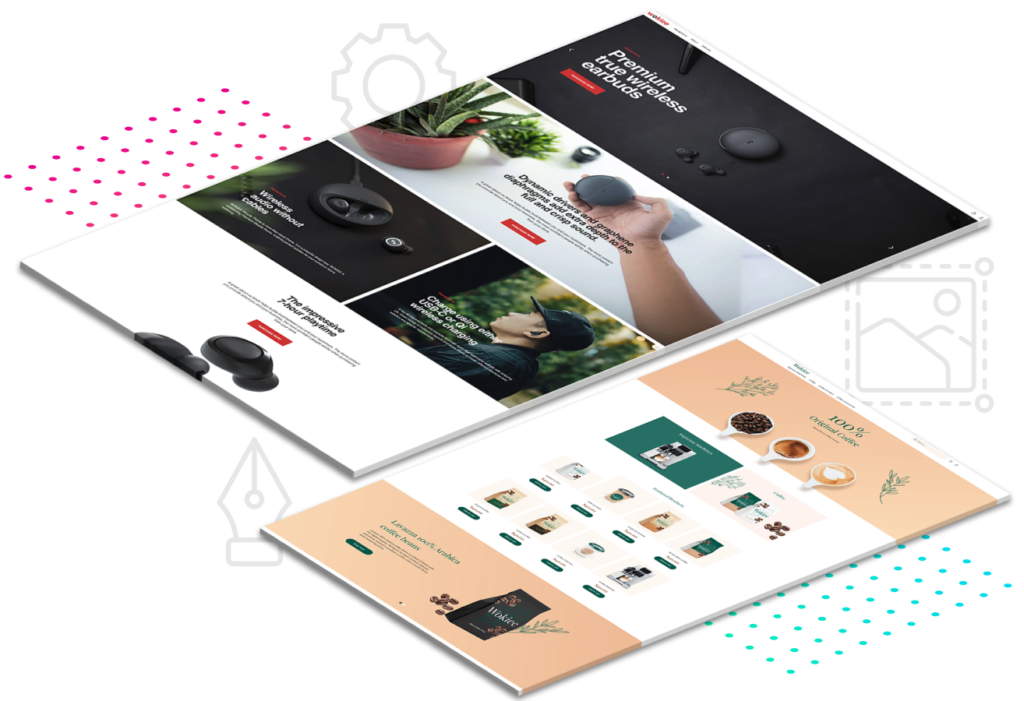 Highlight Features:
Bespoke Shopify web builders — utilize SputIT's years of knowledge of the Shopify platform to build amazing web stores with a focus on creating a great ROI
Perfect presentation — let SpurIT do the hard work of researching what your consumers want in a website, and then let them create themes and build visual assets to capitalize on their research
Product creation — SputIT creates your product pages for you, so you can hit the ground running with a professional catalog for your customers
eCommerce analytics — understand where your web store is getting it right and where you need to improve with performance analytics, letting you make insight-backed decisions about your web development
Optional extras — only pay for what you need by choosing the solutions you want. From app development down to custom UI components, SpurIT has you covered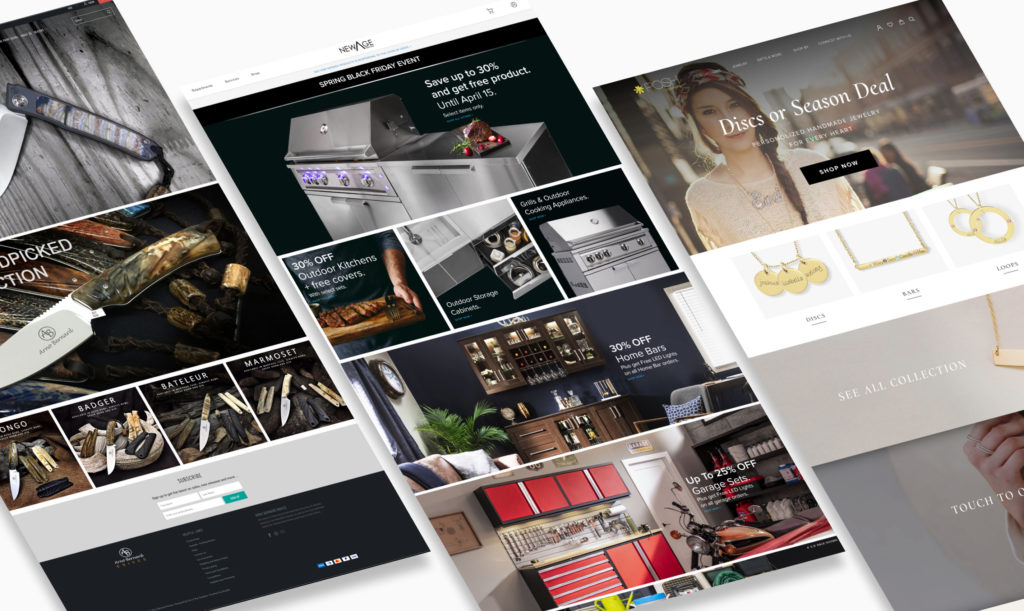 What our Community says about SpurIT:
Gareth — "We chose them after conducting research, speaking to the vendor, and discussing the design brief. Their project management was impressive and effective. We had a lot of back and forth initially, which helped everyone understand what we were trying to achieve. I appreciated their depth of knowledge, patience, and drive. SpurIT they were exceptional in every aspect of the project."
Anon — "Spur is very professional, responsive, and easy to work with. They delivered on time and to specifications. They explained everything in great detail and offered to make changes on items if there was any discrepancy. The team is very eager to deliver great work, wanted to hear our feedback, and overall seemed to be very strong and growing in this space."
Youri — "SpurIT has been and is still amazing. They moved from being a consultant and agency to being our IT trusted partner. We have been working with them for years now and are extremely satisfied with their professionalism and dedication. Their aptitude to help scale a business and their empathy to answer all your needs, even the most complicated/complex ones, was the most impressive."

I95Dev leverages its deep industry knowledge and experience to deliver its customers the very best eCommerce solutions for the Magento platform.
One of the biggest complaints about the Magento platform is the steep learning curve when it comes to making and implementing changes, as it's designed for users with a coding background.
However, I95Dev takes the sting out of the tail by doing all the hard work for you. They'll work with you to build the website you need in as little as eight weeks.
But it doesn't stop at building you a fantastic website to sell your products; I95Dev helps you integrate your eCommerce solution with your other software, such as your ERP, accounting tools and more.
This means you'll not only have the means to sell and grow effectively, but you'll also have all the modern time-saving automation features you'd expect from business software integrations, which can ultimately offer you more flexibility than rival platforms.
Highlight Features:
Bespoke Magento web builers — let I95Dev handle the complete process of bringing your website to market. By creating a blueprint through a deep understanding of your business goals and the eCommerce environment, I95Dev constructs beautiful websites with everything you need to succeed and grow
Software integration — integrate your new web store with your other software tools through automated integrations with your ERP, accounting software and more
Product creation — I95Dev builds your website with everything you need to start selling, populating your store with your products and content to engage your prospects
What our community says about I95Dev:
Nate — "We were looking for a long time to find a solution to connect AX to our Magento 1 website. We had some issues that most of the connectors only worked with newer versions of AX. We worked with I95 and were able to synch AX2009 with Magento no problem. The project went so well we are now in the process of working with them on upgrading to Magento 2."
Joey — "We have been a partner of i95Dev for about 5 years now and I am very satisfied with the partnership. I have enjoyed working with the i95dev team like Pranith, Raymond, Ganga, Sudheer, Matt and others to name a few. They are knowledgeable about the product. I can count on them when I need them. It has simplified our order taking from our website to GP. The connector is very stable. Our entire customer service team is very happy with it. It made their life much easier. Kudos to i95Dev for such an excellent product."
Gaelle — "We have had a connection between our Dynamics Gp to Magento for many years now, even going from Magento 1 to Magento 2. I95Dev team has been very reliable and responsive for the whole project, and ongoing maintenance as well. They have an in-depth knowledge of both GP and Magento, which allows for any customization we have required over the years!"

If you're looking to build a web store on the cutting edge of technology and customer engagement, then Envision Ecommerce could be the website developer for you.
Envision Ecommerce builds eCommerce sites using the Adobe Experience Cloud suite of software to be hosted on the Magento platform and is one of the industry leaders in creating digital experiences for Gen X, Millennials and Gen Z.
But they're not only armed with the latest creative software; Envision Ecommerce has a robust and thorough business practice when it comes to developing sites for their clients.
By working with you to understand your vision, they conduct research into your competitors and your target audience to understand your market. They also take your documentation and major workflows into consideration to create architectural solutions to your needs.
Then they get to work building your site, ensuring you're involved in the process along the way, and once your site is up and running, they'll even help drive engagement by implementing Adobe Sensei's algorithmic tools for you!
Highlight Features:
Experienced Magneto builders — with experience spanning the breadth of eCommerce, from the selling platform to ERP, Envision Ecommerce understands everything that a business needs from their eCommerce software, and can build beautiful websites to fit any need
Cutting-edge design — by using Adobe Experience Cloud and Adobe Commerce, Envision Ecommerce is poised to create you the most up-to-date content and engagement practices to keep your customers focused on your products
Reporting — by building in dashboards, you can easily check on your KPIs to ensure your business is operating to its full potential
What our community says about Envision Ecommerce:
Ronald — "We worked very closely with the web dev team to create a new website as a way to reach a larger number of clients. Since completion, we have seen much better sales figures online largely as a result of the work they did."
Silas — "Envision eCommerce Solutions takes web design and makes it easy!! Throughout the process, they really take an interest in the success of your company and work hard to get your website working for you. You will not find a digital marketing company that is more passionate!"
Haris — "Envision eCommerce has a fantastic UX/UI team, which means a lot when you are a bootstrap startup. They have very quick to understand our design sensibilities and also proactively come up with a lot of suggestions to improve the design as well as improve the overall user journey so that we could have a better and seamless experience for our candidates as well as for companies that are using our platforms. The developer quickly understands the team. I am very happy with my experience with them."
Coimbatore-based web builder and developer WebNox Technologies provides cost-effective Magento-based web design services that don't skimp on results.
With a focus on designing web solutions for eCommerce and mobile responsive sites (as well as many more!), WebNox can bring a lot to the table when it comes to building a website and getting the most out of it into the future.
With over 50 ready-made web store templates, WebNox can provide businesses with a great-looking web store even if they don't have the fund to build a completely bespoke solution. The WebNox web stores are designed to be creative, mobile responsive, lag-free, eye-catching and SEO friendly, so you don't have to worry about an inferior template-based product.
Like the other great developers on this list, WebNox takes the time to understand your business before they begin building, meaning that can provide you with exactly the right solution for your needs, keeping your website streamlined and engaging for your customers.
And once they know what you want, they'll get to work creating fantastic mock-ups so you can see what the end product will look like, and when it's all done designers and developers will even optimize your site for SEO!
Highlight Features:
Experienced web designers — WebNox houses a roster of experienced designers and developers with expertise over a range of website applications, meaning that whatever your angle, Webnox can provide you with a solution
Cost-effective solutions — Webnox works on a results-oriented basis while still offering cost-effective solutions for smaller businesses with a tighter budget by using pre-made templates and other cost-saving features
Understanding your business — WebNox makes sure it understands what your business needs are before it begins making plans, meaning you'll end up with a solution that matches your business needs completely
What our community says about Webnox Technologies:
Chad — "This is the company we use and would recommend to our friends but would keep secret from our competitors! It helped us increase our online presence and any questions we had were answered quickly by their technical support staff."
Shane — "Webnoxs Technologies is a company that more people should be aware of! Cloud computing is becoming so popular in today's internet business communities, and a company like Webnoxs helps out so much with it! Whether it's hosting, serving, computing, Webnoxs does it all very professionally!"
Dustin – "Webnoxs has been of great help in getting my company on the net and at an affordable price. Their web development and eCommerce solutions have been essential to me. Highly recommended."
Which eCommerce Developer Should You Use?
When bringing on a developer to build your eCommerce store, it's important to have confidence that they'll provide you with a fantastic-looking bespoke solution that also cooperates with the rest of your business on the backend.
With the developers we've looked at, you can be sure that each one will take the time to understand the needs of your business and build your site around what you want and need for your business to grow.