For a small business, having dedicated accounting software isn't strictly necessary. With a spreadsheet and some diligent manual data entry, it's possible to keep track of your finances, even if you're missing some of the more advanced features even free accounting software can offer.
But for medium-sized businesses, sustaining an effective accounting system without dedicated software can be very difficult to maintain.
Firstly, as a business grows, the number of daily transactions made by that business and the workforce increases dramatically, and everything needs to be made note of, from the smallest expenses to the largest invoices.
And secondly, making sense of all those numbers becomes very tricky without dedicated dashboards to break down all of your figures into individual categories. The more data your team needs to enter, the more likely they are to let transactions fall through the cracks, and the harder it becomes to fully understandable figures about each part of your business's income and outgoings.
This isn't even mentioning other crucial roles accounting software fills, such as invoice management, data reporting and handling tax figures.
For medium-sized businesses, relying on manual accounting systems sucks a huge amount of time from your employees' working week and is prone to human error, whilst being less flexible when it comes to understanding your figures.
Dedicated accounting software saves huge amounts of time for your staff thanks to automation and integration while ensuring no transactions fall through the cracks.
Who is Mid-Tier Accounting Software For?
Businesses considering upgrading to or diving right in with mid-tier accounting software products are, you guessed it, medium-sized businesses.
Businesses of this size have dedicated finance and accounting teams to manage the large number of business transactions made each day by staff and the company alike.
The strict definition of a medium-sized business changes depending on where you are in the world, but for this post, we'll consider any business employing between 51 and 500 people with an annual turnover of between $15-75 million per year.
To handle the sorts of numbers medium-sized businesses deal with every day, powerful accounting software is needed. The free and entry-level offerings just won't cut it anymore because of feature limits, capping or user limitations.
And with the revenue medium-sized business bring in, the increased cost of mid-tier accounting products isn't a problem, as it might be for smaller businesses.
The Best Mid-Tier Accounting Software Tools for Medium-Sized Businesses in 2022
With an understanding of the target audience for mid-tier accounting software, let's take a closer look at what our Serchen community has rated as the best accounting software for medium-sized businesses.
Mid-tier pricing: €111 per month
Exact's financing solution brings businesses the all-in-one solution they need for effective bookkeeping, whether working nationally or internationally.
Available with out-of-box support for over 40 languages and their legislative frameworks, Exact centralizes all your business's accounting and finance data in one easily accessible place on the cloud.
With all the core features you'd want to keep on top of your accounts payable and receivable, Exact brings medium-sized businesses advanced functions to help understand your company finances and budget for the future with their consolidation tools and analytics center.
Plus, with best-in-class contract-to-pay solutions, users can build professional invoices and ensure timely payment for their contracts.
And with their automatic expense management software, users can keep track of employee expenses and the regional tax involved.
Exact also provides a consistent account manager for your support so you have the consistency of having someone who knows your business to answer any questions you may have.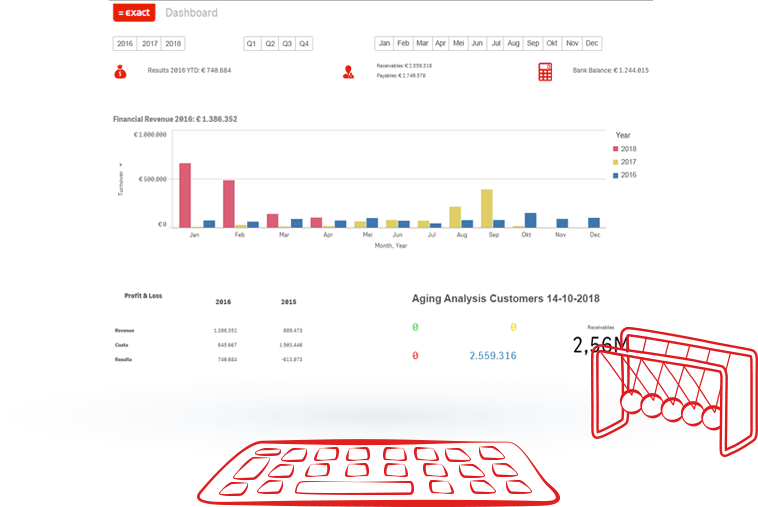 Highlight Features:
Automated bank links — integrate your bank account with Exact and let their No Hands accounting system process your transactions and categorize them so your staff don't have to
Invoice generator — create e-invoices from templates and personalize them with your company's branding before sending them from the web or on mobile with a payment link to enable speedy online payment from your customers
Automated workflows — with automation built to process your documents and financial statements, your team can save time on the repetitive admin and manual entry work, and easily generate and send invoices via automation too
Reporting — use Exact's performance dashboard and reporting features to give you the insight you need into your business's finances, including budgets, statements, cash flow and audits
International support — for businesses operating internationally or working with businesses abroad, let Exact handle the local language, currency and legislation for you
Mobile app — don't be limited by your PC. Work from anywhere using the web and your mobile to access your accounting information wherever you are, even if you're on the go
Integrations — built Exact into your software stack by integrating it into your existing systems, including CRM integrations, eCommerce integrations and more!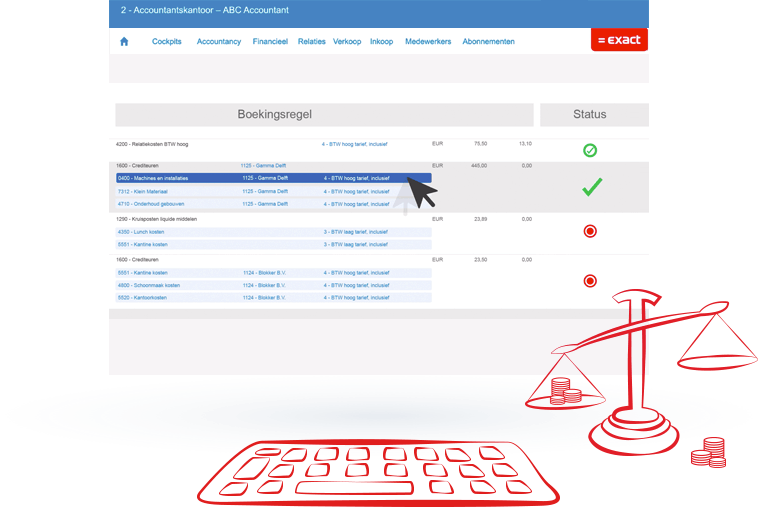 Pricing from: £31.25 per month (free trials available)
Rather than being a stand-alone platform, Dext offers businesses two different software tools to help streamline their accounting and bookkeeping processes.
Designed to integrate with Quickbooks or Xero (which act as the accounting hub), Dext adds additional functionality to your core accounting process by proving you with clear information summaries and document centralization features for added clarity.
Dext Prepare helps businesses reduce the hours they spend on manual data entry by syncing with your e-invoices, bank accounts and capturing data from scans, uploads and photos of your receipts, invoices and bank statements with 99% accuracy.
Dext Commerce automatically consolidates all your sales and invoices from over 20 major online commerce platforms so you can form a full list of your sales from all your channels in a standardized view, which can then be exported to Quickbooks or Xero.
Highlight Features:
Paperless accounting — upload your expense receipts and sales invoices via mobile app, email or auto-invoice fetch to consolidate all your statements and have Dext Prepare capture all the information, eliminating the need for manual data entry
Automatic data extraction — Dext Prepare captures all the important information regarding your invoices and receipts with 99% accuracy and uploads it to your Xero or Quickbooks accounting system
Data storage — all your uploaded files are saved for seven years using bank-grade encryption so you can rest easy knowing your data is safe and secure if you need it
Automatic eCommerce itemization — Dext Commerce syncs with online retailers, marketplaces and sales platforms to automatically consolidate all of your transactions into one standardized document that covers sales, expenses, refunds and reimbursements
ECommerce accounting — easily customize and export your eCommerce transaction details to your accounting software, so you have all the data you need in one place
What our community says about Dext:
Amanda — "It's so easy to use and I can use it on my mobile on the go. No more paper receipts all over the place, stored and filed for years to come and allows my accountant to reconcile from her end."
Sarah — "We use Dext here at Serchen. You can scan and send receipts on the go from your mobile app. You can also set up your email so it automatically sends your receipts straight to Dext. Easy to use with your accounting software."
Price: €28 per month (free trial available)
Formerly Big Red Rock, Irish-based Big Red Cloud moved its accounting software online in 2012 to continue its mission to provide high-quality and cost-effective accounting software solutions to SMBs.
For just €28 a month, Big Red Cloud provides businesses with a huge array of accounting features with no feature capping or user limits.
From bank reconciliation through to detailed reports on your finances, Big Red Cloud helps manage every step of the accounting process to save your staff time and reduce human error.
Highlight Features:
Bank reconciliation — connect your business bank account with Big Red Cloud to reconcile your transactions and have Big Red Cloud automatically categorize all your transactions for you
Quotation and invoice builder — quickly construct professional quotations and estimates and convert them into invoices with a few clicks once they've been agreed upon. Plus, have Big Red Cloud automate your recurring invoices so you don't have to manually send one every month
Reporting — use reporting templates or create your own to keep an eye on your KPIs and let data back your business decisions
Mobile app — send invoices from wherever you have an internet connection using your Android or iOS device
What our community says about Big Red Cloud:
Aaron — "Very clever, efficient accounting software from Big Red Cloud. Great for PC or mobile. The best part is the price. You will have a hard time finding a better bang for your buck."
Isiah — "I can't tell you how happy I am to have found Big Red Cloud. It does everything that I could want in accounting software. I would highly recommend Big Red Cloud if you are looking for GREAT accounting software."
Sage Intacct is currently the only recommended AICPA provider, meaning it meets the professional and technical requirements of the CPA, the world's largest member accounting association.
With a wealth of product features and optional add-ons for industry-specific tasks, Sage Intacct can make an excellent fit for data-driven businesses looking to scale.
Pricing is customized to your specific business needs, which can make comparing Sage Intacct to other products a little tricky, but it has all the features a growing business needs to save time, product clean accounts, and scale.
Sage Intacct is designed to offer maximum flexibility when it comes to automating your accounting workflow both nationally and internationally, with its automatic feature set and currency conversions and local tax reporting tools.
Highlight Features:
Reporting — use Sage Intacct's intuitive insights dashboards to gain data-based insight into your business's financial performance, and use them to make informed decisions about how best to go forward
Workflow automation — automize entire aspects of your accounting process, including accounts payable and receivable, revenue and billing
Mobile app — access your accounting software and send invoices from anywhere, whether you're in the office, working remotely or on the go via the web or on mobile
Clear user interface — gain real-time understanding of your financial health with the Sage Intacct dashboard overview
What our community says about Sage Intacct:
Kyle — "We have been using Intacct for 1.5 years here at Birch Communications. The integration process was not very complicated. We enjoy all of the features that Intacct provides including the custom report writer, drill–down capabilities, multi–entity reporting, etc. We used Sage Accpac previously and Intacct has been a significant upgrade for our accounting/reporting."
Chelsea — "Intacct has been a great company to work with. We are a very tough type of company with very hard financials. Our CEO and CFO have always asked for things that required a lot of manual manipulation, but now that we have Intacct, we are able to create the reports they want and send them out with ease. We are so happy that we've made the switch to Intacct."
Jenni — "We were using Peachtree previously and had outgrown that product. Intacct gave us the ability to stop relying on spreadsheets to make our revenue recognition entries. This in turn gave us an annual ROI of around $50k because I was on the verge of having to hire someone to keep up with our growing revenue recognition issues. Since 2009 I have not had to add another employee to my department and I attribute that to the use of Intacct and the improvements they have made to their own product. Total estimated savings is over $250,000."
Choosing the Best Mid-Tier Accounting Software for Medium-Sized Business
Medium-sized businesses need powerful accounting software to meet their needs and the accounting software tools in this guide have been rated as excellent by our Serchen community.
With powerful time-saving features like document scanning, bank account reconciliation, invoice generation and automation workflows, they provide the tools mid-sized businesses need to get their accounting done quickly, accurately, and tax legislation compliantly.
They're all designed to scale with your business, so expanding your workforce and even the territories you operate in won't stop them from handling your accounts.
If the features these accounting software tools provide meet your specific business needs, then we recommend trialing the software to make sure it's the right fit for you.