Are you passionate about improving your customer experience? Do silos disrupt work processes in your organization? Are your teams struggling with agility and meeting deadlines? If you answered 'yes' to any of the questions above, your organization might need a Work OS.
A work operating system (Work OS) is a SaaS platform for teams to create workflow apps in minutes to plan, run and track everyday work.
A Work OS enables every team to create and connect the tools they need to run projects and processes in one place. Collaboratively, teams move fast towards the organization's goals by performing cross-functional, cross-disciplinary work that's always aligned, streamlined, and visible to everyone involved.
What makes a Work OS? It is a platform that enables building any workflow in seconds, capturing data for anyone or anything, integrating with tools to break down silos, automating workflows without depending on code, and displaying dashboard data. Some Work Os platforms enable tracking progress easily and visually, communication in one place, storing and sharing work-related assets, customizing autonomy per team, and answering everyone's needs without requiring coding.
In today's quickly-evolving, multi-faceted world, businesses that use a Work OS will exceed execution and delivery goals. Businesses that don't will continue to be bogged down while chasing emails, documents, and meetings.
Here are 5 signs that your organization needs a Work OS:
There are Data Silos in your organization
How does data flow between the stakeholders in your company? In many companies, complex organizational structures and convoluted work processes result in data silos, where data isn't shared with all relevant stakeholders. For example, teams are using local spreadsheets to plan, run, and track work.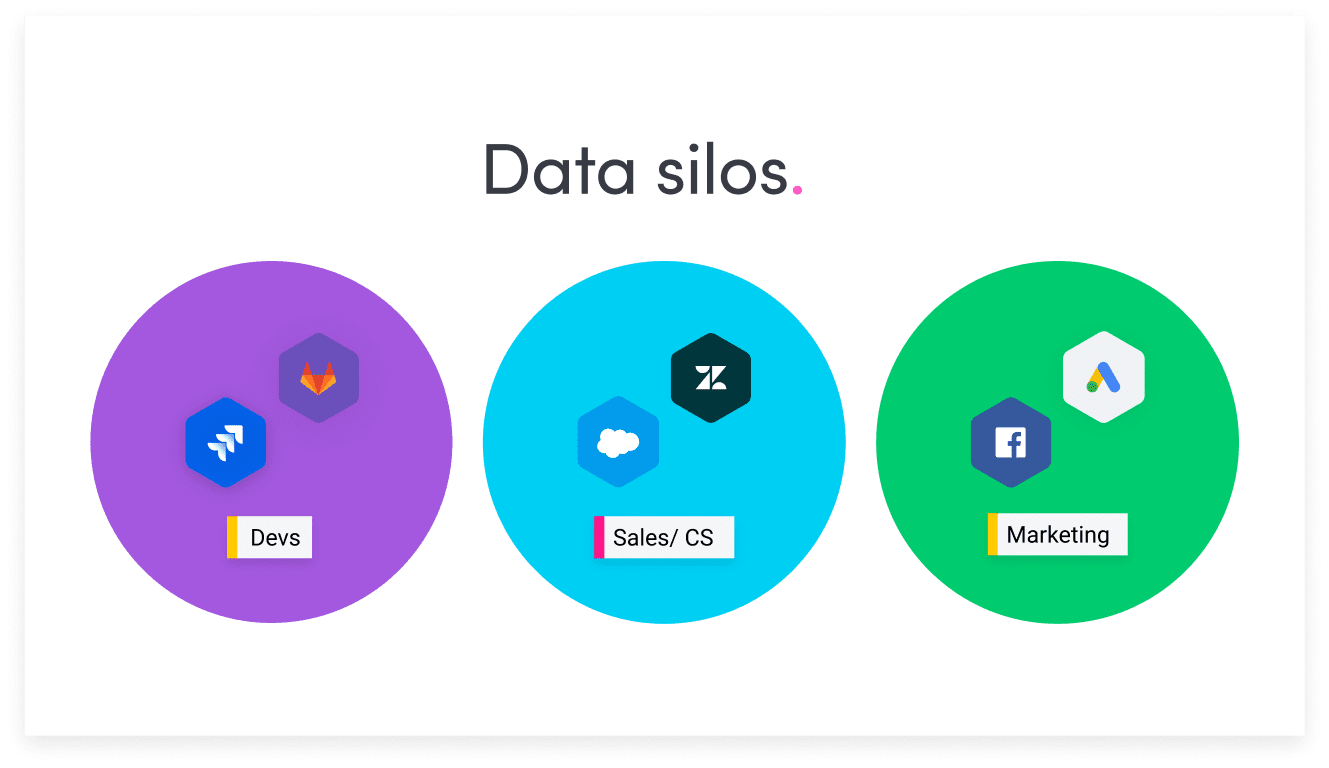 Lack of information leads to poor decision-making, wasted resources on attempts to retrieve data, and isolated processes. Employees become frustrated, customers become frustrated, and business results suffer.
Can you think of a few examples where missing data negatively affected the performance of your departments? A Work OS solves that pain point, by capturing all data in one place and making it digestible. A user can consume the data as-is or through the lens of the building blocks and workflows. By creating a single source of truth for data-driven decision making, you can get better final results.
There are Collaborative Silos in your organization
To deliver impeccable customer experiences, you need to be an expert in product management, customer support, marketing, UX, software development, etc. Each of these also has their own sub-expertises.
But often, lack of collaboration, communication, joint tools, and data between these teams leads to isolated execution. The result is redundant work, or work that lacks necessary skill sets to complete it in the best manner.
On the other hand, collaboration powered by a Work OS is based on visibility, communication and joint planning and project management. The result will be better work delivered, more satisfied employees, and a more holistic customer experience.
Does the customer experience you provide combine the talents of all your teams? If not, you might need a Work OS.
There are Operational Silos in your organization
Are all your teams aligned with the organization goals and procedures? Sure, top management knows them. But have they trickled down to each and every member of the company?
Understanding the goals and procedures drives the work behavior of each employee and team. Straying from them will result in wasted time and resources, and in some cases, legal implications.
A Work OS keeps everyone aligned and enables managers at every level to monitor the work and actions of employees and projects. This visibility assures they are able to reach out, assist, and guide when they identify an issue. It also gives employees the chance to find the information themselves, instead of having to scramble for answers from Operations, Legal, Finance, and any other department.
You're trying to become more agile
You've conquered collaboration, alignment, and sharing data at any given time. Congratulations! However, data, compliance, and technology are constantly evolving. This requires staying up-to-date, and also the flexibility of changing and adapting on the go.
Is your business really as agile as it needs to be? Do your salespeople have immediate access to all the tools and assets they need to sell? How quickly are customer issues resolved? How adjustable is your 5-year plan to changes in technology and the workforce? – Read more