Getting a third-party developer to build you a custom website from scratch can be a fantastic solution for businesses that don't have an existing eCommerce platform, or are looking to radically overhaul their site.
But for businesses that either can't afford a bespoke solution or already have a website that fulfills almost all their needs, there's no need for such an expensive solution.
With cheap drag-and-drop website building platforms like Shopify available for those willing to put in a little work, you can quickly build an eCommerce solution that fits most of your needs — it may not be as powerful as a bespoke solution, but for many small businesses a solution like this all you need.
With either a cheap website made or a pre-existing website, it may just be a case of you needing one specific function to fulfill your eCommerce needs.
In this post, we'll be looking at some of the great eCommerce tools available to provide specific solutions to your web store to help you boost your sales and engagement, or to expand your business presence to other markets.
4 Great eCommerce Tools to Boost Your Online Selling Powers
As always, our software recommendations are backed by our Serchen community's real-world user reviews. Check out our other eCommerce software reviews for other great eCommerce tools!

Price From: Free! (free trial for paid products available)
Ever wish your website's search bar was a little more intelligent? Most websites will have a search function by default, but if your customers don't know what they're specifically looking for then it can be hard for them to discover the products that could be right for them.
Site Search 360 brings an elegant solution to the table with its smart eCommerce function.
By allowing your customers to enter less specific search terms in terms of product name, but more specific in terms of product features and pricing, Site Search 360 brings your customers the products that fit their needs.
How? Well, Site Search 360 uses an AI-enhanced semantic engine to decipher each of your customers' queries and understand what they're asking for. For example, a search for 'inexpensive smartphone' will bring your prospects a list of smartphones sorted from cheapest to most expensive, even if you also sell phone cases; Site Search 360 understands the difference between the two products.
With spelling correction features to catch your customers' errors, jargon and alternate names (and the ability to add custom terms), and an automatic math unit understanding engine, it doesn't matter how your customers describe what they're looking for—Site Search 360 will understand what they want, and prioritize it.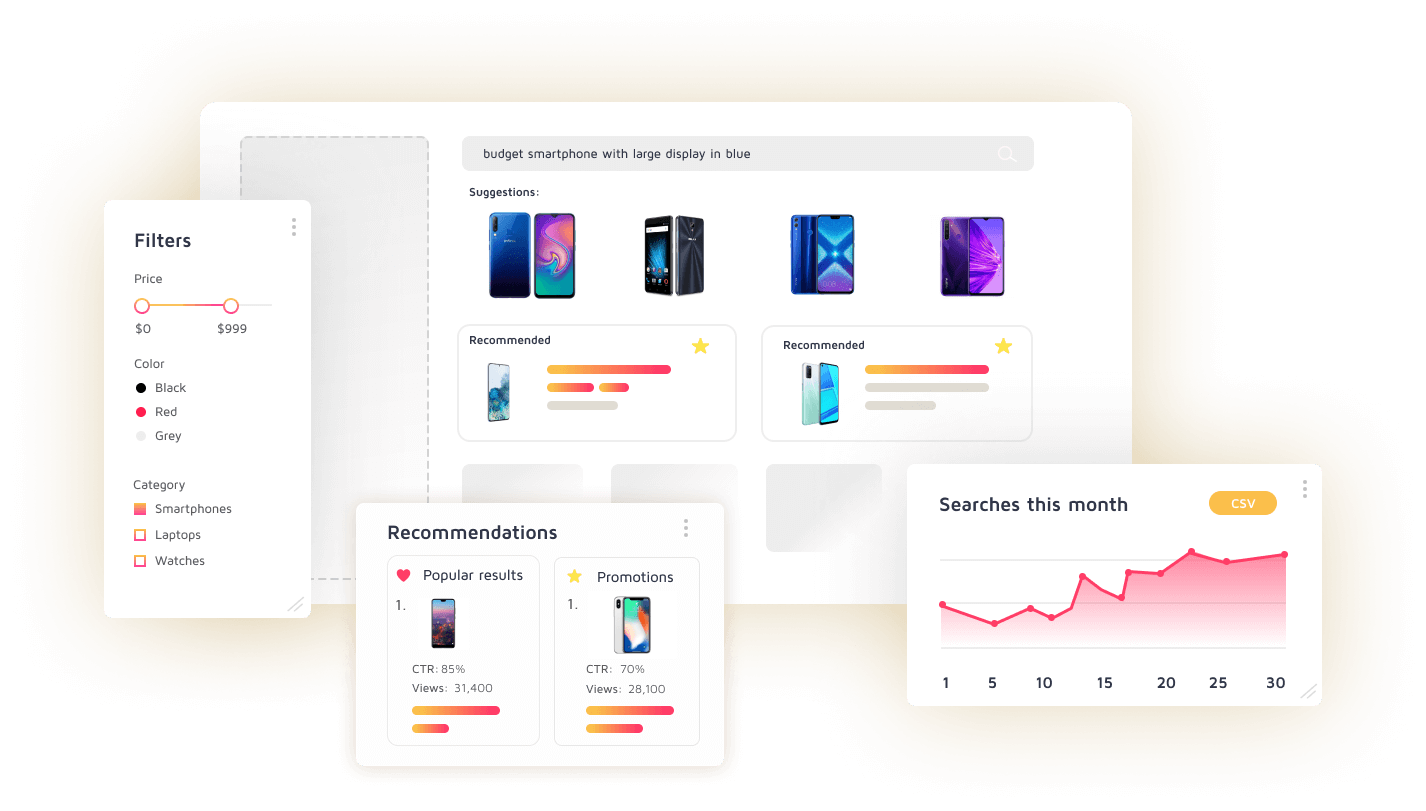 Highlight Features:
AI-enhanced search engine — understand what your customers want from their search terms. Let them tell you the features they want most and let the search engine automatically parse the data and bring them the most fitting products based on their wants and needs
Spelling correction and conversion — let Site Search 360 take care of spelling mistakes, jargon, alternative names and math conversion to make sure your customers are always presented with the right products, no matter the search
Integration — ready to integrate with your Magento, Shopware or Oxid shop from the word go, or easily added to your site via simply copying and pasting a section of JavaScript. Plus developers looking for fuller control over their integration can utilize the REST API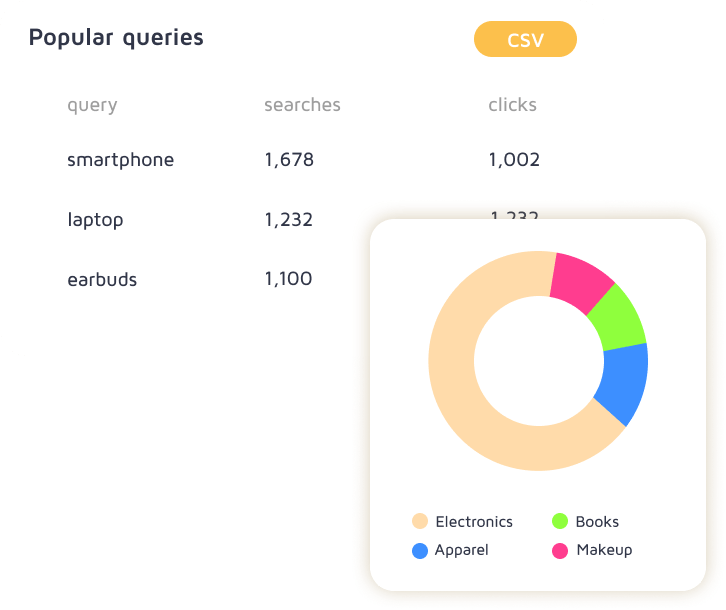 What the community says about Site Search 360:
Ian Parkin — "I have been using SiteSearch360 for a while now. I love it. I am on the Columbo plan which takes care of everything I need. SS360 gives my one-man show a very professional edge. I particularly like the Smart 404 on my site for when people enter a typo in a domain. Customer service was excellent on the odd occasion I needed some help."
Jonathan — "Product and price are already a blast, but what makes Site Search 360 outstanding to us is the incredible customer support. Always hands-on and with a beneficial solution in mind! Unfortunately, I can't rate above 5 stars 😉"
Aine — "Determined, efficient, very helpful, courteous, friendly, solved all my problems! Exemplary. What more can I say!"

Price From: Free!
If you've built a fantastic WordPress website and you want to convert it into an eCommerce platform, you can!
Rather than go through the costly process of migrating your site to a platform designed with eCommerce in mind, WP EasyCart lets you add a cart function to your website with dynamic tax rates, multiple payment options and a fast and easy checkout system.
With a huge array of product types you can add, from physical products to event registrations, you can make your business work online regardless of what you sell. And with unlimited images and videos for your product pages as well as customization features, you can make sure your products are presented in their best light to your customers.
Plus, with marketing features like abandoned cart notifications, coupons and promotions, as well as being able to connect WP EasyCart with your email campaign systems, you can handle all your eCommerce marketing needs in one go.
And, with the premium tier product offering integration with other great tools, like accounting and shipping, you can build WP EasyCart into your software stack to automate basic tasks and save time.
Highlight Features:
WordPress eCommerce — easily turn your WordPress website into a fully-fledged eCommerce platform by using WP EasyCart to add a checkout system and product pages to your site
Product flexibility — no matter what you're selling, WP EasyCart can help you sell it online. With the ability to sell physical products, service products, digital goods, eBooks, events, courses and subscriptions, you can ensure your business translates perfectly to the online sphere
Marketing features — create coupons and promotions, gift cards, abandoned cart notifications, and sync WP EasyCart with your email campaign software and some social media channels
Shipping — sync your account with your local shipping service to automate your shipping process, and customize your shipper on orders by setting triggers, such as weight and price
Inventory management — ensure you always have enough products in stock and never oversell by accident by keeping track of all your inventory through WP EasyCart
Integrations — sync your other software solutions with WP EasyCart to automate basic tasks and save yourself time on basic data entry
What our community says about WP EasyCart:
Tspcart — "I was overwhelmed with all the 'bells and whistles' included with my purchase. Immediately I was able to jump in and USE the plugin… A few hiccups later I had my shop looking the way I wanted, seamlessly attaching to analytics, banking and shipping profiles; then up and running. I even beat my own learning/launch dates!"
Cpm421 — "The product is great and the support is awesome!"
Hjc621 — "The more I learn about it the more I find that it will do, especially with the Pro version!!. The short version is that I think it is a great package and would quickly recommend it to anyone moving into E-Commerce. From the support side, I think the support is great. There was a very quick response to email questions and problems solved equally fast."

Price From: €1 per month for 1-1000 subscribers (free trial available)
Wonderpush gives your online business the power to instantly alert potential customers to important updates about your shop.
With implementation time taking as little as 15 minutes, you can begin notifying your customers across a wide array of mobile and web-based systems in no time. And with 350k messages sent every second, you can beat your competitors to the punch by making sure your notifications reach your customers first.
WonderPush lets you segment your audience for targeted messages, automate your notification process, and lets you customize your notifications with text and images.
Marketers will benefit from an online dashboard with reporting features to understand just how well your notifications are driving traffic and engagement, and developers will love the friendly API to help boost your integration capabilities.
Highlight Features:
Instant notifications — reach your customers in seconds with WonderPush's competitor-beating notification speeds
Multi-channel messaging — reach out to your customers on the platforms that matter most to your business. Including mobile, web and in-app notifications, you can reach your customers on their preferred platform
Reporting — get detailed feedback about the success of your notification campaigns with a dashboard designed for marketers
User-friendly API — customize and integrate WonderPush to your business's needs by adapting the easy-to-work-with API
What our community says about WonderPush:
Michael — "Amazing service at an unbeatable price. It helps me to stimulate user engagement on my business sites."
Henry — "Wonderpush Thank you for your Superb plugin, It always assists me with ideal services to re-engage users back to my website."
Kylie — "Customers expect immediate feedback and rapid resolution of their problems. Thanks, Wonderpush for fulfilling my expectations."
Price From: Free! (Free trials for paid products available)
If you're interested in keeping your eCommerce business up-to-date with the latest technology advances, then Blutag provides an interesting prospect.
Blutag lets your eCommerce store leverage voice engagement for smart speakers and other voice-enabled devices by connecting your web store to Alexa and Google Assistant.
With the size of the voice commerce market expected to reach $164B by 2025, and as the fastest-growing eCommerce channel, Blutag lets you easily take advantage of this new technology to boost your business's selling potential.
Blutag is designed to integrate with all major eCommerce channels, including custom platforms, providing the link between your store and the smart devices your customers own.
From simple notifications like shipping updates to more complex functions such as repeat orders based on your customers' previous orders, there are a ton of voice features you can use to maximize the utility of your voice commerce channel.
Plus with reporting dashboards to give you insight-driven data about your voice commerce performance, you can make sure you're optimizing your process to maximize the benefits of voice commerce technology.
Highlight Features:
Voice-enabled device compatible — use Blutag to link your eCommerce business to customers with Amazon Alexz and Google Home smart devices to capitalize on the fastest-growing eCommerce channel
Integration — integrate Blutag with all major and custom eCommerce platforms so you can quickly get your voice commerce process going
Multi-functional — keep your customers in the loop by letting them know the status of their product shipping, make purchasing from you easy by offering product browsing and reordering, and even build conversations to answer your FAQs
Reporting — make sure your decisions are backed with data harvested from your voice commerce process so you can hone in on the things that work and eliminate your bottlenecks
What our community says about Blutag:
Joe — "Good platform to enable voice shopping from smart speakers to engage voice shoppers, easy to use, I really like the personalized recommendation feature"
Ellie — "Integration was smooth, has features which help you in re-orders of products, engaging your smart speaker users with coupons, voice nudges, and more. Thanks to Blutag."
William — "If you are looking to capture the voice commerce market, this is the go-to Voice app. Simple & easy to integrate with features like personal recommendations, notifications, and many more."
Expanding Your Ecommerce Functionality with Software Solutions
Often times it's unnecessary, or at the very least, costly, to have developers build custom solutions for your eCommerce issues or migrate your website to another platform with more features when you can easily pick specific solutions to your problems.
Before plunging into an expensive solution, try looking on Serchen for eCommerce software reviews of products that can provide the solution you need without large costs and waiting times.